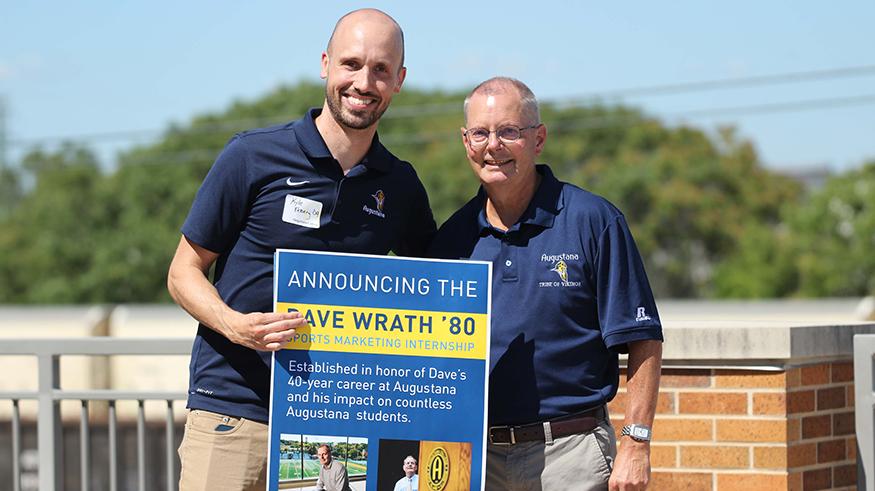 News
New sports marketing internship honors Dave Wrath
Dave Wrath has retired from Augustana athletics, but his legacy will live on in the most appropriate way. An endowed fund for the Dave Wrath '80 Sports Marketing Internship was announced Sept. 5 in honor of his 40 years of sharing Augustana's stories and mentoring students.
The student who is awarded this internship will receive a scholarship, earn internship credit and gain valuable experience in event management, sports marketing, sports journalism, broadcasting, administration and NCAA compliance. Fundraising efforts are underway, and the internship is expected to be awarded for the first time in the 2023-2024 academic year.
"Student workers were the lifeblood of our program during my career here, and not every one chose to follow that career path," Wrath said. "This scholarship helps ensure that a steady stream of qualified, and quality, young people will be able to get the same opportunity that I enjoyed, no matter where they go in their professional life."
"Dave taught me so much about the sports information profession, beginning with the basics that built the foundation of my career."
During his undergraduate years, Wrath worked with Jim McGrath, the Vikings sports information director at the time, who would later go on to a Hall of Fame career at Butler University.
"That exposure into the profession by a man who was considered a leader in the field helped me form the base of what we tried to achieve and accomplish for the past 40 years here at Augustana," Wrath said.
Wrath's talent for getting things done well, and on time, was no secret on campus and beyond. The CCIW Academic All-Conference Team was recently renamed the Dave Wrath Academic All-Conference Team. In addition to his duties at Augustana, Wrath served as the CCIW sports information director from 1996 to 2005 and was instrumental in establishing the CCIW's Academic All-Conference Program in 2005.
"Without a doubt, the most significant attributes that Dave shared with his student work staff were his work ethic and the importance of building relationships with coaches, student-athletes and the media," said Mike Zapolski, director of athletics.
"Dave regularly shared that he wanted the Augustana sports information operation to be viewed as the unit on campus that said 'yes' and was responsive to all requests. That service-oriented approach was etched into the brain of every student who worked in the office during Dave's tenure."
Jessica Leifheit '14 agrees. She worked with Wrath for three years after playing varsity soccer her first year on campus. She started as a volleyball stat keeper, but eventually became the primary contact for the swimming and diving teams as well as the lacrosse teams by her senior year.
After graduating, Leifheit worked in the University of Illinois sports information office before accepting an offer at another Division I school, Western Kentucky University. She currently is the associate director of WKU's athletic communications/media relations for volleyball and softball.
"Dave taught me so much about the sports information profession, beginning with the basics that built the foundation of my career," Leifheit said. "By the time I graduated, he trusted me to handle just about anything in the job on my own, which gave me the confidence to continue to the Division I level where I've been since graduation.
"I wouldn't be where I am in my career without the teachings of Dave Wrath back in the Augustana Sports Information Department."
Those interested in learning more or making a gift to support the Dave Wrath '80 Sports Marketing Internship may contact Kyle Ekberg '09 at kyleekberg@augustana.edu.