64,722 gifts for AUGUSTANA NOW!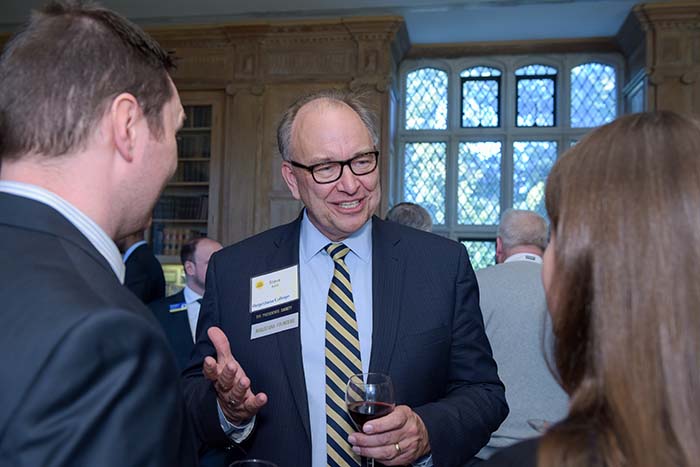 On the evening of Oct. 11, 2018, Old Main's dome was lit blue to signify the beginning of the public phase of AUGUSTANA NOW, the college's ambitious $125 million fundraising campaign.
A year later—almost to the day—nearly 200 alumni and friends of the college gathered in the Carver Center to celebrate the success of the campaign so far and look forward to reaching the goal by December 2020, at which time the dome will turn gold.
Basketball Coach Grey Giovanine and Chandlor Collins '09, a former player who went on to law school, rallied the crowd as they shared personal stories of challenges, resilience, victories and lifelong friendships. "I could tell you dozens of stories like Chandlor's—young people who came to Augustana and were transformed, and went on to live great lives of distinction," Giovanine said.
"So I think you've got to ask what's going on here," he said. "These young people come to our campus as 17- and 18-year-olds and for four years, they're surrounded by faculty, staff, administrators, coaches that teach them, advise them, model for them, nurture them, encourage them, and challenge them, and four years later, they are transformed. They have a skill set, a self-awareness and a moral compass that will lead them for the rest of their lives. That's what's going on here."
Giovanine continued, "If there is a cause that moves you, act on it...Thank you for all you do for this very special place called Augustana."
When AUGUSTANA NOW, A Campaign for Success in the World, for the World was publicly launched in 2018, alumni, friends, corporate donors and foundations already had given $75 million during the campaign's initial quiet phase. Since then, gifts and commitments totaling nearly $25 million have been received, bringing the campaign total to $99,270,413 as of Sept. 30, 2019.
"AUGUSTANA NOW and its priorities have really caught the attention of our alumni and friends of Augustana," said Kent Barnds, executive vice president for external relations. "Efforts like Close the Gap resonate with our alumni and donors, who clearly want an amazing liberal arts education to be available to students from all socioeconomic backgrounds." 
"In addition, the Abrams Challenge and the Abrams Challenge 2.0 have promoted the establishment of new and growing endowed funds, which is essential to the long-term financial health of the college. But, most importantly, we have seen the active engagement of more alumni and younger alumni."
Since the launch of the campaign, nearly 12,000 donor households have made 64,722 gifts and commitments.
Some changes already made possible by this generosity include the 22,000-square-foot addition to Hanson Hall of Science; the hiring of the college's inaugural vice president of diversity, equity and inclusion; and a new major/minor in data analytics. Each of these accomplishments reflects one of the campaign's four goals, which align with a direction of the Augustana 2020 strategic plan.
The campaign's goals are:
Improve affordability. Augustana must be accessible to students from all socioeconomic backgrounds. The campaign will grow financial aid to expand access and make campus improvements that will ensure the best students consider Augustana as their top choice.
Prepare graduates who are ready for the world. AUGUSTANA NOW redoubles the college's commitment to students' career preparation, development and ability to create pathways to success. In addition to generosity, the college is asking alumni to connect with current students to help them develop their network.
Offer innovative learning experiences. Augustana must offer deeply engaging, personally guided learning experiences that help students reach their potential. Supporting innovative learning might include investing in faculty-student research experiences, upgraded or new learning spaces such as the plans for Bergendoff Hall, travel opportunities and more.
Promote diversity, equity and inclusion. AUGUSTANA NOW will further build and develop support for students of diverse, historically underrepresented backgrounds, so that all students are empowered to make a difference in their lives and in the world. Generosity will help expand resources and programming so that a sense of belonging and intercultural understanding are part of the fabric of every Augustana student's experience.
"We're very appreciative of how our alumni have responded to the campaign," said President Steve Bahls. "Last year was a record year for Augustana in terms of fundraising and philanthropy. Generous donors made six- and seven-figure gifts. And a whole new group of equally generous first-time donors gave gifts of $5, $10 and $20.
"We are hopeful that we will reach our goal and in doing so, continue providing incredible experiences for our students for generations to come and build on Augustana's reputation as one of the premier liberal arts colleges in the Midwest."
From now until December 31, 2020, every gift made to Augustana will be counted toward AUGUSTANA NOW, A Campaign for Success in the World, for the World.
On the road with Steve and Jane
During the past year, President Steve Bahls and Jane Easter Bahls visited nearly 30 cities to update alumni on AUGUSTANA NOW: A Campaign for Success in the World, for the World.
"Jane and I traveled around the country to share our dreams for keeping Augustana strong during these turbulent times in higher education," President Bahls said. "We are humbled by the support of so many alumni, who want to give back to the college that has been so meaningful in their lives. Their stories of how Augustana helped shape their lives inspire us all."
Many alumni hosted or sponsored an event in support of the campaign during the past year. The largest group—Dr. Russell Wheeler '65, Ross Heath '82, Dr. Jim '67 and Judy Anderson '67 Kuhagen, Rich Jensen '74 and Beth Goodrich—hosted the East Coast's marquée campaign event at the National Portrait Gallery and Smithsonian American Art Museum in Washington, D.C.
In late November, President Bahls concluded the AUGUSTANA NOW tour with receptions in Houston, Dallas and Austin, Texas.