Tom Billups '87: 'Rugby found me'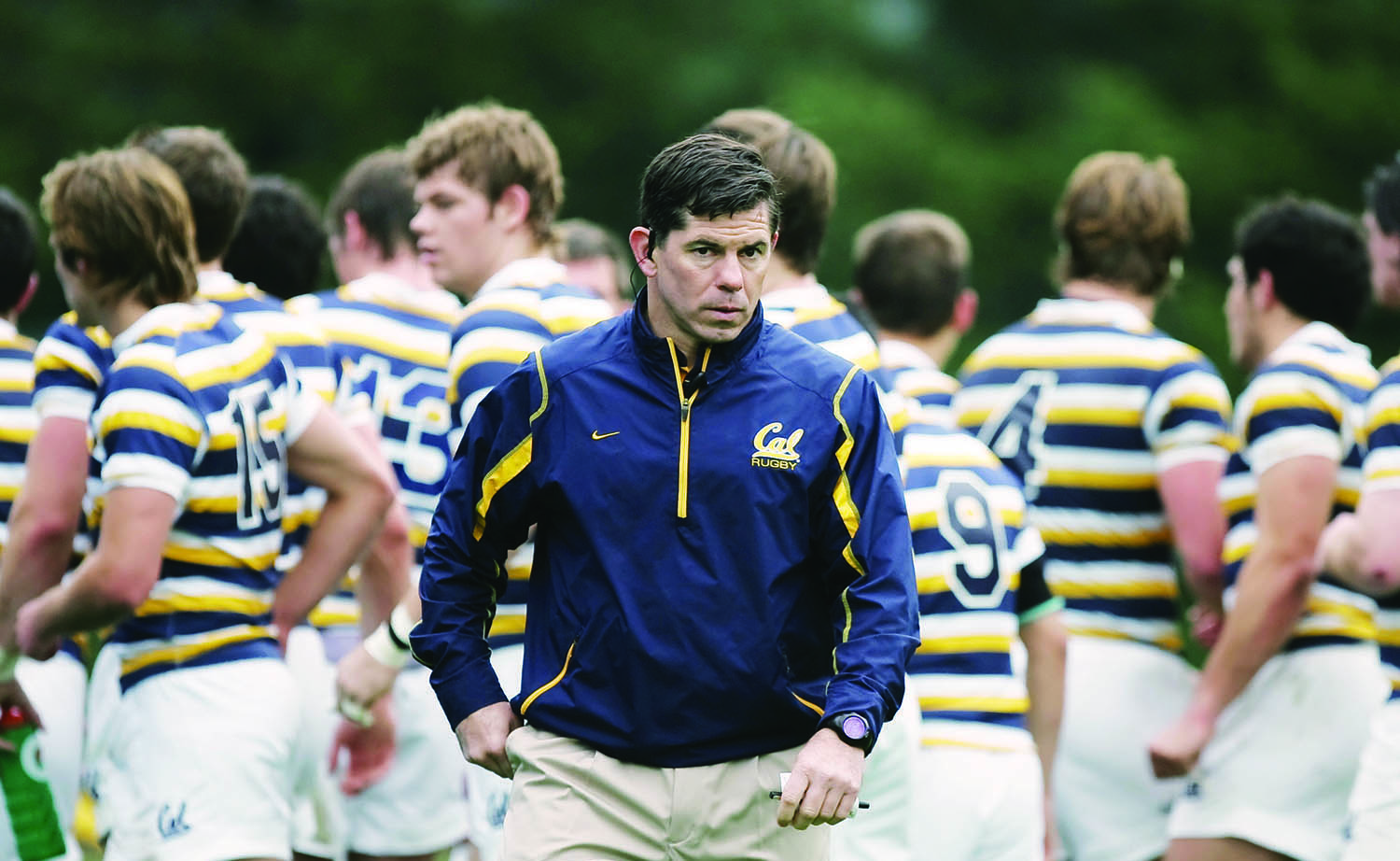 One afternoon at practice, Vikings tight ends coach Cecil Youngblood '76 tapped sophomore Tom Billups on the shoulder. "You should play rugby," Youngblood told him.
In Billups' mind, that's the day "rugby found me." Coach Youngblood was involved with the Quad City Irish, a rugby union club across the river in Davenport. Never one to back down from a challenge, Billups showed up at a practice. A year later, in 1985, Billups in part led the QC Irish to the 7s national championship.
It was the beginning of an illustrious rugby career as a U.S. international player, captain and head coach of the U.S. National Team, and member of the U.S. Rugby Hall of Fame. Today, Billups '87 is associate head coach for the varsity rugby program at the University of California, Berkeley—his 21st season with the nationally ranked Golden Bears.
All because of a tap on the shoulder.
Successful as a lineman for the Grayhounds of Burlington (Iowa) Community High School, Billups saw college as a way to keep playing football. "I was the first of my family to go to a four-year institution, and I'll be candid…football was behind my drive to go," he said.
One of Billups' older friends from high school, Dave Sandercock '86, had made the football team at Augustana. When Vikings Head Coach Bob Reade came to Burlington on a recruiting trip his senior year, Billups said he "begrudgingly met with me" and didn't make any promises. "He told me I'd get a good education at Augustana, but that they would win with or without me," Billups remembers. "It was the right thing to tell me."
He arrived for tryouts at 5 foot 8 and 180 pounds. "I quickly realized I was embarrassingly undersized with limited athletic ability," he said. But, just like in high school, his heart and relentless work ethic got the attention and respect of his coaches and teammates.
Billups made the team, and then was asked to be part of the "traveling team" after the first-string guard broke his arm in practice during a school recess. Billups was the only player still on campus who wasn't on the two-deep roster. He filled in, and made the traveling squad. Although he rarely started, Billups was a four-year letter winner during the Vikings' run of four consecutive national championships and ended his collegiate football career 49-0-1. He received the Jerry Freck Award as Augustana's Most Inspirational Player on the gridiron in 1986. 
"We called him Sgt. Billups because he was a natural leader," Coach Reade told the Quad-City Times in 2003. "He was a natural champion and had that complete desire to never give up. Size was not a handicap to him. Nobody wanted to be opposite him in practice. He's just built like a rock."
Off the football field
Like many 18-year-olds, Billups didn't know what direction his life would take when he arrived at Augustana. He only knew he wanted to play football. Fortunately, he was surrounded by people to help him find his way. There was a sense of community within the student body, he said, and he remains friends with five of his teammates who lettered and traveled all four years together, and who all believed in "team first."
Besides teammates and coaches, Billups remembers professors who took an interest in him, including Dr. David DeWit in chemistry and Dr. Bob Tallitsch in biology.
"Dr. DeWit didn't know anything about sports, but he would ask me questions about the equipment we used on the team, like the blocking sleds," Billups said. "He knew that's what I was interested in, and he just wanted to make a connection."
Billups also remembers Dr. Tallitsch inviting him and teammate Lynn Thomsen '87 over to his house because he needed them to move his doghouse in his backyard. When they saw the size of the doghouse, they knew it was an excuse to have them over for a Sunday night meal and good conversation.
"It was a rough freshman year," Billups said. "What Dr. Tallitsch saw in me and Lynn and other students was that we were good kids who were trying hard, and he wanted to help."
On the rugby pitch
So during the fall, Billups played football on a DIII national championship team. In the spring, he was on the rugby pitch. Breaking his nose a couple of times did not deter him from the sport that soon became his passion.
"Rugby needs cooperation, communication with 15 players—and grit," Billups said. "That fit my mentality. You have to be relentless to get up off the ground and keep running for 80 minutes…there's limited substitutions, only through injuries. We were a good match for one another."
Two years after graduating from Augustana with a degree in psychology, the small-town Iowan went to Scotland to play with the U.S. Cougars. He also traveled with the USA Eagles to the Hong Kong 7s (a form of rugby with seven players instead of 15; 7s is the Olympic form of the sport).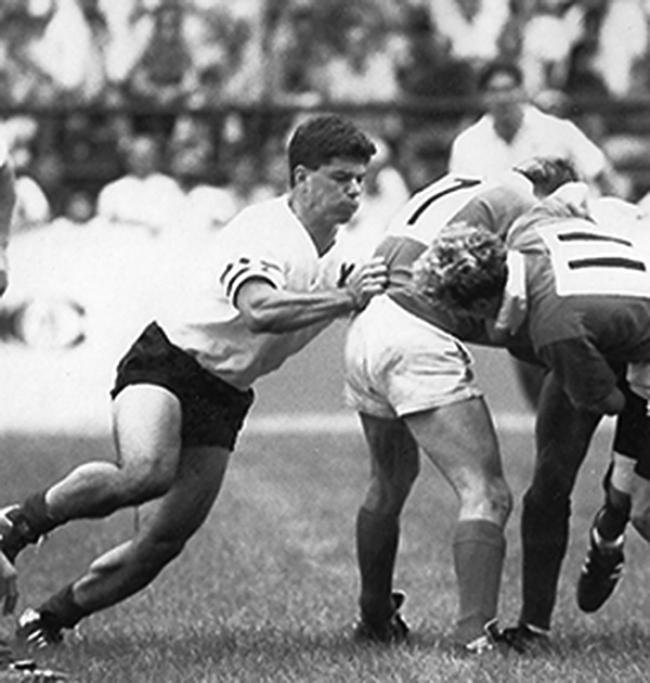 In 1993, Billups was playing rugby for the U.S. National Team. In that same year, he became the first American player to play professional rugby when he signed to a two-year contract with the London Blackheaths. He played with the Harlequin F.C. and Pontypridd RFC, Wales, as a professional.
Jason Leonard OBE, a former Harlequin and British Lion, said, "Billups had all the attributes to play as a modern-day hooker: strength, speed and a huge stamina. He was the fittest player on the team."
Leonard shared Billups' advice to younger teammates when they competed together on the Harlequins: "He told them that just because they were being paid, that doesn't mean you are a professional. A professional, he said, wants to improve as a player and a person every day of his life. To be better every day than the day before—that's what being a professional meant to Tom." (usrugbyhalloffame.org)
On the sidelines coaching
After retiring as a player in 1999, Billups joined the staff of the U.S. National Team and was head coach from 2001 to 2006. In addition to coaching the Eagles, Billups managed the U.S. national 7s team program and coached the 2005 U.S. 7s team.
Billups currently is associate head coach for the varsity rugby program at the University of California, Berkeley, after joining the staff in 2000. A certified strength and conditioning specialist, Billups has been in charge of the team's strength and conditioning since 2003. The Golden Bears have won 17 national collegiate championships (12 in 15s and five in 7s) during his tenure.
"Coach Billups embodies everything U.S. rugby and the game of rugby stands for: hard work, grit, professionalism and an undying commitment to improvement," said Kort Schubert, the 2002 Cal Athlete of the Year and a Bear for five consecutive national collegiate championship seasons. (usrugbyhalloffame.org)
Admired by many for his enthusiasm, attention to detail and dedication to the game of rugby, Billups was inducted into the U.S. Rugby Hall of Fame in 2015—one of only a few inductees honored for achievements as both a U.S. National Team player and coach. In 2018 he became the 14th recipient of the Craig Sweeney Award, which is presented to a former National Team player who has contributed significantly to the game while displaying exemplary character on and off the field.
"It's such a privilege to coach," Billups said. "Some say the meaning of life is to find your gift; the purpose of life is to give that gift away. I feel fortunate to have been able to do just that these past two decades at the University of California, Berkeley."
Billups says his Augustana experience and his coaches—from middle school to high school to Coach Reade, Coach Youngblood and Coach Bob Schmulbach—are "forever in my story."