Want to give back? Here are 15 ways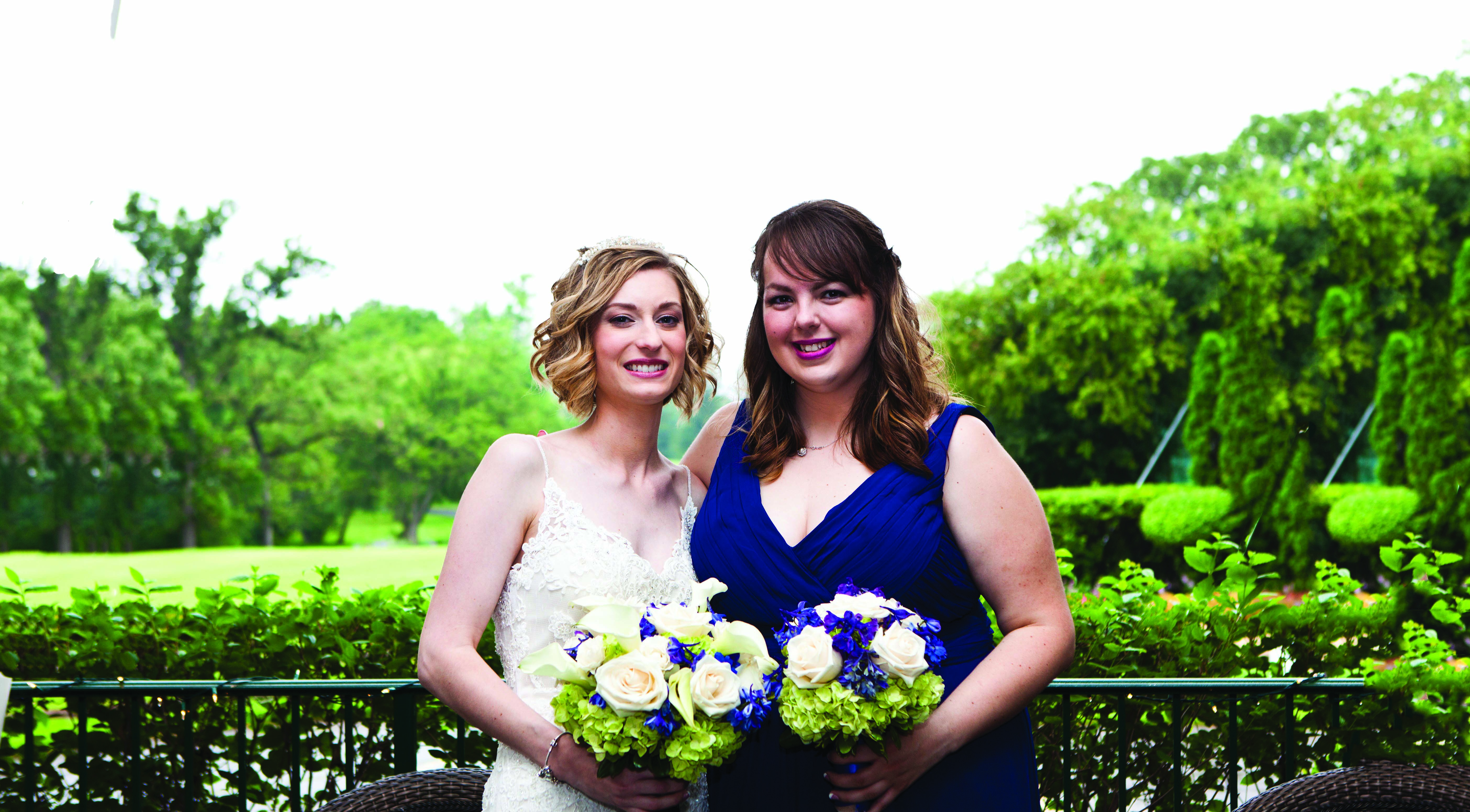 Welcoming first-year students…
Alumni wrote words of advice (no eye contact with squirrels) and encouragement (take a deep breath) in letters to welcome members of the Class of 2023. A letter was placed in each first-year student's room on move-in day. Here's one of our favorites from Alicia Waite '10:
Dear newly minted Augie student, 
Welcome to college! I realize that someone who graduated college when you were probably 9 seems crazy old to you, but to me Augie feels like yesterday.
My random roommate I received my first year (living in Andreen first floor) is to this day my best friend. A few years ago I was her maid of honor. We keep in touch several times a week and she is practically a sister to me. We have seen each other through ups and downs in our lives, and I am grateful to Augie for introducing me to her. 
One day during our first year, someone left us a message on our white board outside of our door that they had lived in our room 40 years ago and are best friends to this day.
There is a special magic at Augie for people to make lifelong friendships. My friends from Augie are my "Augie Family" to this day. Even if that roommate/stranger standing on the other side of the room right now isn't destined to be your best friend, you will find so many incredible people here who will be in your life for a very long time! 
We loved the dorms despite it being a small space. I am sure they have changed in the last decade. Back in our ancient days of college, we had to use Ethernet cables to get on the internet (Google it). Our cables had to be like 20 feet long so we could sit up in our lofted beds with them. Then you would bring your cable with you to the library. I am hoping they have installed WiFi since then around campus. 
Enjoy your time at Augie! This is the time you get to explore who you are, take classes that excite you, go steal some lunch trays and sled down the hills (maybe wait for some snow), build
a cardboard boat and sink into the slough during Homecoming, build some awesome butt muscles climbing all of the stairs, make lifetime memories and become who you are going to be! 
Augustana solidified my decision to become a physician. Without Augie, I am not sure I would have gotten into med school, much less survived it. Augie may seem like a small liberal arts school, but the faculty are passionate about teaching and will inspire you like you won't believe. Your four years here will prepare you well for whatever you choose to do after college and beyond. 
Now take a deep breath, put your twin xl sheets on your bed and buckle up for an exciting ride! 
Alicia Waite, Class of 2010
P.S. Don't make eye contact with the squirrels.
…and helping seniors land jobs
More than 90 Augustana students attended the Chicago Accounting and Finance Interview Day in Oak Brook, Ill., this fall. Thirty-seven firms/companies, including KPMG, Ernst & Young, Deloitte and PricewaterhouseCoopers (PwC) attended, but what might be the most impressive number of the day was 33 — the number of Augustana graduates who represented their firms at the event.
"This illustrates the tremendous support our alumni give to current students," said Dr. John Delaney, chair of Augustana's accounting department. "Our alumni are energized to continue helping our students get jobs in Chicagoland. We are in the planning stages of developing an accounting/finance alumni group in Chicago with one goal of continuing support of events like the one held in Oak Brook."
Augustana's accounting department, career development office and alumni led by Bob Mitchum '75 took the lead in organizing the event. President Steve Bahls was the guest speaker. Students from not only Augustana but also Carthage College, Millikin University, Monmouth College, North Central College and North Park University were invited. Nearly 250 registered; the firms/companies conducted 200 interviews by the end of the day.
Lucas Simon '20, accounting/business administration major, interviewed with four companies. "Having so many alumni at each company allows us to connect with them for valuable career advice and job opportunities," he said.
It was a tip from an alumnus that led to Simon receiving a full-ride scholarship to complete a masters of accounting at the University of Illinois. This scholarship is funded by the James A. Sikich Visionary Scholarship Fund, established with the Illinois CPA Society in memory of the founder, and former CEO and managing partner of Sikich LLP.
When the scholarship fund was established, 2003 grad Drew Long, a senior planner at Sikich, emailed Dr. Delaney and Karen Tolf '77 Petersen, assistant director of development and engagement, in case Augustana students would be interested. Thanks, Drew!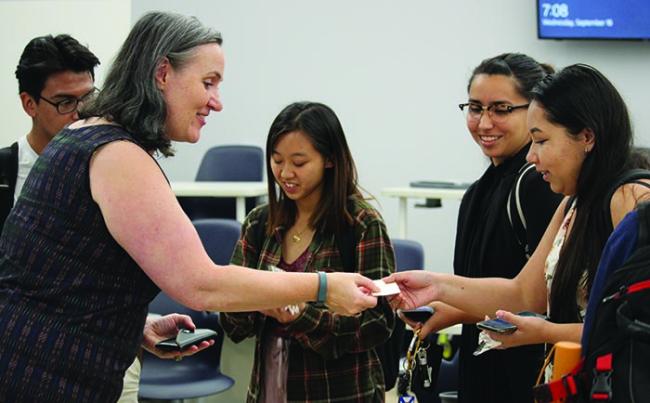 Share spirit
Wear your blue and gold
Wear your Augustana apparel when you're out and about. You never know when you'll run into a fellow grad. Need to purchase Augie apparel? See what's new at the Augustana Bookstore.
Request an A and share your story
We want to know where your Augie A has taken you! Request a free A. Take a picture of yourself with the Augustana A and send us a story of your path since graduation.
Be a social media ambassador
Tell us what you love most about Augustana on your social media channels.
Nominate a classmate
Tell us who think should receive an Alumni Association Award for service, contributions, achievements and so much more.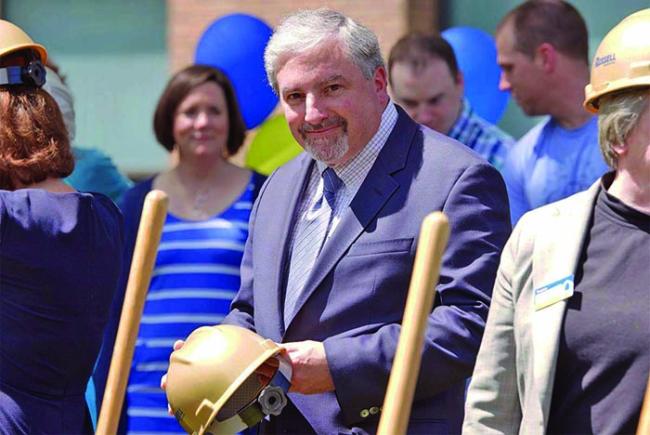 Share time
Be a class rep
This is a great way to be "in the know"! You'll have advance knowledge of the latest news about Augustana so you can share it in an annual letter to your classmates.
Network and socialize
Attend an Augie event in your area. Interested in planning an event or Augie outing in your city? Contact alumni@augustana.edu.
Join 'em
We're always looking for alumni with good ideas who get things done! Share your talents with the GOLD (Graduates of the Last Decade) Council or the Alumni Association Board.
Motivate 'em
Encourage classmates to join you in supporting the college, whether by staffing a college fair, recommending a prospective student, talking to a class, offering an internship...so many ways to be engaged.
Rally 'em
Serve as a member on your Reunion Committee for Homecoming.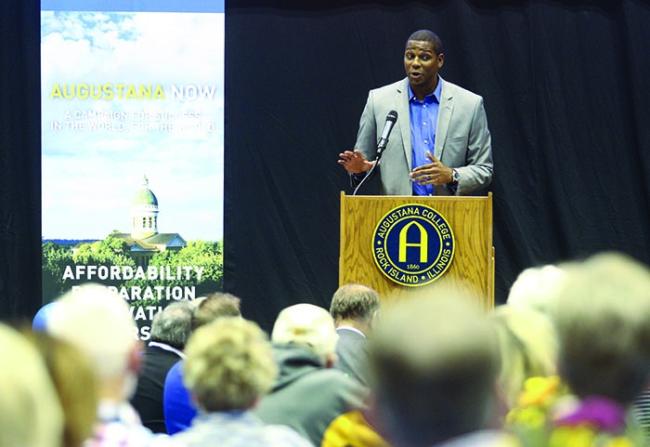 Share news
Update
Make sure the college has your email address and most current contact and work info. Need to update? augustana.edu/update
Brag a little
Tell us what's new in your life! Marriage, jobs, awards. We'll share your note in the monthly alumni e-news and the biannual Augustana College Magazine. Go to augustana.formstack.com/forms/class_notes to submit your news and photos.
Read
Check out the website, read the alumni e-news and Augustana College Magazine, and stay informed about all that's happening at your alma mater!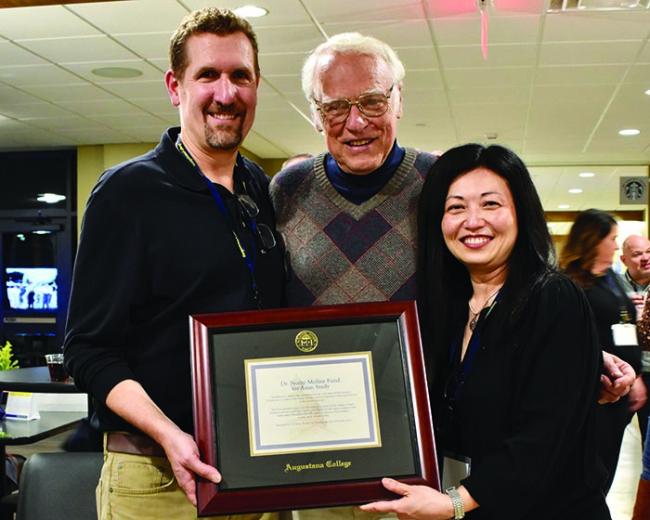 Share in our mission
Make a gift
Invest in the mission of Augustana and help ensure our students' success. Every gift, regardless of the amount, makes a difference! Visit www.augustana.edu/generositymatters.
Also, U.S. News & World Report considers alumni participation rates when evaluating and ranking colleges and universities. Rankings can affect reputation, reputation can affect enrollment, and enrollment can affect revenue from tuition. High levels of alumni participation also can inspire major donors, corporations and foundations to increase their support. People want to invest in institutions others are supporting.