HR update May 21, 2020
To keep communication as clear as possible, and archive it for later use, the Office of Human Resources will be sending out updates using this format.
If you have information that you would like to disseminate to all employees, please send that to brittnidegreve@augustana.edu and we will coordinate adding the information to a future HR update.
For now, we would ask that you limit any mass communications to avoid confusion.
Retirement benefit changes
As the college suspends retirement contributions beginning June 1st, many employees have inquired about changing their own savings levels.  You can make this change at any time during the year.  
To make a change to your retirement contributions please use the electronic Retirement Election form.  The change will be made as soon as practical, usually in the next payroll.  That means for monthly employees, a request received in May would be effective in the June paycheck.
Flexible spending changes
As announced earlier this week, the IRS released new guidelines that will allow employees to add, drop or change the amount of a flexible spending account.  
Employees wishing to make a change are eligible to do this as long as the account has a positive balance.  Once a change is made, no additional changes can be made until open enrollment.  Questions about this process should be directed to ashleykilker@augustana.edu.  
You can request the change using the electronic flexible spending enrollment form.  These changes will be made as soon as practical, usually in the next payroll period.
Investment education seminar
The college utilizes Plan Pilot to assist the Investment Review Committee and oversight of retirement investments with overall fiduciary oversight.  They've put together a 16 minute video that may be of interest to those of you, entitled Securing Your Future.  It focuses on savings, establishing an emergency fund as well as retirement savings issues.  We hope you will find this helpful.
Summer student employment
Requests for summer student employment are being evaluated and individual student supervisors will receive information on whether those positions are approved.  We will encourage usage of the Flexible Employment Program (FEP) administered by career development to use available students on an as-needed basis.
If you have a plan for student employment and did not complete the form made available earlier this month, you must contact jacobbobbitt@augustana.edu to submit a request for consideration.  All student employment must be approved for summer work.
If you have a summer project to schedule or want more information about the FEP programs  contact Andy Shearouse at andrewshearouse@augustana.edu.
TIAA virtual visits
Patrick Wendell with TIAA will be offering individual virtual financial planning sessions on July 7th and 8th.  No matter where you are in life—just getting started or planning for retirement—a session with a TIAA financial consultant can help you create a plan for your goals. And, it's at no additional cost as a part of your retirement plan. You'll get answers to these questions and more:
Am I invested in the right mix of investments to help meet my goals?
Am I saving enough to create the retirement income I need?
How do I take income from my retirement account once I stop working?
 
Register for one of the sessions today. 
Building access in June and July
At this point, plans are underway to slowly reopen our campus this summer.  Employees should not plan to return to on-campus work until specific guidance is provided from the college.  
Many campus buildings will be closed and will not be serviced and should not be accessed by individual employees without notice to the Office of Public Safety.  The following buildings or offices will be closed in June and July:
Carver Physical Education Center
Pepsico Recreation Center
Thomas Tredway Library
Gerber Dining Center
Conferral ceremony
May 23, 2 p.m. 
We look forward to honoring the Class of 2020 in our in-person commencement ceremony on Sunday, October 11, 2020. 
Until then, the original Commencement date of May 23 will be marked with this special virtual conferral ceremony hosted from Augustana College's campus. Please take a look at the virtual handout for more details on the conferral ceremony. 
Celebrating Graduates
With graduation celebrations in full swing, please help us celebrate these milestones for several community members.  We'd love to hear about more, so please send your pictures and information to brittnidegreve@augustana.edu so we can share the good news!
Beth Melton's (Dining Services) son John, is going to be joining his older brother Luke in becoming a Viking at Augie this fall.  John is hoping to major in Engineering.
Amy Ariano's (Business Office) son Ky, plans to attend University of Wisconsin-Lacrosse to pursue an undergraduate degree in Microbiology and Clinical Laboratory Science.  Hopes to continue on to grad school and study Immunology.
Anna Castro's (Admissions) children Nicolas & Briana Castro, graduated from Moline High School and are both attending Augustana!  They will be joining big brother Ben, who will be a senior at Augie in the fall.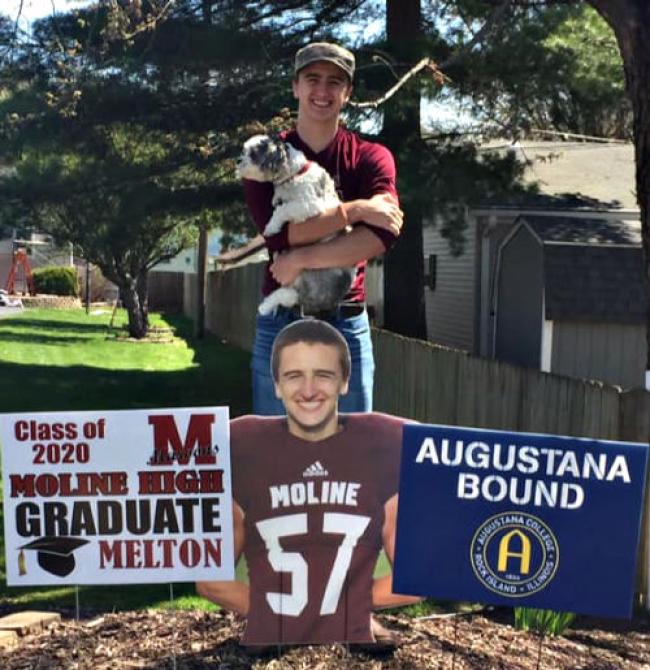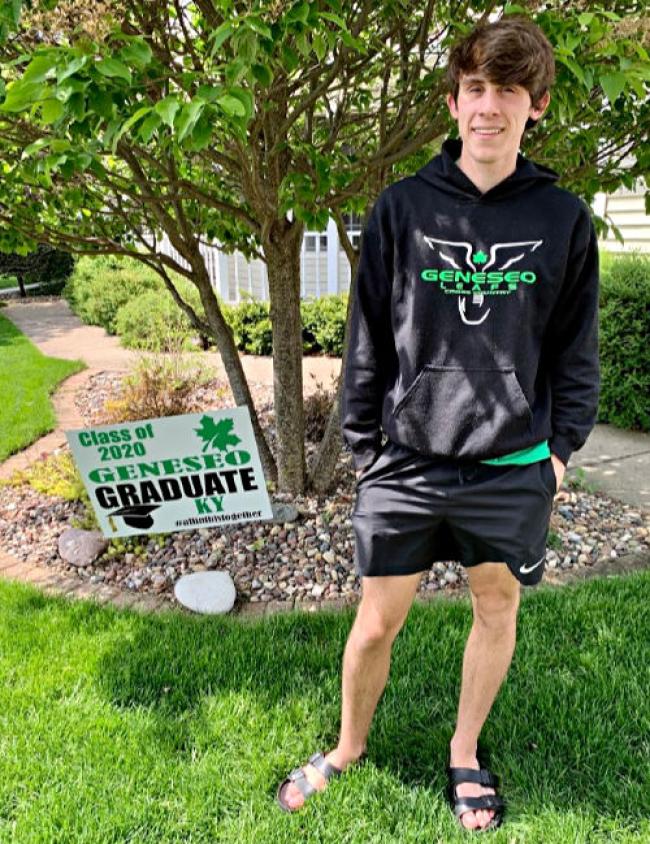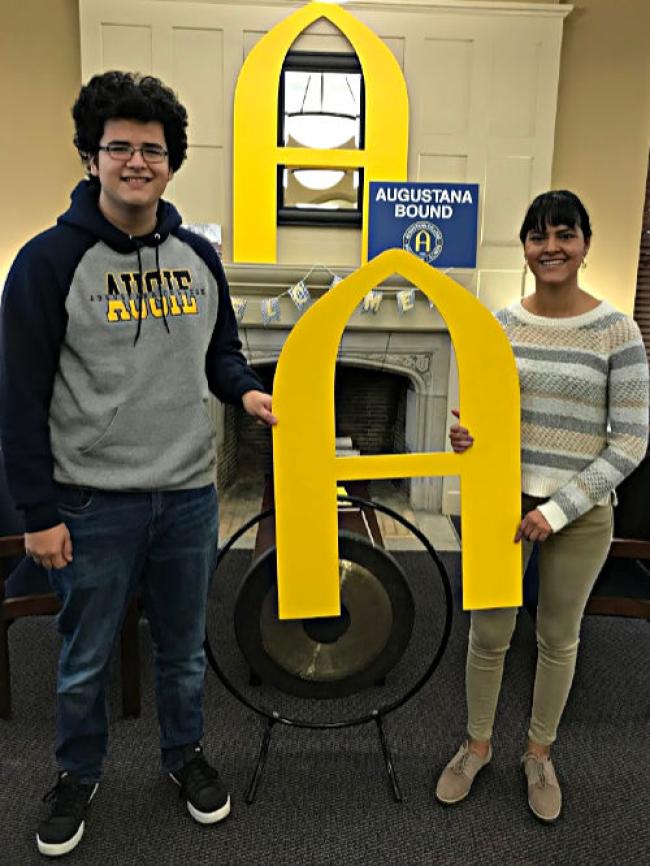 Baby on Board
Augustana has been blessed to welcome yet, another bundle of joy to our campus community. 
Amber Hindman (facilities) and husband Jeff, welcome their newest bundle of joy to their family, Jack. Jack was born May 12, weighing 9 lbs 7.7 oz  and 21.25 in long. 
His siblings are overjoyed with welcoming another baby into the family.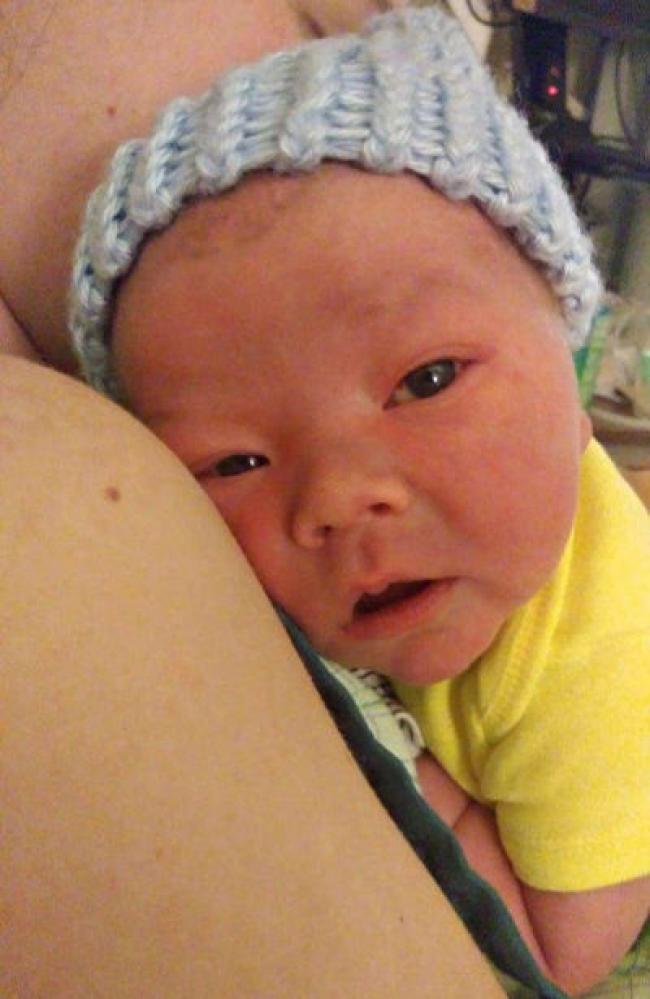 Campus Beauty
Madison Logan (Center for Speech, Language and Hearing) took a quiet stroll to take a momentary reprieve from grading on the slough path this week and couldn't help but snap this beautiful photo. 
The rain has brought such vibrant colors to Quad Cities and we truly blessed to have this hidden treasure on our campus to enjoy.