HR Update - March 3, 2021
To keep communication as clear as possible, and archive it for later use, the Office of Human Resources will be sending out updates using this format.
If you have information that you would like to disseminate to all employees, please send that to hrupdate@augustana.edu and we will coordinate adding the information to a future HR update.
For now, we would ask that you limit any mass communications to avoid confusion.
Welcome - 2 new employees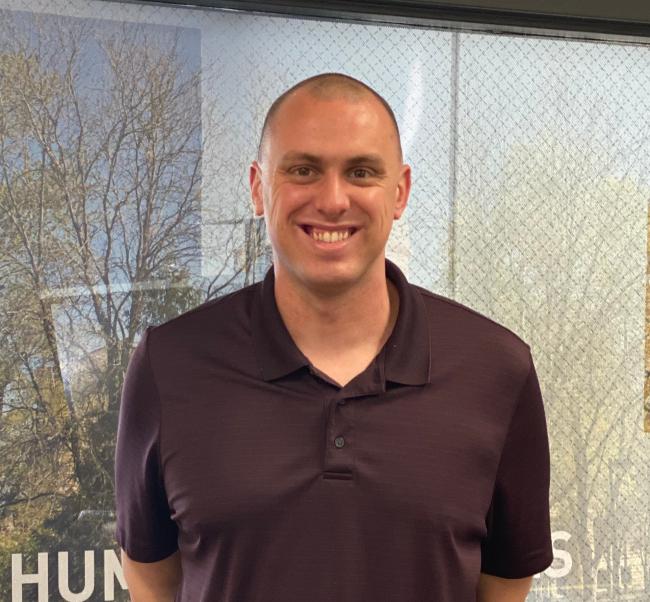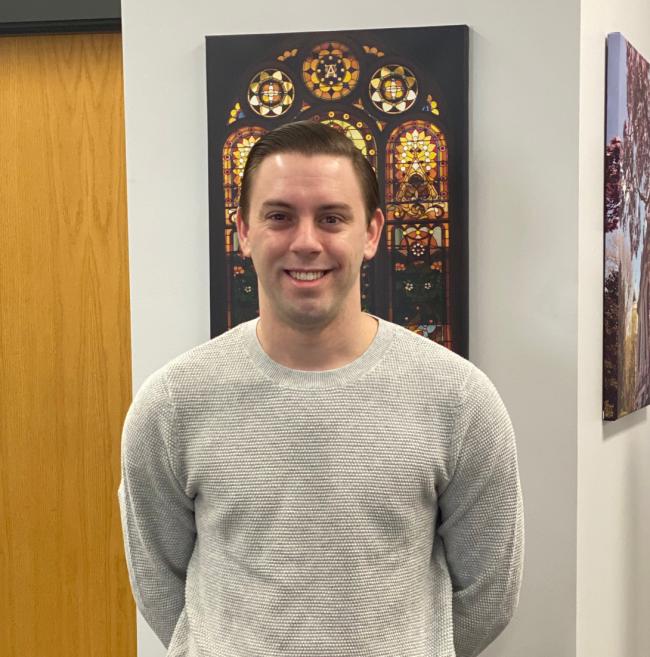 March TIAA Webinars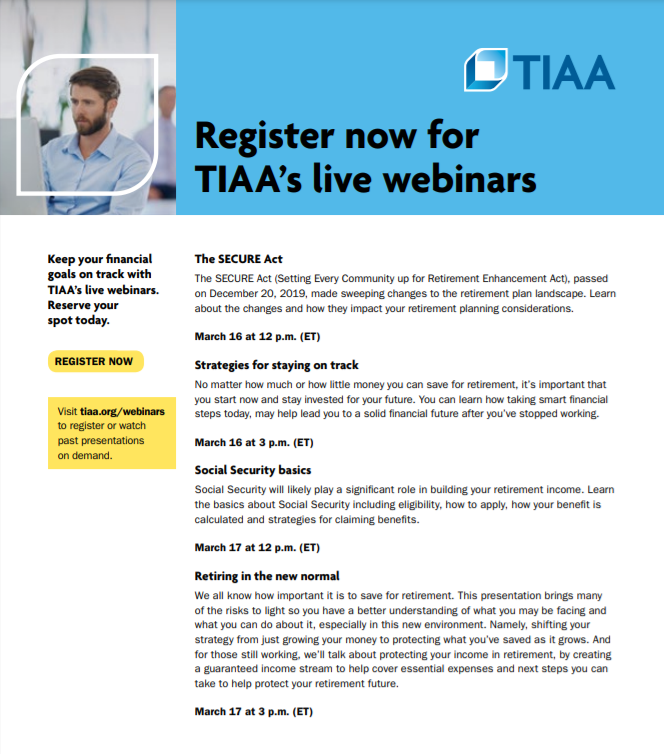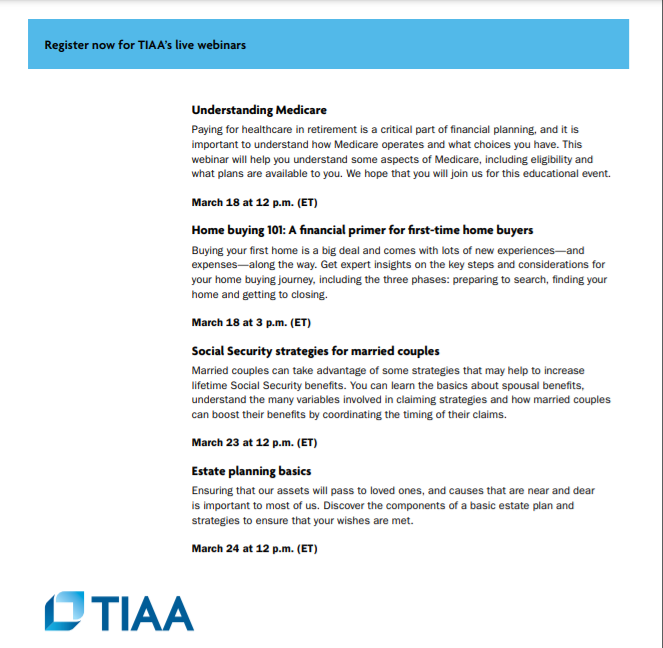 Swenson center lunchtime lecture - Allan Kastrup and the Swedish-American connection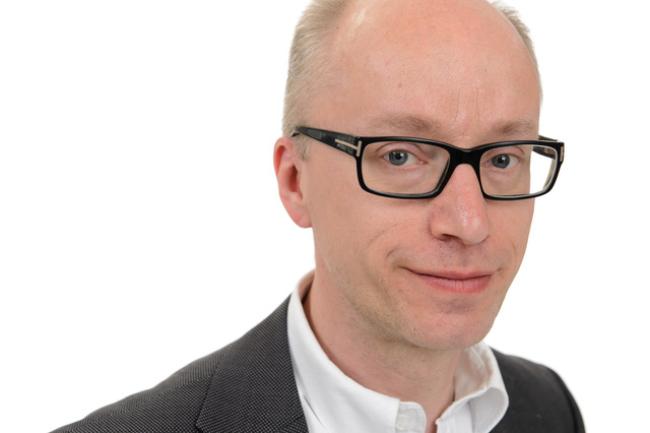 Please join us for the lecture "Allan Kastrup and the Swedish-American Connection" with Dr. Ulf Zander on Tuesday, March 16 at noon. Dr Zander will be speaking about the work of Allan Kastrup, the longtime Swedish-American news editor. Kastrup's great knowledge of both Swedish and American history and society, as well as his many years as a mediator of Sweden and Swedish news in the US makes him an interesting point of departure for a discussion about the importance of Swedish foreign correspondents writings about United States in Sweden.
Dr. Zander is a Professor of History at Lund University. His main interest is how history is communicated and used. He has published on debates on and uses of Swedish history from the late 19th century to early 21st century as well as on monuments, film, history and identity and uses of history in the United States. Another of his research interests is the Holocaust and representations of the Nazi genocide in Scandinavia and Great Britain after 1945. Zander has co-edited a number of anthologies, among them Echoes of the Holocaust. (2003), Holocaust Heritage (2004), The Holocaust – Post-War (2006), and Perspectives on the Entangled History of Communism and Nazism: A Comnaz Analysis (2015), and was the editor of Scandia, one of the leading Swedish Academic journals in history, 2003–05.
The talk will be followed by a live Q&A with the speaker. 
For more information and to register for the talk, visit: https://augustana.edu/about-us/news/lunchtime-lecture-series
Registered participants will receive a link to the Zoom meeting via email on March 15
Augie strong - guidance on spring travel
The Augie strong task force provides the following guidance to employees.
Members of the Augustana campus community with personal international travel plans are strongly encouraged to reconsider their travel plans. Travel advisories from the Centers for Disease Control (CDC) based on the spread of COVID-19 are quickly evolving and must be carefully monitored, along with guidance and expectations issued by the college. 
The college's travel policies also are informed by the Illinois Department of Public Health, which may impose additional requirements of travelers, including quarantine periods, separate from the requirements listed below.
 
International Travel
 
Employees who plan to travel internationally must inform Human Resources of their travel plans in advance of departure. New CDC guidance requires international travelers traveling by air to:
Get tested no more than 3 days before you travel by air into the United States.
Show your negative results to the airline before you board your flight, or be prepared to show documentation of recovery (proof of a recent positive test and a letter from your healthcare provider stating that you were cleared to travel).
The CDC recommends getting tested 3-5 days after travel and stay home and self-quarantine for a full 7 days. If you don't get tested a full 10 days of self-quarantine is recommended.
Avoid being around people who are at increased risk for severe illness for 14 days whether you get tested or not.
Employees must work with Human Resources to discuss leave options available during any required self-isolation period.
Domestic travel
 
At this time, there are no restrictions on domestic personal or college-business travel. Of course, travelers should follow all steps outlined by the CDC to prevent the spread of contagious illnesses such as COVID-19.
 
Future changes and flexibility
 
Please be aware that the situation is being monitored on a daily basis, and restrictions on travel — whether internationally or domestically — are subject to change. This means that a trip that was approved today could be declined tomorrow. 
 
We appreciate your understanding and flexibility as we work to promote the safest environment for everyone.
Form 1095-C available now
Form 1095-C is provided to employees and the IRS documenting offers of health insurance in the previous tax year.  For those employees who have signed up for electronic delivery, this form is now available in Arches.  All other eligible employees will receive this document in the coming week through the US Postal Service.
Please note this document is NOT required for filing federal or state taxes.
Questions?  Email ashleykilker@augustana.edu
Becoming Brave book discussion begins tomorrow
Join us in celebration of Women's History Month
Thursday March 4, 2021 10:30am -11:45am  
Dear Campus Community, 
March is Women's History Month. 
Dr. Brenda Salter McNeil, author of Becoming Brave: Finding the Courage to Pursue Racial Justice Now, will be our guest speaker. She will discuss her journey to become a champion for racial reconciliation and the importance of interracial and multicultural relationships toward this goal. Dr. Salter McNeil is an Associate Professor of Reconciliation Studies at Seattle Pacific University. She is also the Associate Pastor of Preaching and Reconciliation at Quest Church in Seattle, Washington.
Some of us are already reading her newest book Becoming Brave: Finding the Courage to Pursue Racial Justice Now. If you are interested in reading the book ( few books still available) and participating in discussions, please see the schedule below. Click here to join the presentation.
Reading Schedule
Students: each one hour session begins at 4:00pm
Session 1 (March 7) Foreword through Chapter 3
Session 2 (March 21) Chapter 4 through Chapter 7
Session 3 (April 11) Chapter 8 through Chapter 10
Session 4 (May 2)Chapter 11 through Conclusion
Employees: each one hour session begins at 4:15pm
Session 1 (March 3) Foreword through Chapter 3
Session 2 (March 31) Chapter 4 through Chapter 7
Session 3 (April 14) Chapter 8 through 10
Session 4 (May 5) Chapter 11 through Conclusion
Onward Together,
~Dr. Monica Smith