HR Update - May 12th
HR Update summer hiatus
The HR update will be taking a summer hiatus. The last update for the 2020-2021 academic year will be published on Wednesday, 5/19. If you have submissions you'd like us to include in the last update please be sure to send them to hrupdate@augustana.edu no later than Tuesday, 5/18 at 2pm. Our intention is to resume the HR update in the fall on a bi-weekly basis.
Open positions - share the news!
Vaccination survey - help us plan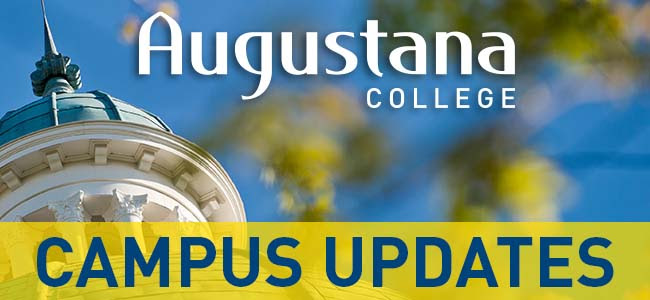 Fellow employees,
As we move towards a new, post-pandemic normal, we are planning for a more normal fall at Augustana. That means a return to the teaching, learning and working that is more like the Augustana we know, and what we do best.
Transitioning to a new normal will not be quick and easy, and we know there are many questions about how we can make the transition safely. Much will depend on the status of the pandemic and vaccinations on campus and in our larger communities.
While the college is not at this time requiring that you receive a vaccine, we do ask community members to share their vaccination status. (Survey link follows below.)
Here's why:
• The more people who are vaccinated, the more we decrease transmission and its impact on the health of our community.

• A decrease in the transmission, or the health risks of transmission, supports our ability to return to our pre-COVID learning and working community.

We have become accustomed to many practices needed to operate safely during the pandemic, and we will need to understand how changing those practices will affect the risk of spreading COVID-19. Knowing the status of vaccinations on campus will help us to understand this.
This information also will be helpful as we consider whether it is necessary and appropriate to require the vaccine of any of our community members.
A link to this confidential survey will remain available on the COVID-19 information page.
The survey will ask you to provide your employee identification number and your vaccination status. Your responses will be directed to Human Resources and will be treated as confidential.
Anonymous reporting is an option for employees who would rather not reveal their identity but are willing to provide their vaccination status. At a later date, identity information may be required.
Thank you!
The Augustana Strong Task Force
Academic Year Support Staff Calendar
Please take a moment to review the 2021-22 calendar for Academic Year Support Staff.
Nominate your colleagues for a Jaeke Award!
Dear Friends:
Nominations are now being accepted at https://augustana.formstack.com/forms/jaeke for the Violet M. and Harold T. Jaeke Awards.
The Jaekes established an endowment to recognize outstanding performance by persons within the "major areas of employment at the College: teaching, administration, food services, plant and maintenance services, and secretarial services."

Please take a moment to recognize and honor individuals who through their work reflect exceptional commitment to the mission of Augustana, and who serve as role models, especially in the eyes of students and of colleagues within each of these categories.

PLEASE NOTE:
Nominations must be received no later than 5pm on Thursday, May 13.
There's a strict 200 word limit, so everything you write from word 201 on will not be shared with the Committee.
While multiple nominations are welcome, this is not a ballot. The number of nominations is not considered as a number of "votes."  
Please find the list of Jaeke Award recipients to date, noting that previous recipients are not eligible.
If you have any questions, please reach out to Kai Swanson x7419.
 
Student Appreciation Sale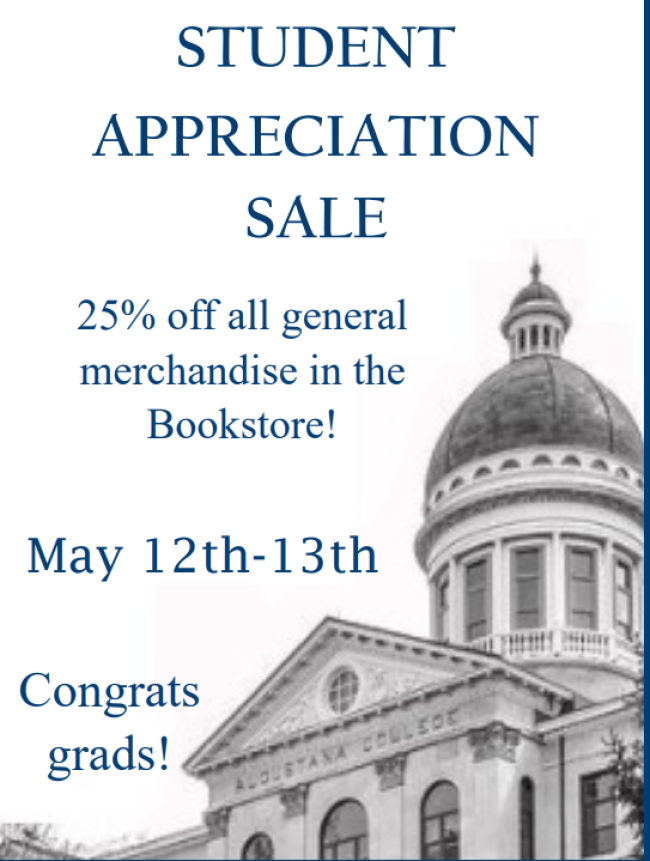 Don't miss out on this end of the year sale which applies to all members of the Augustana community. 
Augustana Baby and Child Development research opportunity
Researchers in the Augustana Baby and Child Development (ABCD) Lab are recruiting participants between 24 and 30 months of age for a project examining how children learn language from storybooks. Participation involves attending two 45-minute sessions via Google Meet with a member of our research team. During the first session, your child will complete a language task, and you and your child will read a storybook together. You will then be asked to read the storybook to your child every day and complete a reading log until the second session. During the second session, your child will complete a second language task. Additionally, we will ask you to complete questionnaires on your child's development.

To be eligible for the study:
• Your child must be 24- to 30-months-old
• The child and accompanying parent should be fluent in English
• You must have internet, audio, and video capabilities

Compensation will be provided. If you are interested in participating or would like more information, please complete this form or email us.

Thank you for your support!
Sincerely,
The ABCD Lab Research Team
From the Presidential Center for Faith and Learning
Three announcements: 
(1) The mission of the Presidential Center for Faith and Learning is "to lift up and live out the Five Faith Commitments of Augustana College." Part of that work is to help lead the 27 institutions in our Network of ELCA Colleges and Universities (NECU) in reflecting on our institutional vocations as Lutheran colleges. The journal Intersections is one primary way we do that. Our own María Emerson has a great essay in the new issue, and Jason Mahn has included a selection from his forthcoming book. Please take a look at these and the terrific contributions from our Lutheran sister schools. 
The SPRING 2021 online issue of Intersections - Faith, Learning, and the Vocation of Higher Education IS NOW AVAILABLE! 
In compelling and inspiring ways, each essay invites educators to the work of caring for students so that they can care for others, and appropriately troubles easy understandings of service, love, and the common good. 
Links to each essay and the whole issue can be found at https://digitalcommons.augustana.edu/intersections/
(2) ALL faculty, staff, and administrators are invited to attend this summer's Vocation of Lutheran Higher Education Conference!
The NECU-wide gathering will convene virtually, July 12 – 15, 2021, 2:00 pm – 3:30 pm Eastern Time, except the session on July 13th, which will meet 2:00 pm – 4:00 pm Eastern Time. 
The theme of the 2021 conference is Called to Place: Community Responsive Education. Participants will consider how local landscapes, neighborhoods, events, and people influence the missions, identities, and institutional vocations of our colleges and universities, along with our individual callings related to antiracism within our particular communities.
There is no registration fee for this event.
Registration will open soon. Please let Jason Mahn (jasonmahn@augustana.edu) know of your interest and availability.
(3) Thank you to the following colleagues for their willingness to participate in a two-day Zoom workshop series this June on "Introducing Faculty, Administrators and Staff to Lutheran Higher Education." The webinar is hosted by the Network of ELCA Colleges and Universities (NECU) and Pacific Lutheran University.
Eric Stewart, Assoc. Prof. of Religion and Director of the Center for Faculty Enrichment
Umme Al-Wazedi, Assoc. Prof. of English and incoming Chair of Faculty Welfare
Jessica Schultz, Associate Dean of Academic Affairs
Brandon Tidwell, Interim Director of Human Resources
Rev. Melinda Pupillo, Campus Chaplain
Jason Mahn, Director of the Presidential Center for Faith and Learning
For questions please contact Jason Mahn x7324.
TIAA virtual one-on-one retirement sessions