The best ways to get a job on campus
We all know that once students get to college their money seems to magically disappear within the first week or two. For this reason, Augustana happily offers job opportunities in many different areas.
How do you get a job on campus? 
First, it's important that the school has all documents needed for you to be a student employee. 
For domestic students, the school needs: 
an I-9 form 
Federal W-4 
Illinois or Iowa W-4 
a picture ID or passport 
a direct deposit form 
an original Social Security card, or an original birth certificate, or a valid passport. 
For international students, the school needs: 
These forms can usually be filled out at registration and orientation events over the summer before your first term at Augustana, at any time in the business office, or you can download them and drop them off when you have time.
Domestic students are limited to 10 hours of work a week, and international students are limited to 20 hours a week.
You've filled out the paperwork... What's next?
There are several ways to get jobs on campus, but the easiest and most straight-forward way is through a service called Handshake. 
Handshake is similar to other online job-search platforms like Indeed. Student positions are listed on Handshake, and students can apply directly on the website to on-campus jobs that they may be interested in. 
Additionally, I recommend checking your email regularly as some departments, especially dining services, may announce their job openings through email. I also recommend visiting CORE. CORE is more than happy to help you find on-campus employment opportunities that coincide with your interests or major.  
CORE can also help students find internships, on and off-campus jobs, prepare students for interviews, help build resumes, and so much more. They also help students apply for Augie Choice, which is $2,000 that all students can apply for and can be used to help cover the cost of research, internships, and study abroad programs.
Outside of regular employment, students can sign up for the Flexible Employment Program (FEP). FEP is similar to a temp agency and allows students to work for different departments across campus as needed and select occasional work opportunities that fit within their schedules. This way, students can sign up for short-term positions that fit their schedule, and they only have to work when they want to. Many of these positions are for one-time events or programs on campus.
My personal experience with student employment.
Now, the ways listed above are how most students get on-campus jobs, but I got my jobs a little differently. My first job was given to me by another student. She was a junior during my first year and was looking for someone to start training under her to take over her position as a social media coordinator in the music department. 
She sent a text to a group of people and I showed interest in the position. After an interview with her supervisor, I was offered the job. Then, this year I received an offer to be a writer for Blogustana because of some of the work I had been doing on social media. 
Additionally, I asked for a letter of recommendation from my voice teacher, and a couple of minutes after she said yes, her husband emailed me to ask if I wanted a job working in the music library. 
Most jobs are posted on handshake now, so these word-of-mouth opportunities aren't as common anymore, but some opportunities may arise just because of who you know or what work you've done in the past
The several different positions through Augustana's student employment are an excellent way for students to make a little money while remaining on campus and is an opportunity that all students should take advantage of. 
If you're interested in applying for a job, one place to start is talking to upperclassmen!  Upperclassmen can help you learn about jobs on campus, give you recommendations, and tell you about their experience working with campus departments. 
Additionally, get involved in organizations like the OSL, because a lot of offices tend to hire people that they know.  So, get your name out there and get exposed to the offices that you may want to work for on campus, and don't forget to check Handshake!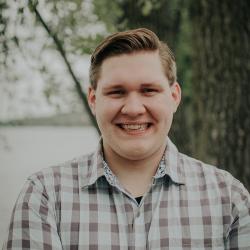 Jon Jaworowski
Jon Jaworowski, Class of 2023, is from Rockford, Ill. He is a vocal music education major and theatre arts minor. Jon is a member of the Augustana Choir, the Augustana Academic Chorus, and the Augustana chapters of NAfME and ACDA.  Jon is also involved in the theatre department at Augustana, and the Spotlight Theatre in Moline, Ill.  Jon also helps manage the Augustana Oratorio Society, works as a social media coordinator for the fine arts department, and is also a music librarian for the choir department.