College applications: how to effectively showcase yourself
Starting to apply to your dream college or university is a very exciting time. While it may seem like an easy process, it doesn't mean you can send your life story to the schools you like and immediately get accepted. 
You'll have to devote time and energy into creating an application that showcases who you are and why you're a good candidate. Here are some tips on how to build your college application from someone who's done this before. 
Stay Organized: 
Staying organized can make the process ten times easier. First, gather all the necessary documents and create a checklist of what must be done. 
I used the Common App online because it includes a checklist for students and the requirements for all the schools that accept it. Having all these documents organized allowed me to focus more on the the essay and less on pre-work. 
Reflect on your experiences: 
For the essay portion, think before you write. 
First, start by reading the essay directions for each school. Trust me, it'll be very clear if you don't read the question thoroughly. Glaring mistakes may hinder your opportunities if you're not careful.
Next, consider creating an outline of what you want to include before you start writing. Outlining can make it easier to recall all your accomplishments, and help you get through the writing process faster.
When I was applying to colleges, I started the essay process with reflection. Giving thought to my time in high school and how my experiences shaped me as an individual helped me add substance to my essays. Colleges want to know what kind of person you are, not just what you've accomplished.
Think back to the the many achievements, honors, or awards that highlight your strengths and goals and help tell your personal story. Also include any job, internship or community service experience you may have. 
Don't write a novel about yourself, but make sure you highlight your biggest strengths and greatest achievements. Choose your words carefully to avoid repetition and make sure your essay doesn't sounds too rehearsed.  
Ask for personal recommendations:
Including recommendations in your college application is a good way for colleges to see your strengths from a different perspective. I asked teachers and counselors who had known me for majority of high school for letters of recommendation.
It's important to ask mentors who you have a good relationship with.  Even if you have ten letters of recommendations, they won't mean much if they're generic and lack substance.
Overall, be confident in your ability to showcase yourself. Give individual attention to each institution you apply to and make sure you answer every question thoroughly. 
Make sure to have multiple people read over your essay as well to find any grammatical or syntax mistakes. Having to write and rewrite this essay will guarantee your final product is your best work. 
The process may seem daunting now, but if you stay organized and take the time to really work on your college application, you will succeed. 
If Augustana is on your list of dream schools, learn more about the skills and traits we look for in future Vikings.
If it's not -- find out why it should be!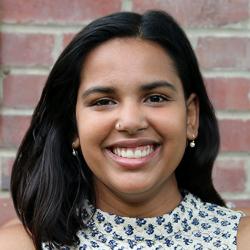 Krishna Marmé
Krishna Marmé is a senior at Augustana. She's double majoring in Political Science and Public Health with a minor in Sociology. After college, she hopes to continue working within Public Health to promote the health and well being of her surrounding communities. Krishna from DeWitt, Iowa. In her free time, she loves to read and spend time with her family and dogs. 
On campus, Krishna is involved in the Phi Rho Sorority as the Diversity Chair, Risk Management Chair, and Member of the Constitution Committee. She's also the President of Omicron Delta Kappa, Secretary of Mortar Board Honor Society, a member of the Title IX Student Advisory Council, and a member of the Inclusion Committee.