Common myths about the college admission process
So, you've narrowed down your college choices and have begun the admission process. By now, you're probably wondering what the most vital parts of your application are and what will boost your chances at getting accepted. 
A lot of misinformation can swirl around and rumors die hard. How important are extracurriculars, really? And how important are my test scores if I have above a 3.5 GPA? As someone who's been through the same process you're getting ready to start, I've compiled a list of myths about college applications. 
Myth: The more extracurriculars, the better
This boils down to quality versus quantity. Colleges want to see that you're involved with groups and activities that you're passionate about, but they also want to see what you'll be bringing to the table in regards to their student body. Being actively involved in fewer clubs and groups by taking initiative and holding leadership roles is preferable to just being a participant in multiple extracurriculars. 
Holding the position of vice president in your school's thespian society or captain of the debate team holds more weight than a laundry list of extracurriculars.
Racking up a list of things you're involved in is a sound theory on paper, but in practice, colleges want to see how you apply yourself to your passions, and they want to see it brought to their campus. Simply being a member might not cut it, depending on if there were opportunities for you to show your dedication to your organization. 
Myth: Test scores will make or break your application
With the COVID-19 disruption, a lot of schools dropped test score requirements on their applications. If your school is still requiring test scores and you think your test scores will hurt your chances more than help them, some schools like Augustana offer a test-optional admission process. This allows students to showcase themselves without needing to submit test scores. 
Additionally, testing is just one element of your application. Between your transcript, letters of recommendation and written essay portion, you'll have more chances to impress your college of choice.
Myth: Getting creative on your essay is too big of a risk
If you haven't heard it before, then it might do you well to know that the University of Chicago is famous for the creative essay submissions it seeks from its applicants, and for good reason. 
There is no computer software that can read your essay and pull out your personality better than the admission counselor reviewing your application. The essay is your chance to say with your own words who you are and why you stand out among all others. Out of hundreds of applications, yours will definitely stand out if you add something engaging.
Just make sure it stands out in the right way. If you're not really passionate about the environment, don't write about it. If you're more of an introvert and reserved, your college application is not the time to try being an extrovert. It will show, and you will come off as disingenuous. 
If the idea of writing an essay for an original prompt makes you uneasy, colleges like Augustana can also allow you to submit a graded paper from a class or a personal statement about your beliefs and values. 
Myth: Interviews are only worth doing if you're nearby
I lived four hours away from Augustana when I applied. Even with a good transcript and an essay I was confident in, I felt that the best way to convey who I was as a student and member of my community was to do so with my own voice. 
In-person interviews are always the preferable choice, but thankfully there are options that allow for interviews over video-chat or a phone call. In this way, your application is no longer faceless and gives you a huge advantage. By doing a phone interview, I was also able to ask a few questions of my own since my ability to do a campus visit was limited.
It's also possible that during a review of applicants, an admission counselor might contact them to know a little more about them in order to learn why they're applying and if they're a good fit. It's critical that wherever you apply, you have a good feel for it and are confident you'll excel there. 
Augustana prides itself on creating an environment where academics are priority, while student life is accepting and inclusive of all cultures.
If you're still in the process of putting together a college list, consider taking a virtual visit or scheduling an on-campus visit and learn why Augustana should be at the top!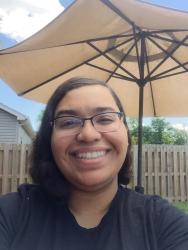 Autumn Peele
Autumn Peele graduated from Augustana College in May 2021. A geology major with a theatre minor, she has had a lifelong passion for paleontology. She plans to attend grad school and specialize in vertebrate paleontology. On campus, Autumn was the vice president of the Udden Geology Club and a student worker for Augustana's web services and new media department.