Dorm shopping tips that won't break the bank
When I was an incoming freshman last year, I remember looking at the list of things to bring to campus and feeling a bit antsy. It lists a lot of stuff that you may or may not have, which means you could be potentially buying a lot of new things, which means you could be spending a lot of money. That might not be an option. 
I'd like to offer a few tips to keep you from spending too much and also list a few things I found essential for my dorm (and how to save money on them!).
What do YOU need?
If you're like me, you want your room to feel like home. You go back to your room to sleep, eat, do homework, or to relax.
Ask yourself: What kind of environment do you want your room to have? Do you want it to be a quiet space where you can study? A safe place for you to unwind by yourself? A fun space to hang out with friends? All of the above? You should feel comfortable going back to your room after a long day.
 
Communicate with your roommate. 
There's a good chance you and your roommate can share a lot of things, so ask them what they plan on bringing.
Last year, my roommate and I sent texts and Snapchats of decorations, supplies, and other items we had to see if we'd both like them.
You can only bring one microwave and one refrigerator, and you may just want to share one TV. Discussing the things you can bring can help lay a great foundation for communicating with your roommate for the upcoming year, and can also help you take stock of the things you already have before you go to the store.
Shop smart.
Don't underestimate the dollar store, thrift stores, and other discount/ resale options.
The thing with dorm shopping is that you may not need something anymore after your time here at school, and there will also be other essential things you'll need to spend money on instead of decorations, like textbooks and other school supplies.
Look into potential student discounts, like the student discount for Apple or Amazon Prime. Also, you don't want to be stuck bying everything last minute, so make a list! It will help keep you from buying a bunch of stuff during the first week of school.
DIYs? More like DI-WISE.
There are some decorations and things you can make at home instead of spending a lot of money on. Maybe you and your friends can have a Bob Ross-style painting party. There are endless ideas you can find online, too.
There are a lot of great ways you and your roommate can collaborate to create a space that feels like home, but doesn't cost a bunch of money. Feel free to share any of your best money saving tips in the comments below, and stay tuned for another post from me about helpful items to buy for your dorm.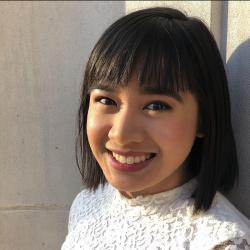 Mary Isabel Sales
Mary is a Spanish, psychology and sociology major at Augustana College. She is a member of Chi Alpha Pi, the National Alliance on Mental Illness (NAMI), Camp Kesem, and Best Buddies. She works as a community advisor (CA) and as a tutor in the Reading/Writing Center. Mary is also a public relations co-chair on the executive board of Augustana's chapter of Alpha Psi Omega, a national theatre honor society.