How Augustana's music program has impacted me
Deciding to continue in music through my undergraduate studies has led to wonderfully rewarding experiences. I've played the violin since age 6; leaving the instrument behind would have been a major change in my life. Participating in music and the orchestra at Augustana has done wonders for my playing ability and connected me with excellent mentorship, outstanding opportunities, and remarkable new peers and friends. 

Even during the most severe parts of the coronavirus lockdowns in the 2020-21 school year, I learned so much during my virtual lessons with Dr. Susan Stone and the brief orchestra rehearsals in which we participated. Under Dr. Stone's instruction, I worked with countless amazing pieces of music that I never imagined I'd be able to play. Dr. Stone has been a very positive force in my musical journey, improving my diligence as a musician and coaching me through all kinds of music.

Last year, I was incredibly fortunate to play in what I would call one of the most captivating musical experiences of my life: the Augustana Symphony Orchestra's (ASO) concert entitled "The American Rhapsody." Aaron Dworkin, the founder of the Sphinx Organization, performed a spoken-word piece on the life of George Washington set to Samuel Coleridge-Taylor's "Symphonic Variations on an African Air." This concert was a challenge to perform and put together, but the end result was fantastic. For the first time in my life, I felt as though I was actively engaged in contributing to performing art rather than simply playing music.

This year, under the direction of our talented conductor Dr. Ernesto Estigarribia, the ASO has performed several notable pieces of music, the most exciting (in my opinion at least) being Ludwig van Beethoven's classic "Fifth Symphony" last October. This semester, we played Stravinsky's "The Firebird" and assisted this year's concerto competition soloists by accompanying their winning pieces.

 Another excellent musical organization I've been honored to engage with is the Zeta Beta chapter of Phi Mu Alpha Sinfonia, Augustana's musical service fraternity. Joining this organization has been a great opportunity to meet others who share a passion for music and "advance the cause of music in America." Having made lifelong friends through both this group and my time in the ASO has shown me that the music program at Augustana has been not only a fantastic artistic outlet, but also an amazing social one as well.

It's difficult to describe just how special my time as a musician at Augustana has been, but one thing is for certain: I will never regret my decision to continue the violin after high school.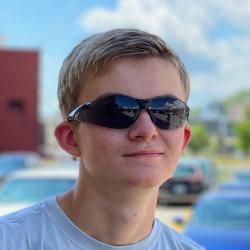 Brian Thomas
Brian is a senior from Waukesha, Wis., majoring in English.