No regrets: coming to Augie from California
Every time I tell someone here that I'm from San Diego, California, I get the same response every single time: "What?! Why are you here in Illinois?!" 
The truth is, before I applied, I didn't even know what or where Augustana was. I applied to some California universities and one other out of state college (Texas). 
Then in February, I got an email from Augie saying that they were extending their application deadline, and my mom encouraged me to apply after reading up on their website. I applied, and about a week later, I was accepted and offered the Dean's Scholarship. 
This scholarship, along with the other financial aid that Augie offered me, really made me consider going to a school in Illinois. I was struggling to choose between Texas and Augustana, but after talking with the Augustana admissions counselors, I decided to commit. 
May I add, I committed before I even visited campus— and my dad and I flew out in late April to go on a campus tour. I fell in love with campus the second I got here. 
Last year classes started in August and the first month or so was extremely humid. Southern California mainly has dry heat, so the humidity was definitely a big adjustment during my first few weeks here. 
I remember complaining about the heat to a lot of my friends and saying how "ready" I was for it to be cold outside. Every one of them said that I was going to regret saying that . . . and I really did. 
Not only did I get to experience living in snow for the first time, but I also got to wake up one day to the Weather App on my phone telling me that it was -30 degrees outside. But as brutal as my first winter was, I didn't totally hate it. The snow days that got classes cancelled, the way the snow looked on the ground and on the buildings... I started to love it. 
My roommate grew up in the Quad Cities, so before I moved here she kept telling me to "prepare for the cold." I had zero winter coats or boots, and now I have about three pairs of each!
The thing that brought me to Augustana was the people, and the thing that keeps me here is the people. 
I'm only a sophomore and I've already made the most amazing bonds and close friendships that I now couldn't imagine my life without. During my first week here, I met a guy who is now my boyfriend of one year. I rushed Greek life and found a home in a sorority that reflects all of my own values and beliefs, and women who empower and support one another. 
My major and my career path changed after my freshman year and I am now planning on getting my masters in nursing and becoming a nurse practitioner eventually. 
I know everyone says this, but life really is crazy. You never know where it will take you. Never in my life did I think I would end up at a college in the Midwest, but here I am. As much as I miss going to the beach, I couldn't be happier about my decision coming here and I am so glad I took a leap of faith with this school.
Augustana has done nothing but great things for me and my well-being, and I can't express how grateful I am to attend this little college in good old Rock Island.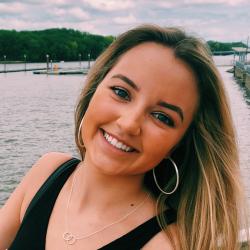 Sophia Gilmore
Sophia Gilmore is majoring in neuroscience on the pre-nursing track class of 2022. She's originally from San Diego, California. On campus, she's a part of the Phi Rho sorority and is the fall 2019 Social Chair. In her free time she enjoys watching scary movies, listening to music and getting coffee with friends.