Should you explore a gap year?
From a young age, most of us were told to believe there was a linear path we needed to take in regards to education.
You simply progress from one stage to the next, without veering off the straight path. We complete preschool, elementary school, middle school and high school. After high school, many students feel that there is an expectation for them to go right into college.
And after graduating college, there is another expectation to either go on to graduate school or start a career right away. For many high school and college graduates, this consecutive and non-stop educational route is not the right path for them.
Especially now, considering the world's current state of unpredictability, many students' plans remain unclear because of the possible continued closing of schools in the coming fall. 
One option you might be considering during this time of uncertainty is a gap year.
As defined by the Gap Year Association, a gap year is "A semester or year of experiential learning, typically taken after high school and prior to career or post-secondary education, in order to deepen one's practical, professional, and personal awareness."
Recent high school or college graduates will often take this time to travel, volunteer, work or explore some of their other interests. Each gap year experience is different and fits what is best for the student and their personal goals and intentions. 
Gap years can come with several benefits:
Gain work experience
A gap year can be a perfect time for students to spend working in their intended career field. This could be through an internship or an entry-level position. The skills and knowledge you gain from hands-on work experiences can translate to higher education courses, as well as future job endeavors.
Taking a year to work and gain experience can show professors or future employers that you have the background and work ethic to be successful. Employers are more willing to hire candidates who have previous work experience listed on their résumé. 
During the pandemic, the possibilities of finding work might seem slim. However, there are several companies still hiring, as well as opportunities to work remotely until the country is able to open up again. 
Explore personal interests
While in school, it can be hard to find time to explore other personal interests or hobbies. Some students who choose to take a gap year use it to do just that.
Whether it's traveling somewhere you've always wanted to go or taking on a project, a gap year provides the opportunities for students to grow personally and add to their long list of skills. 
Relating to the current pandemic, traveling to other states or countries at this time might be difficult. However, you will have the time to research and plan out trips you would like to take in the future once things settle down and clear up. There might still be other hobbies you can pursue at home. 
You're able to reflect and participate in other things you enjoy doing aside from academics, and it's possible you'll get a better idea of what you'd like to do for a future career. 
Save up money
If a student chooses to work during their gap year, it's the perfect opportunity to make and save some money. Saving money during a gap year can help pay for school, travel, living expenses, etc. A gap year can allow students to become more confident and independent financially .
If the pandemic has resulted in a loss of a current job position for a student or someone in their family, and paying for college tuition has become more of a challenge, a gap year can offer the necessary time to get back on your feet. It's always important to consider what will be best for you and your family, as well as how you can use the time to benefit and help your future.
For some students, there might be several drawbacks to taking a gap year: 
Loss of academic momentum
Taking a gap year can sometimes lead to a loss of academic momentum. A graduate might get used to their time away from school, so it might make the transition back a lot harder. This can also cause the fear of not being able to catch up once you come out of a gap year experience.
The pandemic has caused schools across the nation to close for the remainder of the 2019-2020 school year, and there are possibilities that closures will remain through the fall semester of next year. Many high school seniors and current college students are considering taking a gap year if they aren't able to return to school in the fall and will have to continue distance learning. However, taking a break in the middle of your academic career can have its consequences, as it might be harder to return after a yearlong break. 
Financial expenses
Depending on the type of gap year experience you plan to take, the costs and expenses can often build up.
When planning your experience, it is important to consider whether you'll be able to afford all of the things you want to do, and if it will take a huge financial toll on you in the future. 
Gap years can be a huge investment, and money plays a key role in determining what you'll be able to do. 
Risk of wasting time
A lot of planning in advance must go into a gap year experience. It's important that a student has a clear outline and map of everything they plan on doing and how they intend to achieve those goals.
If not, there's a chance that the break away from school and academics will be unproductive rather than gaining work experiences, traveling or investing time in personal interests.
Before taking a gap year, it's important that you consider all of these factors, both the pros and cons, to help you determine whether it's the right decision for you. It might also be helpful to discuss your thoughts with family members, teachers or professors, academic counselors, as well as close friends.
If you're considering choosing a gap year experience to avoid online learning, take the time to really ask yourself what it is about distance learning that doesn't appeal to you. I think it is pretty safe to say that everyone, both students and faculty, truly miss being physically present on campus and in classrooms. And of course, we're all yearning for the social aspects that come with being on campus. We're all trying our best to get through this. 
I would like to reiterate: WE ARE ALL IN THIS TOGETHER.
Distance learning still provides incredible opportunities for students to continue their studies and explore new perspectives. It's an experience that many will never forget! If classes remain online next fall, consider how you can improve your situation, rather than hiding from the possible challenges presented or the minor inconveniences.
We've already made it through half of a semester of distance learning and now know more of what we can expect. For some inspiration or tips about distance learning, check out the blogs A day in the life: distance learning in Nevada or How to adjust to distance learning. 
The Gap Year Association is a great resource for more information about gap years and how to plan one. Every student has different interests and needs when it comes to planning their future. They have the ability to explore different options to customize their educational path, and a gap year just might be their stepping stone to achieve their future goals.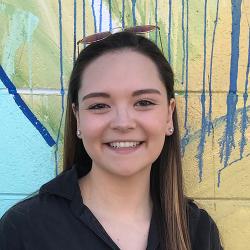 Patti Grod
Patti graduated from Augustana in 2020; she was a double major in communication studies and French, with a minor in entertainment and media studies. She is originally from Northbrook, Ill., but her family relocated to Henderson, Nev. Outside of academics, Patti was a member of the Vikings varsity swim team, director of PR and marketing for HerCampus, and a member of Delta Chi Theta sorority.