Tips for living with a roommate
Most incoming college students have never had to live with a stranger before, let alone live with a stranger in the same room. This change is one of the biggest worries for college students, but don't fret. There are easy ways to create a positive living environment! You never know, this stranger might become one of your best friends if you play your cards right.
Communicate.
You don't have to be best friends with your roommate right away (or ever), but you do need to communicate with them in order to set boundaries. 
If something they're doing is bothering you, let them know. Don't pretend it's fine when it isn't.
Being passive aggressive is one of the biggest problems roommates come across. 
The best way to avoid these issues is by talking to them about any issues you might have as soon as they come up.  
Tell them if something bothers you. That's the only way it will be fixed! 
Get to know them at first.
Since you'll be living with this person for at least one year, the best thing to do is get to know them a little bit. 
What's their favorite TV show? What kind of music do they like? What's their major? You might be surprised to find that you have a lot in common.
You don't have to share your deepest and darkest secrets with them, but if you have a basic understanding of them, odds are that you will get along better!
Discuss important roommate topics.
Right away, let them know what time you plan to go to sleep and when you wake up, and ask them the same. One of the most annoying things in college is being woken up from your sleep! 
You should also plan to discuss anything that occurs in your room that will impact your roommate. 
Plan on having a guest over while they're in the room? Let them know ahead of time. Think of the situation in reverse. If your roommate had forgotten to tell you about something that bothers you, how would you feel?
Respect your roommate's stuff.
This is a big one. It may not seem like a big deal if you grew up with siblings who share everything, but not everyone is comfortable with that. 
Don't touch your roommates stuff unless you ask. 
Be respectful of them and their space. They should do the same to you! 
Have fun with them.
If you're not best friends with your roommate (which is totally normal), at least try to have a friendly relationship. 
When the year starts, invite them to hang out with you. It can be as simple as grabbing dinner together in the dining hall. 
Everyone struggles to find friends at some point. Including them at one event doesn't mean you will have to hang out 24/7, but it will help you develop a positive relationship. Setting boundaries in the beginning will help you determine what you do and don't do together.
If you have any major issues with your roommate, there are residential resources that will help you solve the problems. Try to communicate any concerns with your roommate before they become too major. 
It will make your living space a lot more comfortable!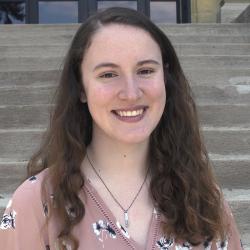 Madison Williams
Madison Williams '20 majored in multimedia journalism and mass communication at Augustana College. She was also a sports editor/reporter for the Augustana Observer student newspaper. She currently is pursuing a master's in sports media at Northwestern University's Medill School of Journalism.