Why you should attend Summer College Search at Augustana
Are you a student whose college search plans were disrupted because of the COVID-19 crisis? YOU ARE NOT ALONE. 
Colleges and universities across the country have limited, if not completely closed, their campuses for admissions tours, in accordance with the mandatory stay-at-home orders. This leaves many incoming college students and transfer students facing uncertainty regarding their decisions. 
While it is crucial to maintain social distancing and protect ourselves from the coronavirus, there are still ways to help us stay connected and adapt the best way we can, including with college decision-making. 
In fact, Augustana is offering FREE, virtual informational sessions that can help guide you through the online college deliberation process, called the Summer College Search Series. These sessions are meant to help everyone, not just students considering Augustana. Get HYPED!!
If you are interested in going to Augustana (which I'd highly encourage looking into, speaking as a current student), there is a session this upcoming Monday, July 13, at 3 p.m. called Choosing a Major: What is the best fit for you?. There will be a session in Spanish as well, Augie 101: Una introducción en español, on Wednesday, July 15 at 4 p.m.
Transfer students, no need to feel left out! While many college resources are specifically geared toward first-year students, we have you covered! There's a session called How to Transfer to Augustana on Wednesday, June 3, at 5 p.m. 
On a separate note, we also have a previous Blogustana article on "6 tips if you're looking to transfer schools" by Chelsea Meyer '20.
However, the Summer College Search Series will also include a variety of other topics that may be relevant to you, whether you're considering Augie or not. 
These topics include:
Choosing a College that Fits 
The Money Part: Understanding the Financial Aid Process 
Behind the Scenes: The College Essay 
Myth Busting College Admissions
Application Review: What you can expect! 
Get Recruited: What you need to know about Division III Athletics 
Choosing a Major: What is the best fit for you? 
Let's Talk Test Optional!
All sessions will take place as listed on Central Time (CT). The full list of the available sessions with links to sign up is available here.
I encourage you to look into all the possible available online sessions (and classes) that higher education institutions are promoting and creating because of the COVID-19 crisis. They are here for YOU! 
Just remember, we are all trying our best to find our way in the world right now, and you are doing the best you can!
Good luck!

An article that also may be relevant to you as an incoming college or transfer student is "How to experience campus when you can't visit" by newly graduated Patti Grod '20, which offers great advice on making sure you see your campus the best you can before you seal the deal.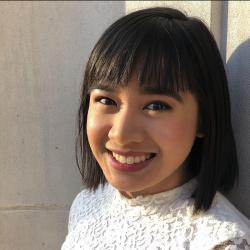 Mary Isabel Sales
Mary is a Spanish, psychology and sociology major at Augustana College. She is a member of Chi Alpha Pi, the National Alliance on Mental Illness (NAMI), Camp Kesem, and Best Buddies. She works as a community advisor (CA) and as a tutor in the Reading/Writing Center. Mary is also a public relations co-chair on the executive board of Augustana's chapter of Alpha Psi Omega, a national theatre honor society.