5 things you can still do on (or off) campus to stay active
Don't let this cabin fever get you down! Staying active and productive is important to your physical and mental health. Whether you're at home or on campus, here are some ways you can stay active while continuing to practice social distancing and other health precautions.
1. Go for a walk/jog outside
Social distancing has temporarily closed many gyms or recreational centers around the area. One way to get yourself moving is by simply going outside for a walk. Walking improves your physical fitness and can help alleviate negative moods such as anger, stress, and fatigue. Also, it always feels good to soak up some sun when the weather is nice!
You can squeeze in a walk in between or after you finish up a school assignment or after listening to a lecture. One way I like to start off my days is by going on a walk in the morning, because afterwards I feel fresh and ready to take on the day. 
If you want a more intense workout, you can always pick up your pace from a brisk walk to a jog. You can be creative with the intensity and distance to make it a better and more effective workout. 
Going outside to exercise and get some fresh air during self-quarantine and social distancing is important to both your physical and mental health. However, we often take our environment for granted. From March 17 - 31, The D.C. Environmental Film Festival (DCEFF) will be presenting hundreds of environmentally-themed films online. While we're spending more time in the great outdoors, these films can help serve as a reminder of how amazing and great our world is, and that we need to do our best to preserve it for ourselves and future generations. 
2. Practice yoga and/or meditation
Meditation and yoga come with both physical and mental benefits. Although they're not the most physically demanding activities, they still "work out" the mind; a very important muscle.
Yoga and meditation are activities that can be done indoors or outdoors, and don't require any equipment (maybe except for a mat or blanket to sit on). Yoga and meditation can help relieve muscle pains, as well as increase the production of serotonin ("the happy chemical") to help improve mood. 
They can also help improve concentration and focus, which is important for us students as we complete homework assignments and projects. For some examples, the New York Times posted guides to basic yoga and meditation practices and routines. During a time like this, it's important to keep a positive and calm mindset, as well as focus on yourself and your mental health. 
3. Play Pokemon Go
Pokemon Go is an augmented reality (AR) app that allows a user to feel like a real Pokemon collector and trainer. It's a great app to not only keep you entertained, but also involves active participation. 
Pokemon Go is a great motivator for getting out of the house and being active in order to find new things or complete achievements in the app. This is an entertaining way to stay active and spend time outside. 
In order to get to Pokestops, find new Pokemon, or engage in Pokemon battles, you need to move your physical location to make the app work. 
4. Geocaching
Similar to Pokemon Go, Geocaching is basically an outdoor treasure hunt. Users navigate coordinates and explore different locations in an attempt to find hidden geocaches (containers). 
Geocaching can also be a great motivator to get you moving and active, as well as just being something fun and entertaining to do! You'll be rewarded for your activeness with your geocache prizes. 
5. Follow workout routines on YouTube
From strength conditioning to ab routines, the Internet provides endless amounts of free workout routines for you to follow anywhere you are. It's as if a personal trainer or instructor is in your home with you, guiding you through a workout. 
You can find workouts that involve equipment as well as those that don't. That way you can customize your routine to what best suits your environment and the equipment you have access to. 
One of my favorite workouts is Zumba. The Fitness Marshall YouTube Channel is my go-to for dance workout routines. He has hundreds of guided dance routines posted to popular and upbeat songs, so you will never run out of videos to choose from. Zumba gets my heart rate up and gets me moving, but also has me smiling during and after the workout!
Although these are just 5 of my suggestions of how to stay active, the possibilities are endless! If you want to try one of these activities or want to show off your favorite activity, post a picture or video of yourself on social media and tag Augustana. We'd love to see how you're staying active during this time, as well as share it with the rest of the Augustana community. I'm sure other people are looking for new and creative ways to stay active. 
Remember, we're all in this together and we will get through it no matter how the situation progresses. Be safe, be smart, be healthy, and be active!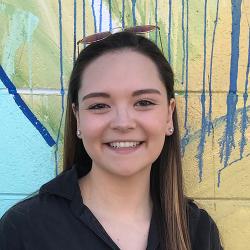 Patti Grod
Patti graduated from Augustana in 2020; she was a double major in communication studies and French, with a minor in entertainment and media studies. She is originally from Northbrook, Ill., but her family relocated to Henderson, Nev. Outside of academics, Patti was a member of the Vikings varsity swim team, director of PR and marketing for HerCampus, and a member of Delta Chi Theta sorority.