The right and wrong ways to practice social distancing
We've been asked to stay home by our schools, our governors, and our president. Leaders, doctors, and healthcare professionals, all believe that social distancing is the best way to get through this pandemic. 
 
There are many right things to do as we navigate social distancing. As we're aware of the right, it's just as important to avoid the wrong ways of social distancing.
 
The right way
Stay home. Yes, it's that simple. 
 
I've been home for 21 days now and trust me, there are days where boredom sets in and moments of frustration from being cooped up in my parents' house. But, I'm doing this to help keep others safe, including my friends and family who may be at a higher risk. 
 
So, if you can't stay home for yourself, do it for your loved ones who are more susceptible to getting COVID-19. 
 
I've learned that walks with my dog are the best way for me to get fresh air and stay active. Even with the unpredictable spring weather. (A little rain never hurt anyone!) 
 
It's important for me to note that I live in more of a rural town where I can go on a three mile walk and not see anyone. But, I know most Augie students are from the city of Chicago or the suburbs.
 
If you're from an urban area, take precaution and be smart. You should always be six feet or farther from another person. If you can't be spaced from others because the weather is nice and people are out, stay inside. 
 
Open your window and get steps in from walking throughout your apartment or home. Fresh air's important, but not at the risk of getting yourself or others sick. 
 
If you need groceries, order them online and do a drive-up service or a delivery option. Almost all grocery stores do this now, including Hy-Vee, Walmart, and Target.
With the end of spring approaching, you may be trying to make a decision about undergraduate or graduate school. If you are, check out this article on how to experience a campus when you can't visit, by Patti Grod.  
It's important to social distance and be cautious, but don't give up on your goals. Keep striving for that new job, that school application, or just to keep yourself on a driven track. 
 
If you live with roommates or parents, hold them accountable. The best way to keep each other healthy is by safely distancing ourselves. 
 
The wrong way
Don't go over to a friend's house. Don't visit your grandparents. Don't hang out at Target. Don't stand too close to people. Oh, and don't forget to wash your hands!
 
There are so many wrong things to do right now, and they're tempting. Nobody wants to be told what they can and can't do. But, have trust in your doctors, health care providers, and leaders. 
 
Stay home and distance yourself from anyone who doesn't live in the same home. If you find yourself bored, catch up on your favorite TV shows, clean your room, or find a new craft to do. It's better to be bored than to be sick. 
 
This will pass, we don't know when, but it will. We'll soon be back at our favorite coffee shops, visiting best friends, hugging grandparents, seeing professors, and getting back to life at Augie. 
To learn more about COVID-19 and how to protect yourself, and those around you, check out the CDC website here.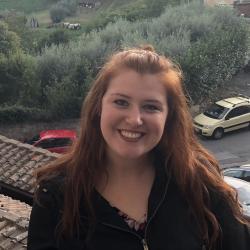 Chelsea Meyer
Chelsea Meyer is a senior from Roscoe, IL. She is double majoring in Communication Studies and Multimedia Journalism & Mass Communication while on the Pre-Law track. 
On campus she's involved with Greek Council as the service chair, a member of the Delta Chi Theta Sorority, and a member of the Women's Golf Team.