Packing for Paris
I am an overpacker at heart. On any trip, whether a two-day weekend getaway or a three-week trip to Paris, I tend to overpack. After months of planning, I came up with a guide that will make your packing routine more efficient, easy and organized.
I traveled to Paris, France, for 2½ weeks to experience and study the lives of American writers in Paris from the 1920s and 1930s. COVID-19 spoiled many of my study abroad opportunities during the last few years, and I had been trying to decide what to do with my Augie Choice when I stumbled across the Writers in Paris trip. As an art history major, I knew this experience would perfectly align with my interests in English, art and communications. Paris has been on my bucket list for many years, and my dream is to work in the communications department at the Louvre Museum some day. Who knows, maybe this trip to Paris will seal the deal!
Since I was leaving the country for weeks, I had to make sure all of my materials were well organized, which led to my three P's of packing: plan, pull and put together.
Plan
I created a Google doc where I labeled categories and wrote down everything I needed to bring. My categories included clothing, accessories, toiletries and electronics. In each section, I made bullet points of each item, how many of each to bring, and in which suitcase each item belongs. By separating the checked luggage from the carry-on, your packing will become easier to organize and you'll be able to keep track of your items.
Clothing is important to plan for, especially putting together fashionable outfits. Pinterest is a great tool to use to make a board of your favorite aesthetics for wherever you are traveling. I created two Paris boards where I found inspiration to create similar outfits with pieces from my closet. Once you plan, packing will be easy as can be!
Pull
Pull your materials for the trip. Keep your Google doc available and go through the list of items from each category. Begin pulling items from your closet and pile them together by outfit or category type. For Paris, I had my planning materials open and began pulling my clothing items by outfit. With little piles categorized on my bed, the next step was putting everything together.
Put together
After all of your planning and digging for materials, you can finally put each piece together. I chose to fold my clothes in outfits to easily pull one for the day's activities. I recommend putting pieces together beforehand — that way you can save time before the day begins.
When sorting each item, pick colors that match and clothing that you can wear with other pieces. For example, I put together several white and black tops with either plain or patterned bottoms. This way I was able to match the same top with different bottoms or vice versa. This stage of packing can also be applied to your other items, as you put together the materials of each category. You are now ready to zip your bags and be on your way!
I hope the three P's of my packing plan will benefit your traveling needs. My trip to Paris was well-organized, which made the chaos of studying abroad a lot less stressful. Throughout the trip, I efficiently chose outfits that I knew would look good, and I was able to easily access them from my suitcase.
If you follow this guide, you could have a similar experience with less stress when choosing what to bring for your trip. Au revoir!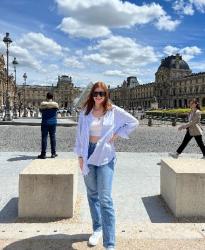 Hannah Knuth
Hannah is a rising senior majoring in art history and communication studies with minors in multimedia journalism and mass communications.