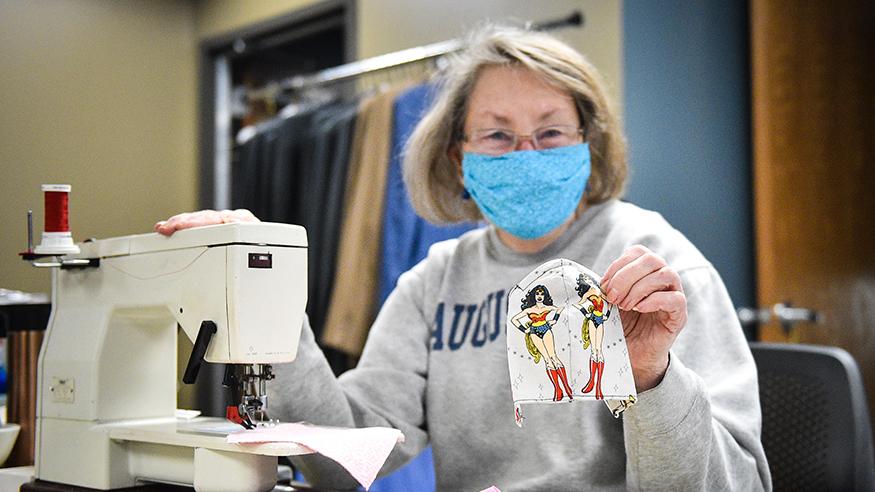 News
Theatre's Ellen Dixon answers the call
To help stop the spread of COVID-19 and keep in line with CDC guidelines, Augustana announced on April 20 that employees working on campus must wear masks. But where to find enough masks?
Human Resources knew exactly whom to call—Ellen Dixon, the theatre arts department's costumer extraordinaire for the last 14 years.
HR Director Laura Ford is hoping to have 500-600 washable masks by the end of May. No problem. Dixon says she and her volunteers probably can do better than that.
Jean Choate (Business Office) and Dr. Kristin Douglas (Academic Affairs) also have been sewing masks for employees, and now students as well, in their spare time at home. More than 200 masks already have been delivered to campus.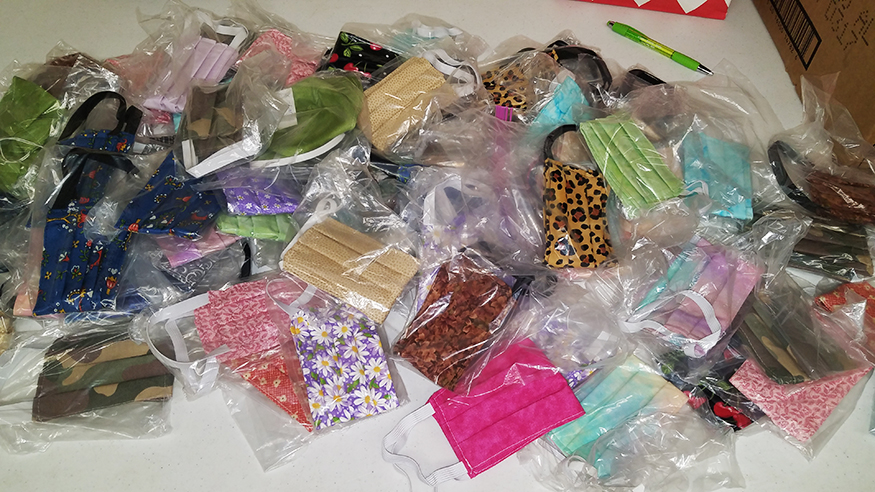 "I think it's great we have people like Ellen, and her team, who have stepped up to the plate by using their time and talent to keep us safe," said Gloria Bollinger, dispatcher in public safety. "I, for one, am truly grateful!"
Dixon has been using fabric she had on hand in Augustana's costume shop, but "cute, cotton prints" would be appreciated if others would like to help (email humanresources@augustana.edu about donating fabric). She is happy to report she recently scored a source for elastic!
Bollinger is helping with distribution and says the masks are very comfortable, and of course, made with great care. "We've received many comments on how nice they are, and everyone has enjoyed selecting a mask from the variety of patterns," she said.
Jack Harris '20, who has worn many of Dixon's costumes during his four years in theatre at Augustana, echoes Bollinger's praise.
"Ellen is a treasure, and the theatre department is lucky to have her!" Harris said. "Not only can she design and sew costumes at a superhuman rate, but she always does so with the utmost care and quality. I'm sure her masks will be no less wonderful—anyone who gets one should be thankful!"