News
2021 Augustana College Alumni Awards
The Augustana Alumni Association recognizes the achievements, contributions and service of alumni and friends of the college each year.
The association solicits nominations and recommends candidates to receive Alumni Association awards. Each of six types of awards may be presented to one or more alumni.
Here are the 2021 winners:
Finest Under Forty Outstanding Alumnus Award: Johanna Schnitzler '14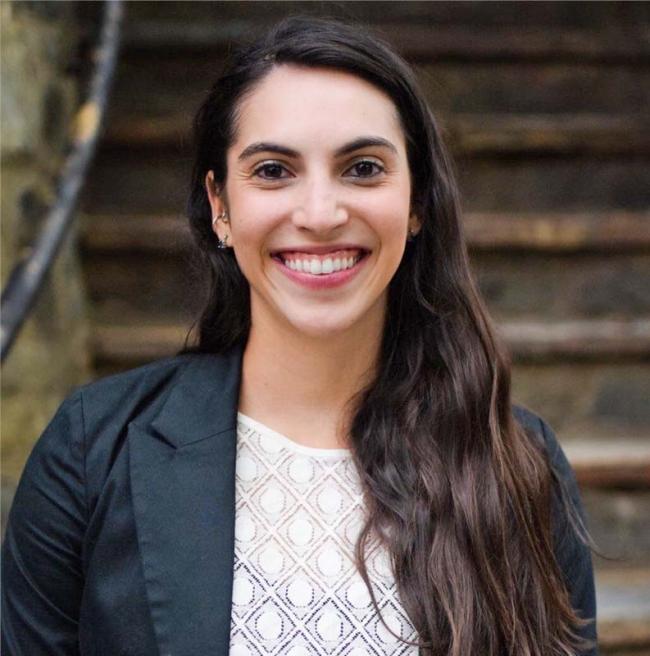 Johanna Schnitzler is a public affairs specialist in the U.S. Department of State Office of Global Social Media.
Before that, she worked for the Department of Homeland Security, Immigration and Customs Enforcement, where she was tasked with dealing with the living conditions of detainees along the U.S. border and helping to conceive and implement a plan to reduce sexual assaults in detention.
Schnitzler is a Spanish community outreach volunteer with Girls on the Run and assists Spanish-speaking families with registering their daughters for a team.
Q & A with Johanna Schnitzler
How do you stay connected to the college?
I've stayed in touch with the Augustana alumni community in Washington, D.C. It's great to hear about the interesting work that other alumni are doing in the area. We love welcoming current Augie students who are in town for an internship! I also like to follow the Augie sports teams. As a former member of the track & field team, I like to stay posted on how the season is going.
Fondest memory of Augustana?
Senior year comprised my fondest memories. It was great to have the independence of living off campus but still having a close community with my roommates and our friends who lived close by. It was a bittersweet year knowing that our time at Augustana was coming to an end, but it was also exciting to see how far we had come in our four years and all the opportunities that awaited us.
Most memorable faculty member?
Not only was Marsha Smith an engaging sociology professor, she was also an outstanding guide throughout the East Asia study abroad trip! Professor Smith's passion and knowledge of East Asian culture directly led me to teach English in South Korea after graduating and to pursue a career in foreign affairs.
How has a liberal arts education impacted your career and life?
My liberal arts education helped me gain a variety of skills through my different fields of study. I was able to take on minors ranging from geology to women and gender studies at Augustana. I believe this has helped me form a versatile career. Throughout my different positions, I've taught English, managed government contracts, worked in media relations and developed social media strategies.
My liberal arts education at Augustana prepared me to take on a variety of roles and to adapt to new challenges.
Outstanding Achievement Award: Charles Hughes '73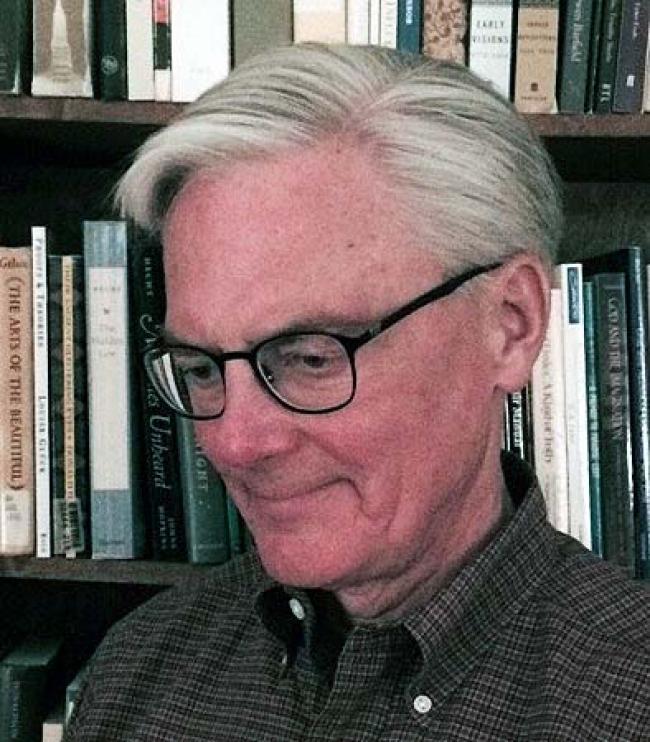 Charles Hughes is a mid-career poet. After compiling an impressive undergraduate record at Augustana — Phi Beta Kappa, summa cum laude — he earned a degree with high honors from Northwestern University School of Law and subsequently became a managing partner for the Chicago law firm Chapman and Cutlers. 
In his 50s, however, Hughes departed from this professional path. He began writing poetry. He hadn't majored in English; his fields were history and economics. So he lacked formal training in the methods and techniques of writing poetry. 
So Hughes taught himself how to write poetry, through intensive reading, immersion in the work of poets he admired, and various poetry workshops. Within a few years, he was publishing in major poetry journals throughout the country.
Now in his 60s, Hughes has published more than 80 poems in the last 10 years. His work has been gathered into two collections, "Cave Art" (2014) and "The Evening Sky" (2020), which have received high praise. Charles received awards from Chapman and Cutlers for providing the most pro bono work. And, among his many community roles, he has been a writing instructor for St. Leonard's House, a prison ministry in Chicago. 
Q & A with Charles Hughes
How do you stay connected to the college?
My wife, Bunny '74, (Isabel (Bunny) Husted Hughes) and I have friends who are very closely connected to the college, and we mostly stay connected through them. In addition, I had the honor of being the 2015 River Readings poet at Augustana, and I got to sit in on a Rebecca Wee poetry class and give a poetry reading in Denkmann.
Fondest memory of Augustana?
By now, almost 50 years since graduation, my many fond Augustana memories are pretty much one composite swirl, including: along with Bunny, being served sherry by Dorothy Parkander; the Slough Path ablaze with color in the fall; somehow getting into what I believe was then the Wallberg Science Building on a Sunday evening in my freshman year and hanging out posters from windows for  my campaign for a seat on student government; walking back to Erickson Dorm after a night class in Old Main on a May evening and smelling the spring scents in the warm, damp air.
One especially happy memory stands out, which is the brilliant September day at the beginning of my junior year, when Bunny arrived as a transfer student from Carthage College, and we walked all around campus together.
Most memorable faculty member?
If I can choose only one, I choose Iverne Dowie. Dr. Dowie was a history professor and chair of the department. I had a job as his assistant during my last three years. He was totally blind, and a big part of my job was to read for him — articles, books, student exams and research papers — sometimes in person, other times into a tape recorder. This provided the opportunity for many conversations about history and other subjects as well.
Dr. Dowie was a wonderful teacher and left me with a lasting interest in British history. He was also a kind and gentle man, who encouraged me at a time in my life when I needed encouragement.
How has a liberal arts education impacted your career/life?
I think it's implicit in the idea of the liberal arts that certain things — truth, beauty, love — have great value in themselves without regard to their practical utility. This reality and its acknowledgment run counter, it seems to me, to our present cultural ethos.
I believe my time at Augustana opened me up to this reality and ultimately made it possible for me to see poetry as a vocation. I'm especially grateful to Dorothy Parkander and Ann Boaden, two Augustana professors from whom I never took a class, for teaching me so much in this regard.
Richard A. Swanson Humanitarian Award: Nelly Cheboi '16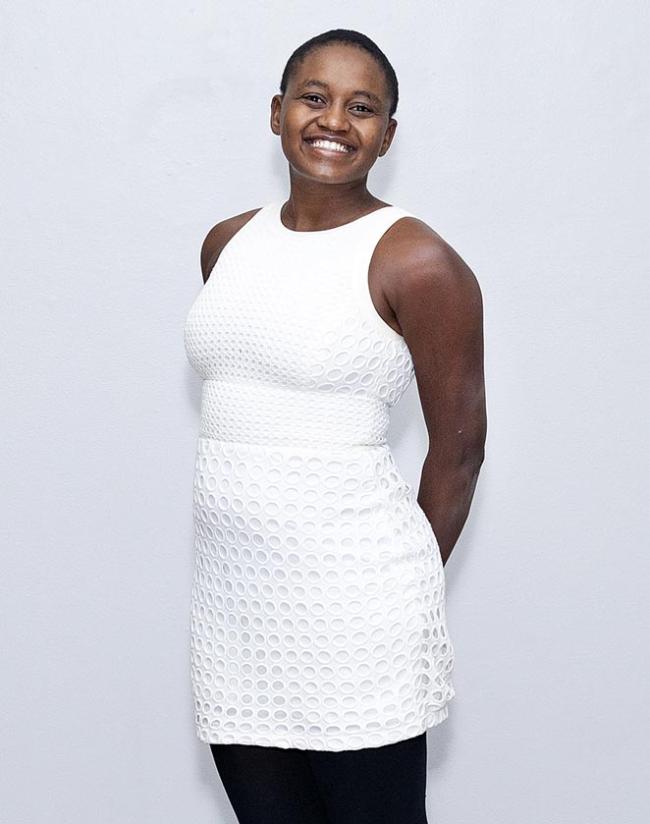 Nelly Cheboi grew up in rural Kenya, Mogotio. Circumstances forced her to raise her younger sister when Nelly was just 9 years old. She would go to garbage pits and scavenge for food. Through hard work, determination and a lot of luck, she landed a full scholarship to Augustana College.
Coming to the United States and studying computer science changed her life. While an undergrad, she saved 80% of her income from various campus jobs and invested it in her community back in Kenya. Education and digital technology seemed like the most important contribution she could make, and she was determined to make it happen. She built a school there, Zawadi, and later started TechLit Africa.
TechLit Africa is a non-profit American organization that redistributes surplus/recycled technology from the developed world to build computer labs in African schools. Nelly and her co-founder are working toward creating an Africa where every child is able to access and leverage modern tools to learn and reinvent their world.
They just returned from a five-month trip in Kenya hosting computer labs in Mogotio. While there, they had the joy and the privilege of teaching more than 1,000 children. Most of them would have most likely never seen a computer before. Cheboi herself first used one when she was 18. They also recently shipped 200 workstations for their next 10 computer labs.
Cheboi's mission to bring access to technology and teach technology skills to children in Kenya, her home country, through her nonprofit TechLit Africa, has made the world a more hopeful, beautiful and amazing place to be, as well as her outreach for women STEM enthusiasts.
Q & A with Nelly Cheboi
How do you stay connected to the college?
I visit the campus pretty often.
Fondest memory of Augustana?
April 1, 2016, when an email went out that the dome was stolen. I believed it! Later that month, I went up there and realized how impossible it is to steal the dome.
Most memorable faculty member?
Andrew Sward
How a liberal arts education impacted your career/life?
As a founder and a CEO, I wear a lot of hats. When it comes to dealing with people, I remember my psychology classes. When it comes to complicated tech challenges in our product, I remember my computer science classes. When it comes to perseverance and grit, I remember my track/cross-country trainings. Augie made me well-rounded and confident so that I can face any challenges that come my way.
Award for Diversity, Equity and Inclusion: Darrell Owens '90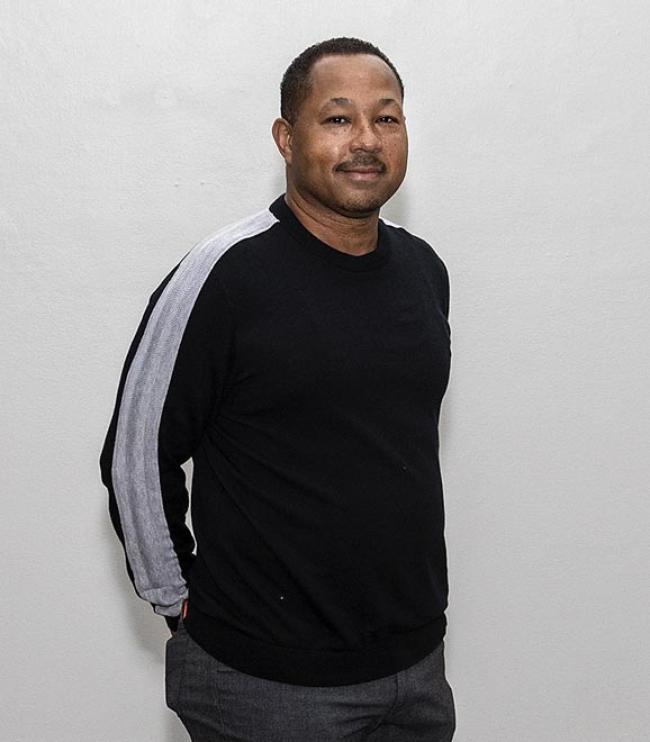 Darrell Owens is head of Synchrony's Lifestyle platform, which provides comprehensive financing solutions for major consumer purchases in power sports, outdoor power equipment and other industries focused on lifestyle merchandise such as sporting goods, clothing, jewelry and music.
He has spent 30 years in finance, garnering new business, managing deep client relationships and overseeing multibillion-dollar portfolios. He is experienced in building and fostering critical stakeholder relationships and facilitating teamwork to achieve organizational objectives.
Darrell and his wife, Deidre, have a vested interest in ensuring that students of color demonstrating financial need have access to resources to ensure their success.
Q & A with Darrel Owens
How do you stay connected to the college?
I've tried to stay connected with the college through the newsletter and supporting the diversity and inclusion efforts where possible.
Fondest memory of Augustana?
My fondest memories are playing basketball (the bus rides and camaraderie) and all the memories I made with my teammates.
How a liberal arts education impacted your career/life?
I think having a liberal arts education exposed me to multiple viewpoints and topics. More importantly, I learned you can disagree without being disagreeable.
Viking Vocation: Dale Owen '99/Ascentra Credit Union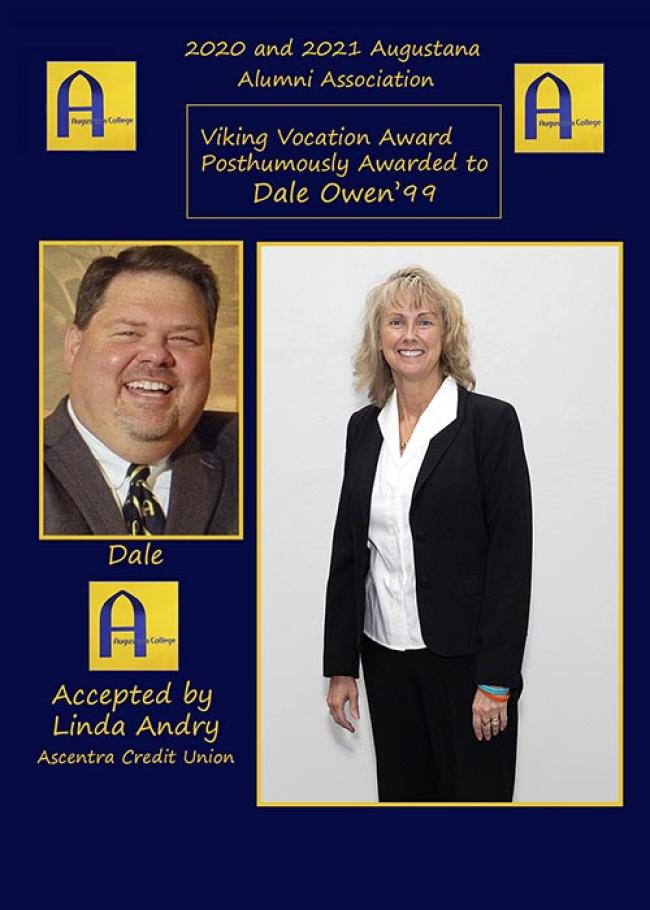 The late Dale Owen received an associate degree in banking and finance from Black Hawk College, and attended Augustana as a nontraditional student earning a bachelor's degree in public administration in 1999.
Owen went on to earn a master's in public administration from Drake University. He also held the Certified Chief Executive (CCE)  designation from the Credit Union Executives Society (CUES). He graduated from the CUES CEO Institutes conducted at the Darden School of Business at the University of Virginia, the Johnson Graduate School of Management at Cornell University, and The Wharton School at the University of Pennsylvania.
At the time of his passing, he had been the president and CEO at Ascentra Credit Union in Bettendorf, Iowa, since 2013 and also served as the current board chair of the Iowa Credit Union League, in Des Moines, Iowa.
Owen was a fierce credit union advocate who was truly dedicated to improving the financial lives of others. He exemplified the credit union philosophy of "people helping people," and encouraged others around him to be of service, get involved and pay it forward. He loved his credit union — a love that transcended to the staff, members and the communities Ascentra served.
A proud Rock Island native, Owen supported Rock Island High School and Augustana College in many ways. Community involvement was so very important to him. Regularly, he would give his time and talents to organizations to provide insight and ideas to keep the Quad Cities moving on a strong growth trajectory.
Owen worked with Ascentra to consistently provide internships and full-time positions for Augustana students. He also had a strong presence on campus for recruiting and career education events. Dale also served on the Alumni Association Board of Directors and the President's Advisory Council.
Honorary Alumnus: Ryan McCallum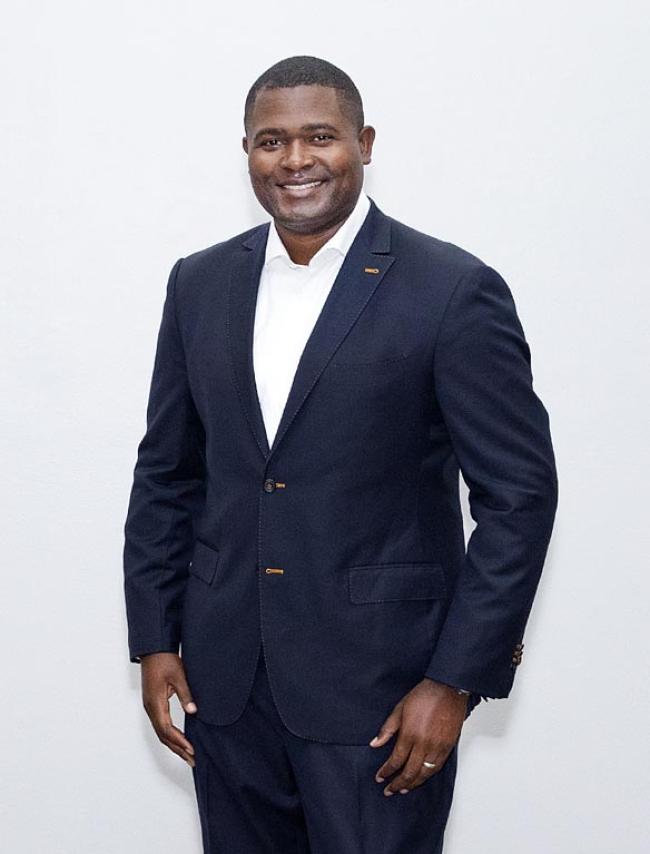 Ryan McCallum received a full-tuition academic scholarship to attend Augustana College in 2003. With the 9/11 war ongoing in Iraq, he felt a calling to serve his country. Between his first year and sophomore years, he enlisted in the Illinois Army National Guard. Going into his senior year, he was called to active military service. McCallum was wounded in 2007, just a short while after he would have received his bachelor's degree from Augie.
While a student at Augustana, McCallum participated in football and track and field. He was also the president and vice president of the Black Student Union, the vice president of the Majestic Gents, and a co-chair on the College Union Board of Managers. McCallum worked on campus within the Office of Admissions where he provided tours to prospective students and served as an aide within the English department.
After nearly nine months overseas with the Illinois National Guard, his vehicle was hit by a roadside bomb in June 2007. He was evacuated back to the United States where a surgeon waited to begin his long road to recovery.
McCallum has had several surgeries on his hand and numerous pieces of debris and bomb fragments removed from his arm, neck, head and hand. While his physical injuries were healed, his mental injuries took more time. He attributes talking about his injuries and attending therapy sessions to overcoming these challenges. He found himself at Walter Reed in Washington, D.C., where life seemed to suddenly take off.
Although he had planned to return to Augustana, he was offered a full-time federal government job with the National Counterterrorism Center — program manager. It was here where he finished his bachelor's degree with Thomas Edison State University, and was asked to take part in a one-year master's program in Ft. Leavenworth, Kan. For the past four years, McCallum has supported  the FBI's Joint Terrorism Taskforces in Miami, Tampa, Jacksonville and San Juan.
In his role, McCallum has provided counterterrorism-focused presentations to federal, state and local law enforcement personnel, colleges and universities, private companies, communities, faith-based institutions and well, anyone who will listen. This is all to prevent terrorism from taking root. He was recently recognized by the federal government for his efforts.
Q & A with Ryan McCallum
How do you stay connected to the college?
Peers/friends, Alumni Association/Alumni Relations, LinkedIn, Facebook.
Fondest memory of Augustana?
There are so many wonderful memories, so it's hard to name just one. I remember receiving two letters on gold letterhead from Augie while standing at the mailbox at the edge of my driveway. The first was my acceptance letter, and the second, a short while later, was the scholarship award.
I was amazed to learn that Augie was willing to invest in me and my future, and I knew I wouldn't let Augie down. I also fondly remember the people that I met through social activities, such as the College Union Board of Managers, the Black Student Union, the Majestic Gents, pledging activities, providing campus tours to prospective students, and playing football and track and field. I also fondly remember the walks to class with some really great friends. There were numerous study nights also!
Most memorable faculty member?
Coach Paul Olsen, African American Literature
How a liberal arts education impacted your career/life:
I attended Augie during a period of war in our country, and I was driven to help support that effort. A liberal arts education gave me perspective on social responsibility. Further, having taken numerous creative writing courses, I developed an ability to tell a story in a relatable way for others, how to lead a team with diverse perspectives and backgrounds, and how to get things done.
Honorary Alumnus: Salvador Castañeda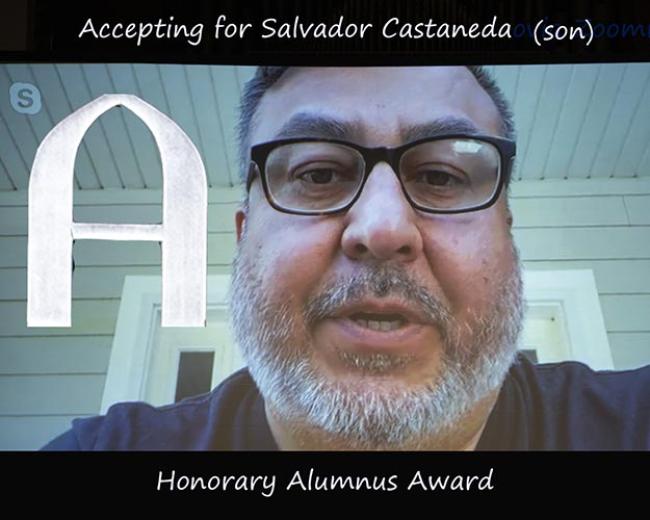 Salvador Castañeda went above and beyond the responsibilities he had as the custodian in the College Center. He, very naturally, became a friend, mentor, teacher and father figure to many students.
Castañeda's presence gave students a feeling of home when, at the time, the college did not have a diverse campus community. He knew that he had a place in making all students feel welcome and enjoy a sense of belonging at Augustana.
During breaks or after work, he would offer to teach students how to play guitar and sing old Spanish ballads, allowing students to express the pride they had for their culture. The Augustana faculty and staff will always remember him singing "Feliz Navidad" at Augustana's Christmas convocation with a big smile on his face.
Honorary Alumnus: Steven C. Bahls
Steven Bahls will retire as president of Augustana College effective July 1, 2022, after a notable 19-year career leading the college. He is the eighth president of Augustana. 
The Augustana community has benefited from his passion for the liberal arts, his natural gifts as an explorer and collaborator, and his drive for innovation. 
Prior to joining Augustana College, he was dean at Capital University Law School, the only law school in the nation affiliated with the Evangelical Lutheran Church in America. He also served as associate dean and professor at the University of Montana School of Law. From 1979 through 1985, he practiced corporate law with the Milwaukee firm of Frisch, Dudek and Slattery. He is a CPA and a lawyer.