News
2022 Augustana College Alumni Awards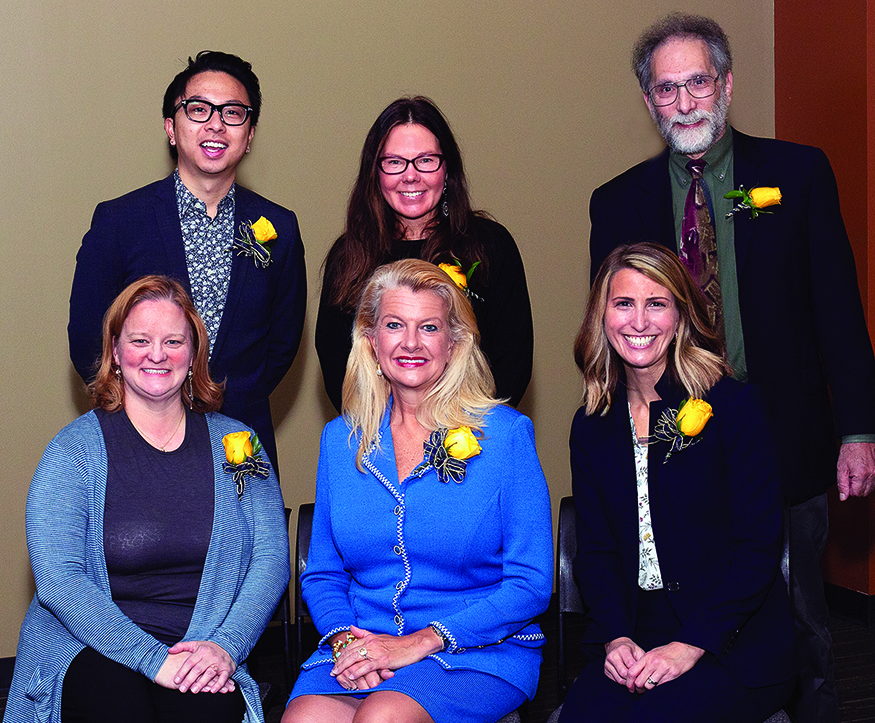 The Augustana Alumni Association recognizes the achievements, contributions and service of alumni and friends of the college each year.
The association solicits nominations and recommends candidates to receive Alumni Association awards. Each of six types of awards may be presented to one or more alumni.
Here are the 2022 winners:
Finest Under Forty Outstanding Alumnus Award: Melissa Flowers Pepper '09
After graduating from Augustana in 2009, Melissa earned her MBA from the University of Iowa in 2019 and served on the MBA Student Advisory Board as the philanthropy director.
Melissa currently serves as the chief strategy officer for Russell professional commercial construction company. She is responsible for aligning people and growth strategies. Russell's mission is building great people, relationships and communities. She lives their mission by helping lead talent attraction and development, culture, human resources management brand, marketing and business development.
One of Melissa's most impactful ventures was founding Lead(h)er, a mentorship initiative that connects members of the community and has a proven track record. This non-profit is particularly valuable because at its core its purpose is to fuel the professional improvement of members of the community, building networks and igniting passion in others. This initiative can impact the Quad Cities exponentially and create future leaders to carry on Melissa's legacy.
Q & A with Melissa Flowers Pepper
How do you stay connected to the college?
I have enjoyed staying connected to Augustana by serving as a volunteer judge for the Augustana Business Competition and the business students' senior capstone projects the last few years. Experiencing their innovative ideas, critical thinking and enthusiasm has been a highlight of my volunteering and reminds me of my love for liberal arts education.
Fondest memory of Augustana:
There are so many memories to choose from when I think about my time at Augie — from Wednesday nights spent at Chapel, singing in the Augustana Choir in Scandinavia, and Foundations class debates during my first year.
The one I'll choose is the First-Year Campout at Loud Thunder State Park. I was a Campus Ministries Leadership Team Member, and the tradition was to memorize all of the first-year students' names by the end of the weekend. For my senior year, that amounted to well over 150 students! Sister Marilyn Ring said she would wear a blue wig if we could do it, and we did it! I can still remember the exhilaration of naming that last student and the look on her face.
But, some of my fondest memories over time relate to singing in the Augustana Choir. The power and magic of collective voices singing some of the most beautiful choral works in the world (and around the world) made an indelible mark on my life.
Most memorable faculty member:
Dr. Ellen Hay played an important role in my journey at Augustana. Her hard-nosed, soft-hearted approach to teaching and mentoring, especially during my Senior Inquiry for communication studies, pointed me to my love for community engagement. I credit Dr. Hay for leading me to learn more about community engagement, which has been a cornerstone of my core values and commitment to the Quad Cities since graduating.
How a liberal arts education impacted your career/life:
On the first-day convocation, President Steve Bahls held up a crystal and shared that liberal arts is looking at an issue by turning the crystal to see different vantage points. As an 18-year-old student, I don't think I really got it, but now I do. That liberal arts mindset has carried me through my career in different industries — teaching me to ask questions, think in gradients instead of black and white, and collaborate cross-functionally.
These skills have also made me a better leader, where I have progressed from being a civil servant, a non-profit relationship manager, a law firm marketing director, president of a small company, and now construction executive. Finally, it's helped me think critically about my vocation, not just my career, and how I am called to impact the QC.
Outstanding Achievement Award: Jennifer Orlett Fisher '91
After graduating from Augustana in 1991, Jennifer earned her master's in nutritional sciences from the University of Illinois in 1993 and her Ph.D. in nutrition from The Pennsylvania State University in 1997. She serves as associate director of the Center for Obesity Research and Education (CORE) at Temple University's College of Public Health. CORE's mission is to facilitate interdisciplinary research on the etiology, consequences, treatment and prevention of obesity. In addition, she currently serves as graduate program director in the Department of Social and Behavioral Science.
A researcher and educator, Jennifer has been nationally recognized for her research on how the family environment influences eating behavior during infancy and early childhood and leads to health outcomes. Her research has been federally funded for 20 years, resulted in 125+ journal articles and featured in national media outlets. She is also a gifted educator and contributes valued service to the academy and professional societies.
Jennifer has held leadership positions for more than a decade in The Obesity Society, the premier national professional society in her field. She also has served as co-executive editor for more than a decade at "Appetite," a journal dedicated to the science of ingestive behavior and is an advisory editor for "Child Development." She is also an expert panelist for the Robert Wood Johnson Foundation.
Q & A with Jennifer Orlett Fisher
How do you stay connected to the college?
Primarily through close friends from Augie, Facebook groups and the college magazine.
Fondest memory of Augustana:
Dr. Ralph Troll, acting out automimicry. Writing and talking poetry with Dr. Roald Tweet. Inspired pipe organ lessons with Dr. Harris and turning up the volume full tilt on the organ in Centennial Hall. Countless hours of laughter, tears, deep conversations and getting in just shy of trouble with my friends — oh yes, and studying of course.
Most memorable faculty member:
I honestly can't point to a single faculty member because I had the good fortune of interacting closely with a number of faculty members and was inspired by many others. I've spent my entire career in academics and can say without hesitation that Augie professors are the best — so passionate about their work, dedicated to teaching, and invested in students in ways that are felt and mattered. Augie professors were not only present, but walked with us in our own development and learning.
How a liberal arts education impacted your career/life:
The liberal arts education at Augie gave me exposure to a wide range of ideas and perspectives that I would not have identified on my own at that point in my life. Finding your way to new ways of thinking and being changed in the process gave me faith in the promise of the evolution of thought. I think one of the greatest gifts of a liberal arts education is cultivating that fundamental curiosity in exploring new ways of thinking.
The Richard A. Swanson Humanitarian Award: Charlene Quint '85
Charlene majored in accounting and business administration at Augustana. Following her graduation in 1985, she attended Loyola University of Chicago School of Law where she earned her J.D. She is currently employed at Charlene D. Quincy, Counselor at Law, LLC.
A family law attorney in the Chicago area, Charlene focuses her practice on helping women overcome domestic abuse. She wrote "Overcoming the Narcissist, Sociopath, Psychopath, and Other Domestic Abusers: The Comprehensive Handbook to Recognize, Remove and Recover from Abuse" to help victims of domestic abuse.
She is the founder of AbuseCare.org, a nondenominational faith-based organization designed to provide hope and healing to women in their journey from victim to victorious and to educate and equip churches in caring for victims of domestic abuse. Charlene is co-chair of the Partnership for a Safer Lake County, a network of organizations combating all forms of abuse.
A Certified Domestic Violence Professional, Charlene is an advocate for victims of abuse, a facilitator of multiple support groups, and a domestic abuse survivor.
Q & A with Charlene Quint
How do you stay connected to the college?
I try to get back to Homecoming most years. I receive the emails and newsletters, and have served as the Class of 1985 representative when sending out the annual fall letter. I have had the privilege of returning to Augie to speak at a Winter Symposium presentation on "Privilege, Power and Abuse" and speaking to the Business Club. I get together with Augie alumni on a regular basis. I am connected on Facebook and LinkedIn with several alumni.
Fondest memory of Augustana:
There are too many to list, although getting thrown in the Slough after getting engaged was pretty memorable. Our pledging "runs" were usually to a donut shop, just a few blocks away. Ski class to the local ski areas and Colorado was a great way to earn P.E. credits. Having a whole floor of girls to live with was fun — as well as an interesting study in personalities. Wednesday evening church services and walking up the Slough path afterwards was a wonderful break to a busy week. I loved the lifelong friends that I made while at Augie.
Most memorable faculty member:
I spent several afternoons in the offices of accounting professors James Galley and Richard Reed asking questions about accounting. It can be a befuddling subject.
In one spring semester, I was more concerned with getting a tan than attending accounting class (which was scheduled for prime-time tanning hour). When I received a dreaded "slip" in the mail for non-attendance, I asked Professor Reed about it, and reminded him that I always showed up for tests and was setting the curve in class. He said to just ignore it. Which I of course did.
How a liberal arts education impacted your career/life:
Attending a small, liberal arts college with a connection to the Lutheran Church was the perfect environment to explore new subjects and experiences. In addition to the breadth and depth of academic studies, the environment fostered friendships across a wide and diverse group of people, encouraged cooperation, and offered professors who were approachable and likable. It also encouraged me to give back, as there were so many students and faculty who made careers of helping others. And when one makes a life of serving others, it is a fulfilling life indeed!
The Award for Diversity, Equity and Inclusion: Leo Nguyen '18
Leo came to Augustana as an International student from Vietnam. He majored in business administration-marketing and political science. He currently works with the Coalition on Human Needs.
In the wake of the 2021 deadly Atlanta-area spa shootings targeting Asian women, Leo built a coalition that rallied to protect and support Asian communities.
Leo's DC Rally for Collective Safety Protect Asian/AAPI Communities efforts garnered more than 500 participants near the White House. His action inspired hundreds of protestors, artists, speakers, musicians, activists, allies and individuals across many demographics to gather in McPherson Square to protest the violence against the Asian American and Pacific Islander community. The rally was an enormous success and served as a space for communities to come together, to grieve together, to process together, to call for change, to denounce anti-Asian racism, and to promote more diversity, equity, and inclusion in our world.
Leo's individual anti-racist work and commitment to lifting historically marginalized communities is admirable, but his ability to inspire hundreds of people to action is unmatched.
Q & A with Leo Nguyen
How do you stay connected to the college?
Through my friends, my professors, and Augie's reunions in D.C., and through Liz Nino, the international admissions director at Augustana, with whom I worked under for four years.
Fondest memory of Augustana:
Walks through the Slough, dinners that never ended at the cafeteria, after-class hangs at the Quad, Vietnamese Student Association, International Week. So many memories made with friends, classmates, faculty and staff at Augie will follow me everywhere I go. Augustana will be a happy place filled with memories of our (somewhat) carefree and always passionate youth.
One especially happy memory stands out, which is the brilliant September day at the beginning of my junior year, when Bunny arrived as a transfer student from Carthage College, and we walked all around campus together.
Most memorable faculty member:
I really can't pick one since there were so many great faculty members. Dr. Ann Ericson, Mamata Marmé, Dr. Mariano Magalhães and Dr. Xiaowen Zhang were all my favorite lecturers and academic advisors. I can't thank them enough.
How a liberal arts education impacted your career/life:
I believe that there is more than one path in life, and I love the liberal arts curriculum that allows students to explore the world, and themselves.
I currently work at a non-profit. While not working, I perform stand-up comedy and curate music for different spaces through DJ-ing. It's fair to say that a liberal arts education opened me up to the world, and just like an Astronomy 101 class at Augie — only choose the type and do the thing in life that makes your eyes light up.
Viking Vocation Award: Dr. Elizabeth Narske '92
Elizabeth grew up in the Rock Island and graduated from Augustana in 1992. She obtained her D.V.M. from the University of Illinois at Urbana-Champaign. Since then, Beth has been serving the Quad-Cities community as a veterinarian. In addition to running a business and providing excellent veterinary care, she prioritizes mentoring Augustana pre-vet students.
Elizabeth has significantly impacted Augustana pre-vet students by allowing them to have access to a local veterinary clinic to support their development. In addition to providing shadowing opportunities, she nearly always has a couple of pre-vet students on staff at the Rock Island Animal Hospital. Beyond giving them the opportunity to work in the veterinary field, Elizabeth is a mentor for them as vet-school applicants, vet-school students and as practicing veterinarians.
She exemplifies an Augustana grad who continues to engage our community by sponsoring events like Pet Fest and providing opportunities to past, current and future Augie students.
Q & A with Dr. Elizabeth Narske
How do you stay connected to the college?
Through newsletters and by sponsoring students.
Fondest memory of Augustana:
Too many to name just one.
Most memorable faculty member:
My dad, Dr. Richard Narske, and my advisor, Dr. Robert Tallitsch.
Honorary Alumnus: Dr. Louis Katz
Louis trained as an internist and infectious diseases specialist at the University of Iowa with board certification in both. His clinical practice focused on HIV medicine and critical care infectious diseases in Davenport from the early 1980s. He has been the medical director at the Scott County Health Department since 1989 and was the hospital epidemiologist at Genesis from 1995 to 2009. Currently he serves on the Augustana's Center for the Advancement of Community Health and Wellness Advisory Board.
His relationship with Augustana began with inquiries from Kai Swanson on behalf of President Steve Bahls in the early stages of the SARS-CoV-2 pandemic. The administration was trying to maintain the educational mission of the college while protecting the safety of the student body, faculty and staff. Louis then began a series of phone calls and online discussions with Kai Swanson, Dean Wes Brooks and President Emeritus Steve Bahls and others about optimal approaches to that goal.
This all occurred against the background of a rapidly evolving understanding of the epidemiology and control of COVID-19 and a changing menu of accessible diagnostics. The willingness of Augustana to dedicate resources to the goal, not just money but time and thought as well, was a bright spot for Louis amid the very trying experience of the pandemic for public health.
The administration and faculty took the independent initiative to stay current with developments generally and with specific regard to various approaches being implemented in higher education nationally.
Testing and infection control regimes were developed, implemented and revised at need that responded to the best empiric data available at the time. It was both critical and refreshing when the administration explicitly recognized that any program would have to accept non-zero risks when face-to-face interactions were to be maintained. The recognition that this was risk management, not risk elimination was an important, early and explicit foundation of the efforts.
Louis suspects that critical thinking, which should be the underpinning of a liberal education, was a big piece of Augie's response to COVID-19. If that is the case, he feels it is an important object lesson for all of us in an age of increasing early specialization in post-secondary education and an endorsement of the curriculum at Augustana College as he understands it.