News
'65 grad's sustainable clean energy project wins two prizes
Augustana Magazine Summer 2022
An expert and leader in pyrolysis technologies that cleanly produce biochar (carbon-rich charcoal) and energy from organic material, Dr. Paul Anderson '65 recently accepted the top prize in two categories in the ninth annual Premios Verdes (Green Awards) in Miami. It's the first time one project has won in two categories in the competition.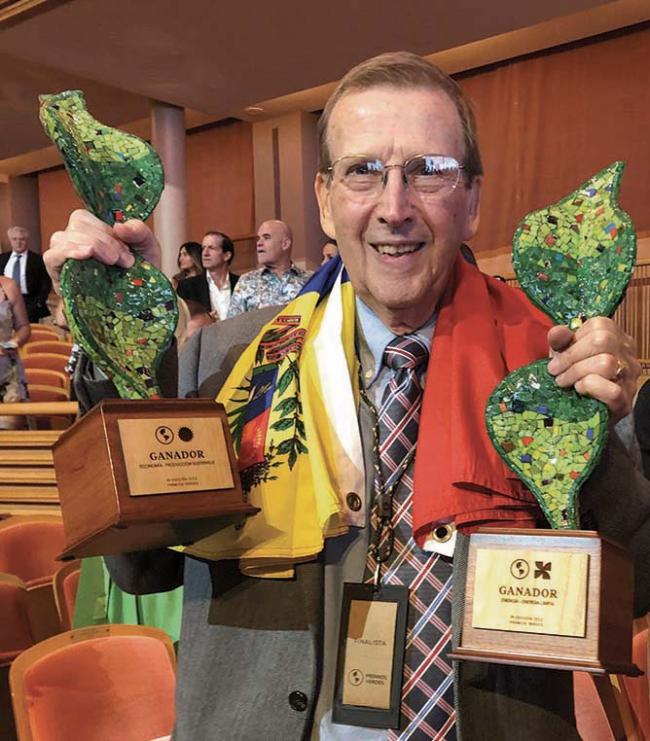 Dr. Anderson, professor emeritus of geography at Illinois State University, was the technical advisor for the winning Venezuelan project "Biochar and Energy for CO2 Sequestration in Soils." The project won in the categories of clean energy and economic sustainable production.
Project results show that when added to soil, biochar can improve fertility, improve water retention and drainage, reduce soil acidity, increase resistance to plant disease, and increase crop yield.
"Winning two awards brings timely recognition to the important impact that clean-burning micro-gasification offers for both socio-economic benefits and essential climate improvement via biochar production," Dr. Anderson said. "The project in the Merida state in Venezuela is an example that can be sustainably replicated throughout developing countries, benefiting millions of families and our planet's climate."
Premios Verdes is a sustainability festival for the Latin American/Iberian region that gives visibility and creates networks among the year's best social and environmental projects. More than 2,500 proposals vied for the 2022 awards. Dr. Anderson accepted the awards on behalf of the Venezuelan NGO Fundacion Senderos.
Dr. Anderson is widely known in the worlds of biochar and biomass stoves as "Dr. TLUD," a reference to TLUD ("tee-lud") stove technology for impoverished households around the globe. He founded and leads Woodgas Pyrolytics, Inc., for use of his patented RoCC kilns for climate-smart biochar production that is long-term carbon dioxide removal.
After graduating from Augustana with a bachelor's in biology, Dr. Anderson earned a master's in geography from the University of California, Berkeley, and a Ph.D. in demography from Australian National University.
Originally from St. Charles, Ill., he has lived 20 years outside the United States (on five continents), including when he was a Fulbright professor in Brazil and Mozambique. Contact Dr. Anderson at psanders@ilstu.edu.