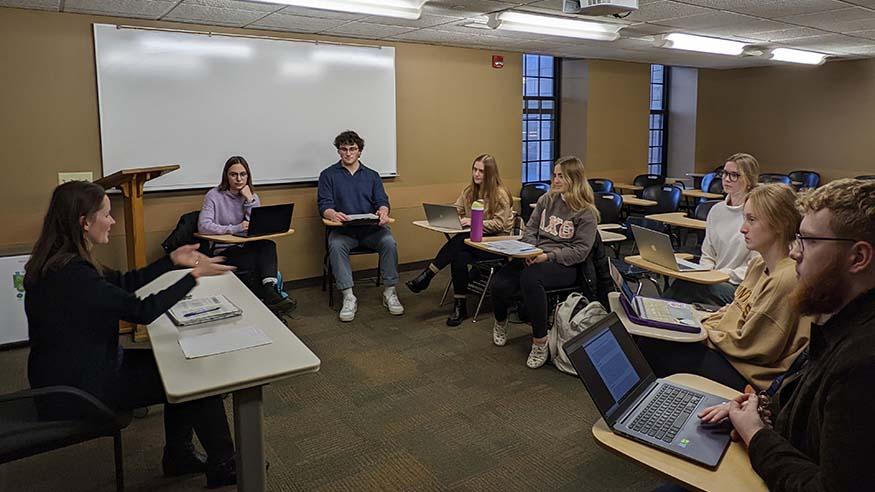 News
ABCD Lab helps students decide if research is in their future
At the Augustana Baby and Child Development Lab, everyone is learning something. Students are learning to conduct research, while their little subjects are learning new words and concepts.
Lab director Dr. Megan Lorenz, assistant professor of psychology, has focused her research on word learning, play and differences in learning from books and screens. When she came to Augustana in 2018 from the University of Iowa, she wanted to continue that research.
She also wanted to build a good experience in basic research for her students.
And it seems she has.
"Through my work with Dr. Lorenz, I got to learn valuable research skills that have helped me thrive in my studies now," said Summer Hall '22, who is at the University of Dayton pursuing a master's in applied behavioral analysis.
"My strong research background played a vital role in my acceptance to the University of Dayton. My advisors were very impressed with the work our lab was able to do, especially with it being a brand-new lab."
Kayla Dillon '21, a research specialist in the Gilmore-Bykovskyi lab at the University of Wisconsin-Madison, said she was able to demonstrate promising success as a research specialist in her graduate school interviews. 
"I was able to speak specifically on methodological development, study recruitment, creation of study materials and so much more," she said.
But ABCD Lab students are learning more than basic research techniques.
"One of the most memorable things one of my students shared is that she didn't know research could be fun," Dr. Lorenz said. "She got into it because she might want it for a graduate school experience. But she didn't realize the research can involve so much creativity. And that brought me so much joy!
"We teach the basic components of research methods in our classes early on, but in this experience, students can develop and work on a more complex project outside of a classroom setting."
Topics at the lab
Dr. Lorenz and her students are researching several questions about their 2- and 3-year-old subjects:
How do they acquire spatial language ("close," "across," "up" etc.)?
How does the increase in children's screen time in recent years impact word learning? Can parental involvement help?
They also are interested in any differences children and adults have in retaining information they read in a variety of formats: on paper, e-readers, desktop and laptop computers, and phones.
Students use their creativity in designing the structure and questions of the research. They also find they have to be creative in interacting with the children, and at times Dr. Lorenz has acted as their "pretend toddler."
She said that by the end of their year in the lab, students are amazed at the ways in which they have grown their collaboration skills.
"My students don't work on projects independently," said Dr. Lorenz. "They work with at least one, but most often two other students and me, and we collaborate. It is not a one-person show. They felt like they grew in their team workability, and they took joy in doing so."
A boost from alumni families
Recruiting toddlers for the research might not seem like the easiest part of the project, but Dr. Lorenz said she's had great response from alumni. She posts on the Augustana alumni Facebook page when the lab needs more children to participate. 
Parents see their family's participation as a way to give back to the college and aid scientific progress. She said her students enjoy working with alumni families, as well.
"And they always write a thank-you note," Dr. Lorenz said. "And share copies of our work! Families have shared they keep a copy of the research presentation poster for their baby books.
"It's great to hear that this experience means as much to them as it does to us."
Branching out
Although the lab has a physical space on campus, research sessions have been virtual since the pandemic.
"Students and I have discussed some of the pros and cons to it, but one of the things that my students and I really love is that because of this, we've been able to collect data with participants from all over the United States," Dr. Lorenz said.
"It's been really remarkable to connect with so many different people," she said. "That's one of the things my students say. They can't believe how much fun it is and how much they've been able to learn, interacting with families and talking to them about the basics of developmental research."
Currently, students are developing an e-book edition connected to the project that looks at learning differences between books and screens. The e-book will be developed in collaboration with Dr. Lorenz's colleague at Southern Methodist University next year, so that will be something for a future group of lab students to work on. 
Dr. Lorenz works with a new group of students, juniors and seniors each year. Although students commit for a full academic year, they can stop after a semester if they wish. Almost none do. Many return for a second year in the lab because they want to see their research through or because they want to help design the second phase of a project. 
Most present their research at a professional conference.
Research goes on
At the ABCD Lab, Kayla Dillon primarily worked on investigating how the use of storybooks during shared reading time influenced spatial preposition learning in young children. 
"The cognitive and developmental psychology concepts we discussed as part of this project are ones I often think about in my current work," she said. "I currently study lucidity in advanced dementia, and I often find myself thinking about things like language capacity, attention, working memory and so much more. Although the study context is quite different, several of the concepts are applicable to my current work.
"I learned that I absolutely love psychology research. I plan to apply for a Ph.D. in clinical psychology so I can continue to investigate cognitive and developmental concepts in the context of psychopathology and apply what I learn to clinical practice."
For Summer Hall, learning how to work with young children and keep their attention while conducting research turned out to be a useful skill.
"I am currently working on a social story project for a child with autism," she said. "I have used the basic research I learned from Dr. Lorenz to create this social story. She helped me discover a passion for research that I hope to continue in my future studies."