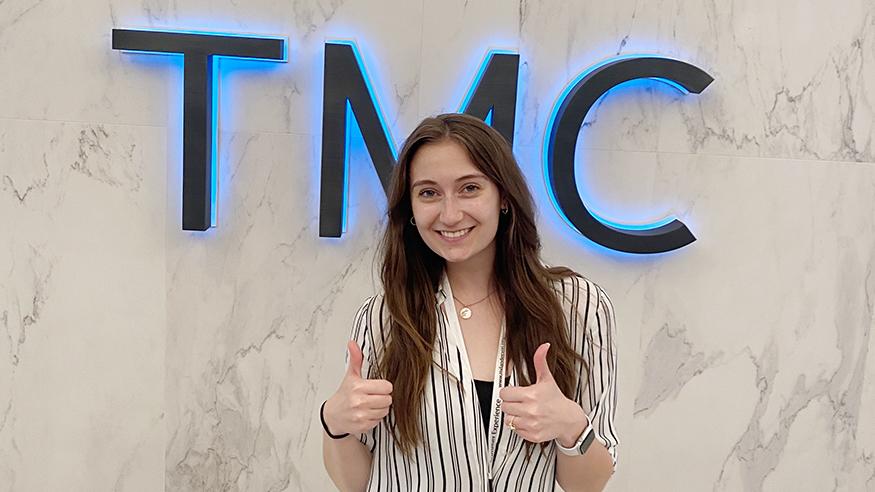 News
Aldridge's 'amazing' internship leads to top prize
Ella Aldridge '23 admits the idea of leaving Fulton, Ill., her hometown of 3,700 people for a summer internship in Houston, with 6,600,000 residents, was intimidating. 
But, encouraged by family, friends and faculty, she headed south to intern at one of the world's top cancer centers and returned to campus this fall with an honor no other Augustana student has earned.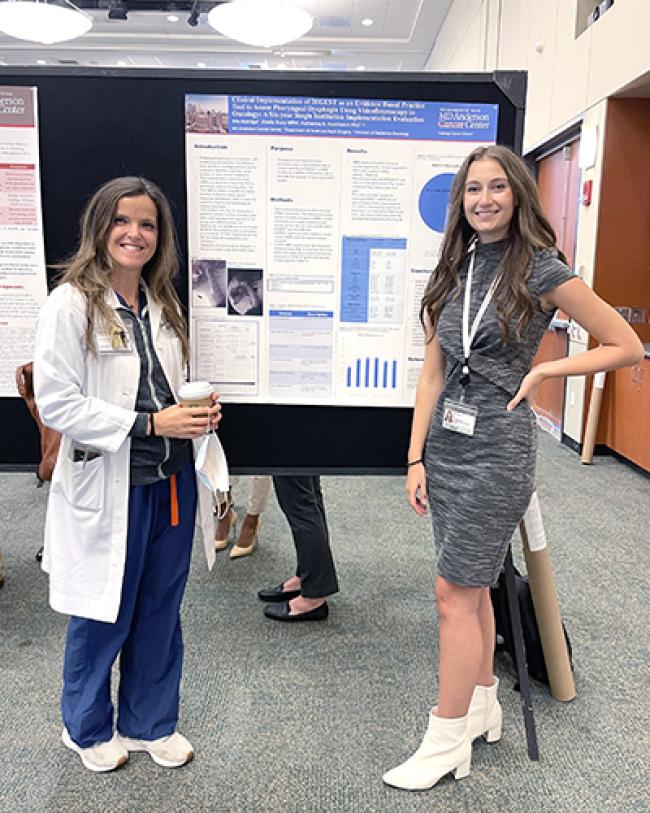 A communication and sciences disorders major, Aldridge worked in Dr. Katherine Hutcheson's clinical research lab at the University of Texas MD Anderson Cancer Center. The lab focuses on head and neck cancer survivors, with an emphasis on advancing the care of those with radiation-associated dysphagia (difficulty swallowing). 
Among 73 interns representing schools including Harvard, Yale and Stanford, Aldridge won the $600 Best Speech prize for her 90-second presentation on her research.
It's the first time an Augustana student has won this competition since the college launched its Texas Medical Center Summer Research Internship Program (TMC-SRIP) 18 years ago.
"It's a big deal," said Dr. Heidi Storl, Augustana's TMC-SRIP director. "In addition to competing with other interns from very highly ranked schools, it's an opportunity for interns to showcase their new expertise by presenting the key points of their research and their importance to a general audience. Finalists are chosen by an anonymous pool of referees consisting of researchers and professors."
During her internship, Aldridge studied a tool called DIGEST (Dynamic Imaging Grade of Swallowing Toxicity), which allows a speech-language pathologist to determine a "grade" for a patient's swallow. The grade reflects a patient's swallow function through safety (how well food/liquids are kept out of the lungs) and efficiency (how well food/liquids are cleared out of the throat).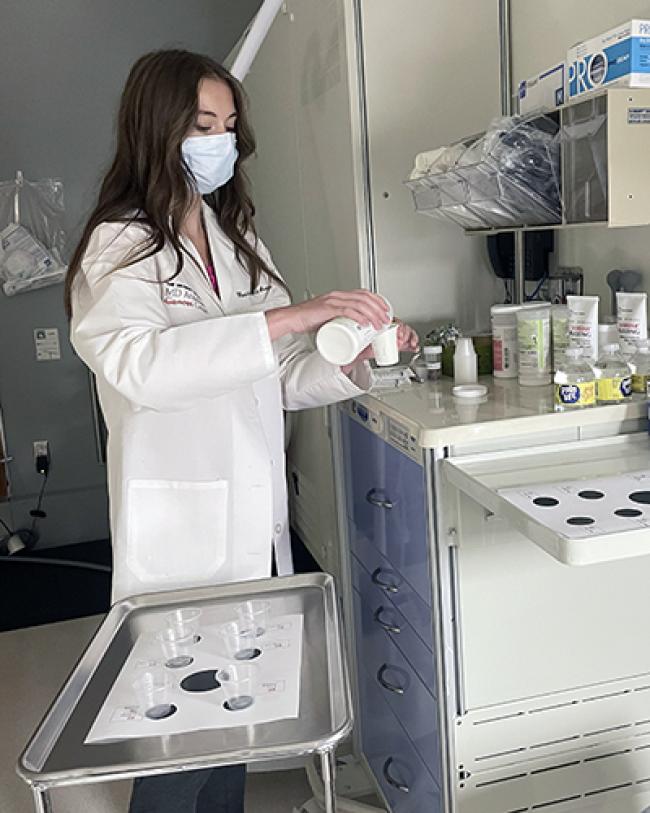 Aldridge combed through more than 13,000 clinicians' notes on patient cases from 2016-2021 to determine the feasibility of the DIGEST tool. She found that with more study and training, the DIGEST tool could be used with other patient populations with dysphagia and improve treatment planning.
Aldridge will be listed as a co-author when Dr. Hutcheson publishes a paper on the DIGEST tool research findings from her laboratory.
"The experience was so amazing," she said. "I had great coworkers, and Dr. Hutcheson's lab was the most positive work environment I've ever been in. I wasn't aware of this side of speech pathology before this internship, and now I know I want to work with adults."
Aldridge will continue working remotely for Dr. Hutcheson on another project during her senior year. After Augustana, she is planning to obtain a master's in speech language pathology and work in a clinical setting for a few years. She then may return to school to earn a doctorate to teach and conduct research.
"I have had imposter syndrome at times," Aldridge said. "But being at MD Anderson made me much more confident. There's nothing like going out in the real world and being in the clinic and working with patients and doing the research."
More Vikings to brag about: In addition to Aldridge, Lindsay Saulsberry '23 was one of the 10 finalists in the Best Speech competition at MD Anderson Cancer Center this summer. In previous years, Zoe Arvanitis '22 won first place and Diangelo Gonzales '21 won fourth place in the poster presentation competition.