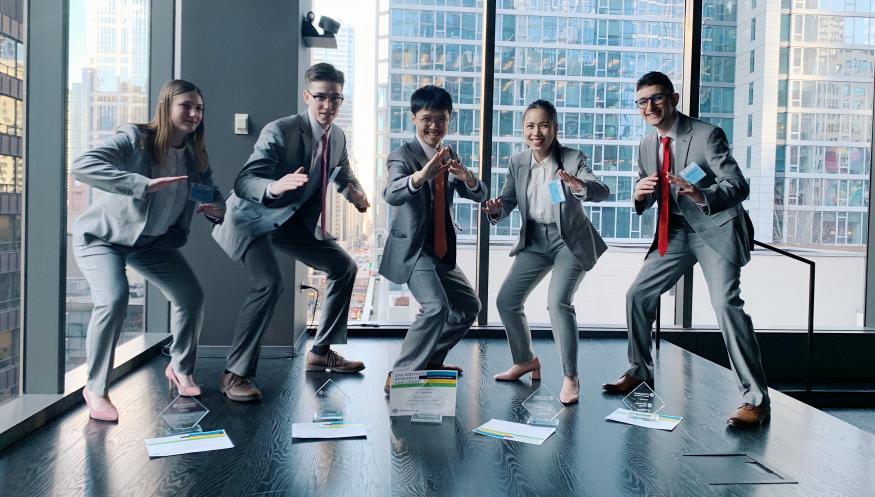 News
Augie brings home the silver in CFA competition
Augustana students battled 11 teams from the Chicago area, some representing much larger institutions, to win second place at the 2020 CFA Institute Research Challenge in Chicago in late February. 
The CFA (Chartered Financial Analysis) Institute's Research Challenge invites undergraduate and graduate students across the globe to compete in teams to produce a research report on a publicly traded company, which was Ulta Beauty this year. The winner in the Chicago area advances to the North American regional competition in New York City.
"The organizers specifically recognized our big accomplishment, considering us as a small college and only our second year participating," said Dr. Lina Zhou, Augustana's team advisor.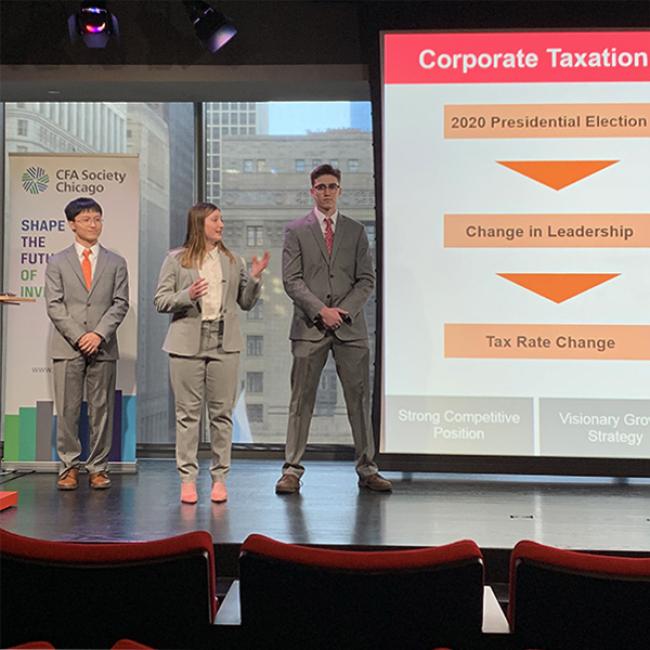 Along the road to success
Augustana team members were Houssam Diouri '21, Ha Do '21, Emily Edwall '21, Huy Nghiem '22 and Levi Palomo '20. Edwall said their "communication, time commitment and analysis" took priority during the four months and hundreds of hours of preparation.
For Dr. Zhou, it was a pleasure to see her students rise to the occasion. "They started enjoying interpretation of the information/data," she said, and they gained a clearer understanding of a large company like ULTA and its relation to the stock market. 
The team completed a campus-wide survey as part of their research, exceeded Dr. Zhou's expectations on formatting their report, and impressed judges with their polished presentation—right down to their matching suits. 
"With Augustana's liberal arts emphasis on ethics and social impact," said Dr. Zhou, "our students are good at communication and presentation." 
She said the ranking is based 50% on research and 50% on presentation, adding, "Our students looked awesome on the stage!"
Growth investing
For Edwall, the CFA competition strengthened her skills in communication, presenting, research and analysis. "I became more curious and skeptical of data and information. The Research Challenge was a glimmer beyond the books, and I was left inspired.
"On individual and team levels, we flexed our schedules, facilitated diverse discussions, adapted our research and analysis, and strategized our action plan and final product," she said.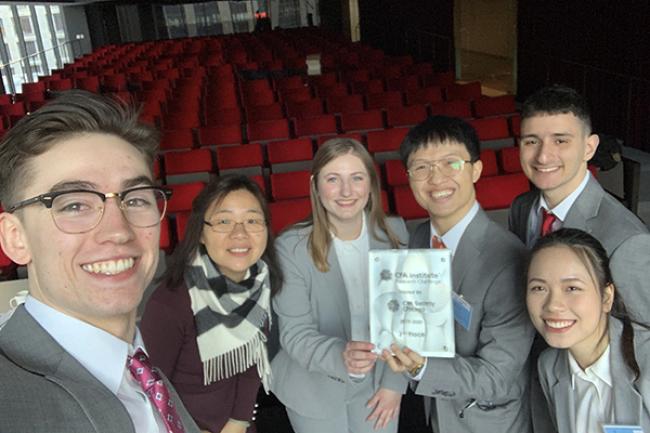 The team's investment in the project kept them driven. According to Edwall, their "willingness and determination to persevere and embrace obstacles" proved invaluable. 
Dr. Zhou sees the competition as a learning opportunity. "Students gain experience with the best practices in equity research, learn to improve teamwork and time management skills," she said. They also benefit from one-on-one time with top professionals in the industry, gaining experience and connections they can take with them into their careers.
Research, compilations…and a forecast
CFA Research Challenge rules prohibit Edwall and the rest of the team from competing again. However, she said, "I will be an open resource and leader to the next Augustana College team. Learning from the recent competition, I strongly advocate dynamic time management and mutual understanding of research, compilations and forecasts."
Dr. Zhou hopes that the win opens students' eyes to the professional and scholarship opportunities that Augustana has to offer. She thanks the college and campus community for their support in logistics and survey response. 
Looking to the future, she has one very clear goal: "Winning first place!" 
By Jack Harris '20, Augustana Writers Bureau
Are you a student interested in participating in the CFA Research Institute Challenge next year? Contact Dr. Zhou at linazhou@augustana.edu.