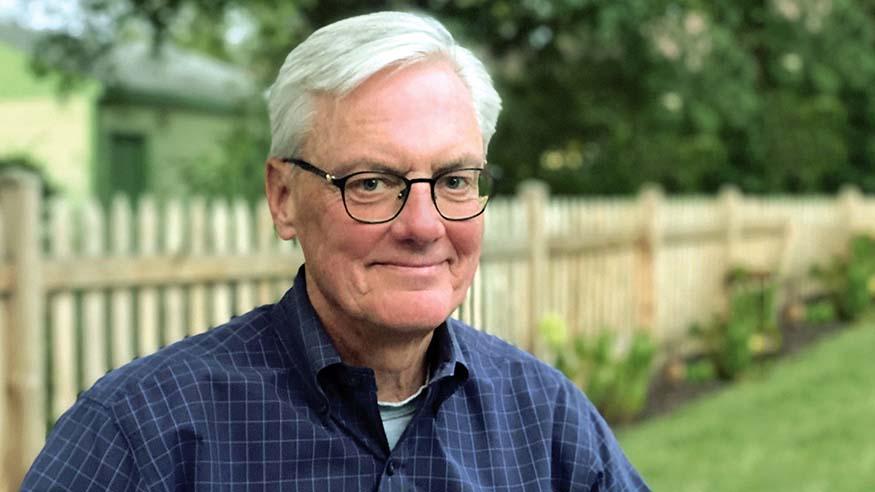 News
'Better able to see': An interview with poet Charles Hughes '73
The path from successful attorney to award-winning poet led Charles Hughes to his latest award: Augustana's 2021 Alumni Award for Outstanding Achievement.
Hughes has published two books through Wiseblood Books: "Cave Art" (2014) and "The Evening Sky" (2020). In 2015 he was a featured author for Augustana's River Readings, an annual literary readings series presenting work by visiting poets and writers. See more at charleshughespoetry.com.

Did Augustana play a role in your first encounters with poetry?
Yes, absolutely. Dorothy Parkander was a really important influence, even though — to my shame — I never took a class from her while I was a student. I did, though, encounter John Donne through Dr. Parkander early in my Augustana career. She gave a lecture to our entering class at the end of orientation week, in which she read Donne's "A Valediction: Forbidding Mourning," which utterly bowled me over.
The next day, in the library, I copied out several stanzas from the poem and mailed them to my wife, Bunny, who was a high school senior back home — we weren't married yet. The poem — I still think it's one of the most beautiful poems I know — is about saying goodbye, something much on our minds at the time.
I got to know Dr. Parkander later through Bunny, who became an English major at Augustana. The three of us remained friends until Dr. Parkander's death in 2018. Dorothy Parkander and Ann Boaden, another Augustana English professor and friend, helped me in more ways than I can say as I was beginning to try to write poems.
I did encounter poetry and other literature in various classes, even as a history and economics major. Certainly, my experience at Augustana left me with a very real sense of the value of these things.
Your calling has led you from schooling at Augustana and Northwestern, to a 33-year career as a lawyer, to life as a poet. Has your liberal arts education prepared you for this path, or altered it along the way?
Augustana opened me up to the life of the mind, to the big and never fully answerable questions such as what it means to be human. Augustana taught me that certain things — truth, beauty, love — are valuable solely in themselves, without regard to anything they may accomplish in the world, which I think was essential to enabling me eventually to see poetry as a vocation.
Did you seek out poetry after your career as a lawyer, or did it come to you?
I began being serious about writing poems fairly late in life, in my 50s. At the time, I was feeling somewhat burned out, as far as my legal career was concerned, and ready for a change.
But poetry? How inexplicably weird, given my life and work to that point! I've experienced poetry — I can say this with no hesitation at all — as a huge and wholly unexpected gift.
Not, I should add, that I didn't have qualms at first about accepting it. I'm convinced I wouldn't have turned to poetry, except that Bunny seemed to have no doubt that it was the right thing to do.
How has poetry changed you — helped create your "later self," (to use your term from the poem "October Friday")?
I'm sure poetry has changed me in lots of ways, and I'm probably not aware of all of them. I hope poetry has made me more attentive to people and things around me — in other words, better able to see.
Your inspiration comes from concrete situations, yet you handily work with abstract subjects. For example, you are concerned with how the mind works, how love moves us, how we live in the presence of God, and what happens when we try to live outside or beyond our "creaturely status" as humans. What fascinates you now, as a human creature and poet? What can readers anticipate in your upcoming work?
Children appear in many of my poems of the last two or three years. Children suffer horribly at the hands of the adult world — in war, certainly, but in many other situations as well. Recent examples, unfortunately, are not hard to come up with. I think my recent poems try to bear witness to these things.
This preoccupation may well be partly due to the fact that Bunny and I have an 8-year-old granddaughter and a 2-year-old grandson. I've come to see more and more clearly how complicated and interesting children are, that they have their own ways of thinking and understanding and their own inner lives.
"To such belongs the kingdom of God," we're told in the Gospels, with the implication that we adults have something important to learn from children. I'm not sure how much more I can say on the subject, but perhaps the realities of children's lives will continue to find their way into poems.
From "October Friday" in Charles Hughes' second collection titled "Evening Sky"
The boy, this afternoon, is bathed in firelight.
He'll grab the pass, crash an imagined goal line,
And go inside for supper and the night.
Outside, the leaves will lose their fire and dim.
A little breeze will blow up and begin
To take a few of them, then more and more,
And drift them down in whispers, which a witness,
Alert in the dark, could well hear as a calling —
To burn, as God-like leaves do in the fall.