Notices received as of Aug. 17, 2020
1956
Kenneth Peterson has compiled the 2021 Daily Bible Reading Guide for the Canadian Bible Society, the 36th consecutive one that he has completed. He estimates more than 5 million copies of these guides have been printed and distributed during the past 35 years in French and English, in Canada and in some years in other English- or French-speaking countries.    
1978
Shavaun Kidd is the author/editor of a book scheduled to be released in October titled Searching for the Snow Leopard, Guardian of the High Asian Mountains, written together with wildlife photographer Bjorn Persson and in partnership with the Snow Leopard Conservancy. Shavaun has been the outreach educator for the Conservancy since completing a master's in liberal arts focused on conservation education from Western Illinois University in 2014, and has served as the Conservancy's social media manager since 2016.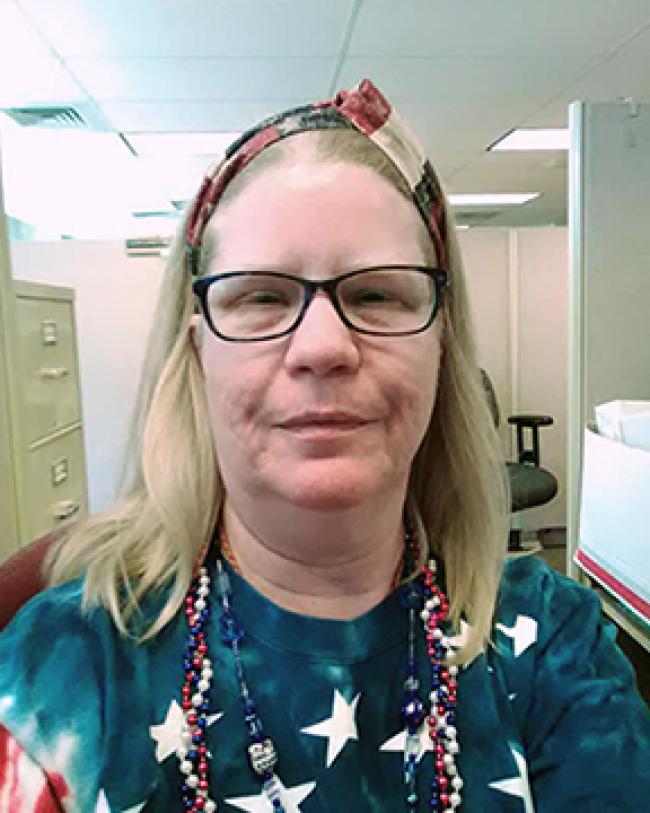 1983    
Brian V. Ytterberg has joined Dresner Partners as senior managing director and chief operating officer.
1984
Carolyn Kubala Leyva retired as director of Rehabilitation Services at South Georgia Medical Center, and moved back to Cookeville, Tenn.
Laura Nelson is scheduled to have her first novel, For the Love of a Pirate, published in September.     
1991
Michael-Anne Peck was appointed vice president and trust officer at Itasca Bank & Trust Co. in Itasca, Ill.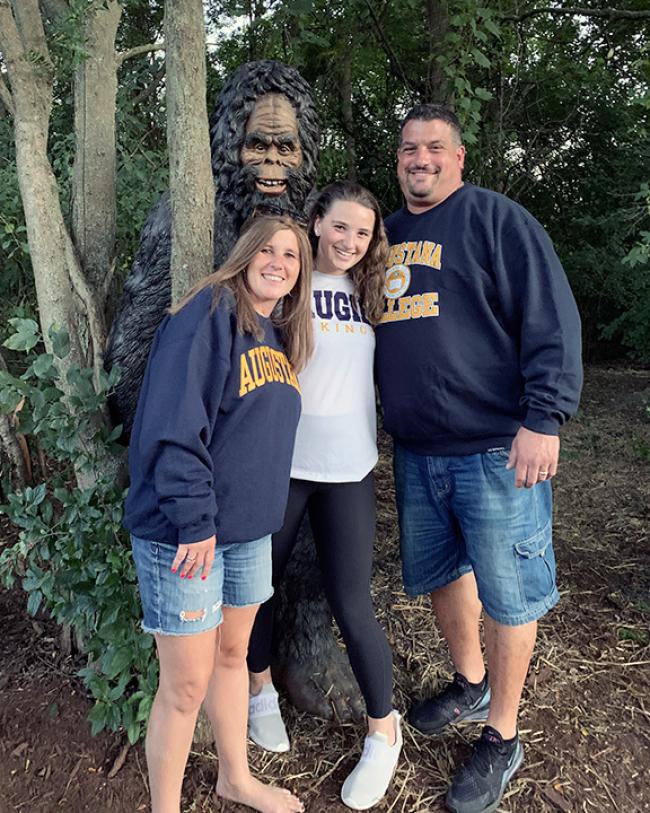 1994
Warner Cruz is president of J.C. Restoration, Inc., in Rolling Meadows, Ill. He hosted a "farewell/good luck at Augie party" for his company's intern, Allyson Fricano '24, and bought Augie gear for her family. (The hairy guy in the back? Warner has a Bigfoot statue in his backyard, so why not?!)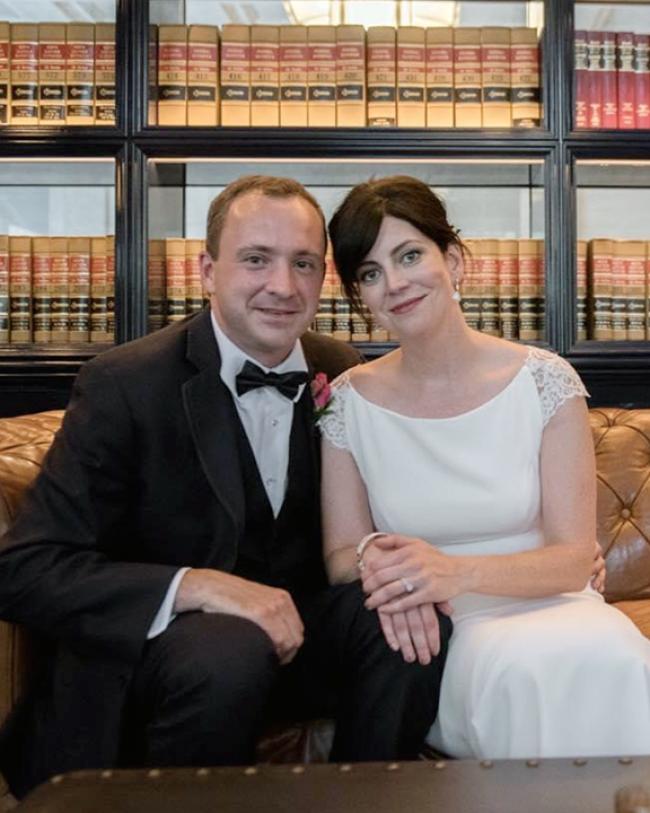 1999    
Eileen Jones married Joe Wholley on July 12, 2019.   
2001    
Tim Harrison and Margaret Albin '04 Harrison had a son, Gavin, in May 2020.    
April Boyer Moore was named a fellow of the American Academy of Family Physicians. She is a physician at the FHN Family Healthcare Center in Forreston, Ill.  
Scott Wadle was promoted to director of the Wichita-Sedgwick County (Kansas) Metropolitan Area Planning Department.      
2002    
Derek Neal left his job of 18 years at the University of Illinois Athletics Communications office for a new communications partner/social media position at Carle Foundation Hospital in Champaign-Urbana, Ill.
Spencer Sweet had a daughter, Kate Elise Sweet, on April 16, 2020 (Megan).         
2004    
Margaret Albin Harrison and Tim Harrison '01 had a son, Gavin, in May 2020.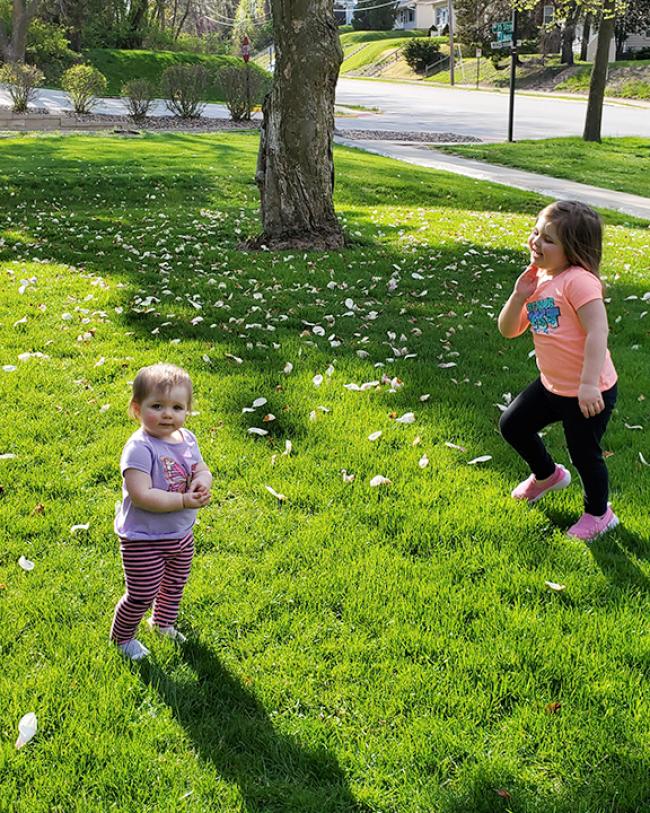 2010    
Tiffany Curtis Robinson had a daughter, Abigail Marie, on April 7, 2019. She and her husband visited campus April 7, 2020, to celebrate Abigail's first birthday and their wedding anniversary.
2011
Christine Hedlin married Michael Drummond on May 24, 2020.    
2013    
Megan Vandersee Bildner had a son, Owen Robert Bildner, on June 11, 2020 (Stuart).     
2016
Jonathan Colucci opened Kathleen Dental Care in Lakeland, Ill.
2017    
Emily Grooms received her specialist in school psychology degree from Western Illinois University in 2020. She is a school psychologist at Black Hawk Area Special Education District.     
2020    
Haley DeGreve received the Young Religious Leader Award by the Jaycees of the Quad Cities.    
Deaths
Notices received as of Aug. 17
Edith Hulting '43 Gustus on May 30, 2020.  
Virginia Penniston '43 Wheeler on March 30, 2020.
Gertrude Lundblad '48 Ness on May 16, 2020.    
Mildred Johnson '49 Gonzalez on July 26, 2020. 
Margery Caradine '49 Sersig on July 10, 2020.
William Byar '50 on April 19, 2020.     
Carolyn Nelson '50 Johnson on July 2, 2020.    
Marilyn Seaquist '52 Olufs on July 11, 2020.    
Steven Radovich '56 on Aug. 4, 2020.    
Caryl Chesmore '57 Hinckley on Oct. 24, 2019.    
Barbara Moraw '58 Larson on Aug. 8, 2020.    
Lee Turner '61 on July 3, 2020.    
Bonnie Anderson '71 Overdorf on June 17, 2020    
Muriel Lippert '82 on June 25, 2020.        
Connie Mattecheck '91 on July 20, 2020.