Notices received as of Jan. 29, 2021.
1956
David Fleming was named one of the 200 most influential leaders in the San Fernando Valley Area for 2020, and also had the distinction of being named an "Icon of Influence" by the San Fernando Valley Business Journal. He is the senior advisor to Robert Hertzberg, majority leader in the California State Senate.
1961
Duane Swanson will be inducted posthumously into the inaugural class of the Florida Gulf Coast University (FGCU) Athletics Hall of Fame. His philanthropic support led the charge in building FGCU's baseball, softball and outdoor sports complexes.
1970
Bill Sampson is one of five activists who have had an annual scholarship established in their name at Dudley High School in Greensboro, N.C. Sampson was killed during a peaceful protest in 1979, now known as the Greensboro Massacre.
1991
Ben Bergren has accepted a call as senior pastor to Community Lutheran Church, Las Vegas, N.V.
1993
J. Adam Lounsberry and his wife, Sarah, had a daughter, Mara Josephine Lounsberry, on Oct. 25, 2019. Mara was born on the 50th anniversary of her grandparents, John '69 and Penny Saylor '70 Lounsberry.    
1998
Sara Pasowicz is an administrator in the College of Nursing and Behavioral Science at Lewis University.    
1999
Heather Dowding Tipton is a nursing instructor with Greenville Technical College, Greenville, S.C.
Amy Zalke passed the American Board of Professional Psychology exam in the subspecialty of clinical neuropsychology, becoming a diplomat and full member of the American Academy of Clinical Neuropsychology.
2002
Kristin Spooner Mattera had a son, Marco, in March 2020 (James; Abbie).  
RoxAnne Thomas is working on a master's in supply chain management from Michigan State University.
2003
Elizabeth Dierolf is the marketing and strategic communications manager for River Bend Foodbank. She serves on the Board of Directors for the Davenport Junior Theatre.
2004
Tamika Hobson had a daughter, Riley, in September 2020.
2005
Kirsten Merritt was elected to the City Council in Needles, Calif.
2006
Elizabeth Gach-Schulz and Eric Schulz had their second child in October 2020.
2007
Katherine Gough-Edwards is the sales director for First Aid & Safety–Midwest at Cintas, Cincinnati, Ohio.    
Kelly Schumacher Fuller is the director of programs and partnerships for the new Center for Leadership and Neighborhood Engagement in Minneapolis, Minn.
2008
Maegan Skahill and Greg Knapp had their third child, Everett Knapp, on May 25, 2020.
2009
Samantha Hannon had a daughter in March 2019 and finished her master's in math education at Aurora University in December 2019.  
Ashley Schreck was chosen as one of Peoria Magazine's 40 Leaders Under Forty (rising leaders in Greater Peoria).   
2010
Drew Allen was named president and CEO of Grace Technologies. He received the National Association of Manufacturers' 2020 Next-Generation Leadership Award, and is a member of the advisory board for Atom Power, Inc.    
2011
Anna Cronin launched Fern Leaf ABA in Peoria, Ill., at the end of 2020. Fern Leaf ABA uses applied behavior analysis to provide behavior consulting for adults with disabilities living in the community.
Danielle Kilberry is engaged to Mike Warren, son of former Augustana dean and professor, Dr. Ellen Hay.
2012
Katherine Kampwirth became engaged on Dec. 5, 2020.
2013
Emily Kitterman became engaged in November 2020.
Janelle Kozelichki worked for the government for almost five years in permitting for impacts to wetlands and streams and overseeing mitigation projects. She switched careers and now teaches high school biology.
Sarah Pouls earned her master's in written communication in 2020 from National Louis University. She has been teaching English and coaching the speech team at Lyons Township High School in LaGrange, Ill., since 2013.
Stephanie Schultz is pursuing a master's in educational psychology at the University of Missouri.
Brooke Schmidt advanced to a licensed professional clinical counselor in the state of Ohio in September 2020.
Jennifer Stille is pursuing her master's in social work.
Kelsey Miller Walljasper had a son, Sawyer Lewis Walljasper, in May 2018.
2014
Brittany Hite is pursuing her Ph.D. in positive developmental psychology and evaluation, while working full-time as a program evaluator with youth programs, including After School All Stars, and government organizations, including the Department of Children, Youth and Their Families in San Francisco.
Caitlin Penzi and Matthew Day are engaged.    
Hope Shiel received a B.S. in nursing in 2018 and now works on a COVID-19 unit at University of Louisville Hospital in Louisville, Ky.
2015
Alexis Ceja is in graduate school at Walden University, pursuing a master's in social work.
Dolores Santiago is pursuing her master's in education at Marian University, and is in her second year of teaching Spanish at the high school level.
Lauren Schwass works at a clinic providing applied behavior analysis therapy to clients with autism. She was recently promoted to clinic director and will be opening and leading the company's newest clinic in Houston.
2016
Jeanette Kuchler is a teacher and recently became engaged. 
Urid Pacillas is a social studies teacher.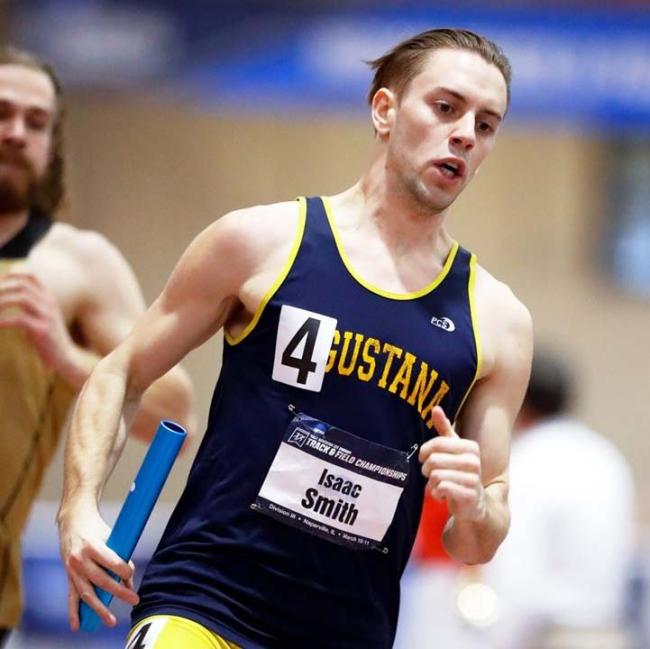 2017  
Barrie Chileen and Brian Martinez '20 became engaged on Oct. 9, 2020.
Raven Hoffman is an educator in Stockolm, Sweden.    
Isaac Smith is a track and field assistant coach for the Augustana Vikings. He was the team's sprints coach for the past two years.
2018
Ashton Hutcheson is pursuing a master's in nursing at Marquette University and working on the frontlines as a CNA during the pandemic.
Natalie Tomerlin works at Rehabilitation Hospital of Indiana.    
2019
Rachel Hart is a Spanish teacher at Pleasant Valley High School, where she was a student teacher.
Erin Miskell is pursuing her doctorate in occupational therapy. 
2020
Brian Martinez and Barrie Chileen '17 became engaged on Oct. 9, 2020.   
Deaths
Notices received as of Jan. 29, 2021.
Charles Gustafson '50 on Jan. 1, 2021.
Lorraine Ahlberg '51 Beckmann on Dec. 19, 2019.
Marietta Anderson '51 Hultgren on Jan. 11, 2021.
Cliftona Bergren '53 Heuer on Dec. 22, 2020.
Mary Ellen Wahlheim '58 McGrath on Jan. 15, 2021.
Charles Wilson '58 on Dec. 29, 2020.
Russell Peterson '60 on Dec. 22, 2020.
Kenneth Collinson '61 on Dec. 24, 2020.
Thomas Blade '65 on Jan. 4, 2021.
John Leaf '66 on Jan. 5, 2021.
Robert Carlson '67 on Dec. 13, 2020.
Dorothy Bartlett '73 Eliason on Jan. 4, 2021.
Ward Larson '73 on Jan. 21, 2021.
William Scott '75 on Dec. 29, 2020.
Shirley Park '81 on Jan. 5, 2021.
Dave Wentz '85 on Jan. 4, 2021.
Heather McCann '90 Akiyoshi on Dec.19, 2020.