News
Creating a more inclusive space
A life of exploration for physicist Dr. Karen Andeen '03 has taken her from Augustana to Antarctica to beyond the Milky Way — and into the depths of cultural change for her field.
Augustana Magazine Summer 2022
In 1912, scientists noticed a strange phenomenon in a lab, soon discovered to be caused by unknown particles. The first questions asked by those scientists were the same anyone would ask: "What are they? Where do they come from, and how did they get here?"
Scientists have since learned the particles come from space, and named them "cosmic rays." They have various energy levels, and the lower-energy particles are more easily detected and studied to determine their charge and mass. But what about the much rarer high-energy particles sent from the far reaches of our galaxy and beyond?
Dr. Karen Andeen '03 and her team are building the instruments needed to understand these most elusive high-energy cosmic rays.
"We have lots of ideas, but we need more data and new observation techniques to help us understand what's happening in the universe," Dr. Andeen said. "That's where the new telescopes we're building in my lab come in. They add a new way of measuring — a new snapshot, if you will — in addition to two other snapshots we already have with the IceCube Neutrino Observatory at the South Pole, so that we will be able to actually finally figure out what the composition is of some of those particles.
"We've been waiting 100 years for this!"
To do her work, Dr. Andeen has received a National Science Foundation CAREER grant worth $870,000 over five years, a grant for promising young faculty early in their careers.
Dr. Andeen teaches at Marquette University — its first female tenured faculty member in physics. Her research at IceCube Neutrino Observatory continues work she did for her Ph.D. at the University of Wisconsin-Madison.
Research across continents
After a postdoc year at Rutgers University, she went to Geneva, Switzerland, to join AMS-02, a particle physics detector experiment on the International Space Station. Currently she has rejoined the IceCube collaboration and is helping design new detectors to upgrade the IceCube Neutrino Observatory in Antarctica.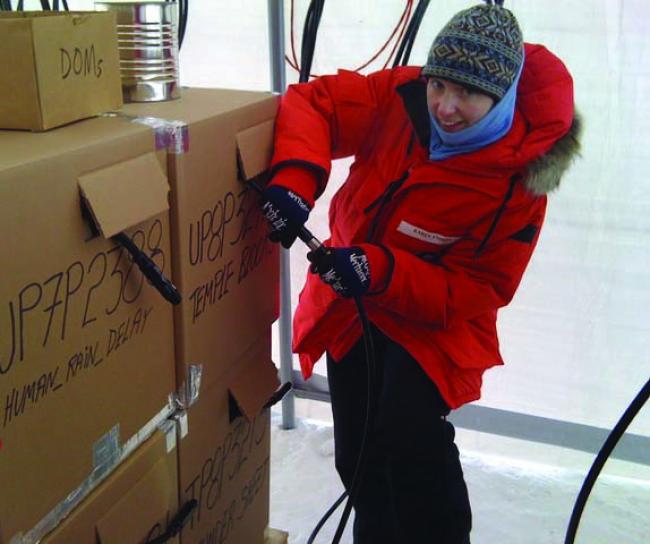 With Earth's darkest skies, most stable and transparent atmosphere, and pure layers of ice, Antarctica is the ideal place to observe what's happening in space. The continent is one of six where Dr. Andeen has studied or worked.
For her, exploration of place and exploration in physics go hand in hand.
Scientific exploration began with what she calls "adventurous baking" as a kid in the kitchen in Arlington Heights, Ill. In fourth grade, when her best friend moved back to Japan, she began dreaming of adventure in Asia.
During her college search, she learned of Augustana's East Asia Term led by Dr. Norm Moline, now emeritus professor of geography. It was one reason why she chose to attend Augustana.
Dr. Andeen's international experience began even before her East Asia term as a junior at Augustana. Encouraged by professors to apply for undergraduate research experiences, she landed a summer internship with the particle physics lab Fermilab, near Chicago. There she lived and worked with outstanding physics students from around the world, who inspired and motivated her.
The next summer, she was "again shocked" to find she'd landed another prestigious internship — this time with 200 like-minded physics students from across the globe, as part of the CERN summer student program in Geneva, Switzerland.
Those early cultural interactions still help her in many ways today.
"I use those intercultural lessons when working in large physics collaborations, where we are constantly interacting with people from a variety of backgrounds, and have to ensure that everyone is on the same page," Dr. Andeen said. Even touring with the Augustana Symphonic Band and its director Dr. James "Doc" Lambrecht taught her lessons she could apply to physics.
"Each spring break we traveled around the U.S. or, during my senior year, to England, staying with local families in their homes and playing for a variety of audiences in completely different spaces — from modern upholstered practice rooms, high school gymnasiums and even cathedrals, not to mention outdoors, which all have very different acoustical properties," she recalled. "Doc was always keen to help us understand the acoustics.
"I got to TA for a 'physics in the arts' class when I was a graduate student in Madison because of those great opportunities, and now I have a dream of getting a similar course going at Marquette."
Goals for her students
Dr. Andeen said she has been working toward two main goals at Marquette to help physics students from underrepresented groups:
1. The ability to complete the physics major in three years. This is especially important for students from underrepresented groups who may not have been encouraged toward physics in high school, and therefore might not find their way to the major in their first year.
2. Seminars that, in part, introduce physics students to hurdles faced by non-majority students in the field, as well as specific methods to advocate for themselves and each other when facing these hurdles.
"So, in this sense I have stepped from just advocating for my own students and colleagues, to working toward developing a whole new generation of physicists who are prepared to advocate for an improved culture in the field," she said. "To me, this is actually the most important thing I teach."
She also makes sure her research lab students understand the challenges she has had to face as a female physicist, and how they can handle situations that might arise for them or for their peers.
Because women tend to be directed toward software over hardware-based skill sets, Dr. Andeen's student research projects are skills-based rather than projects-based. In this way, all her students gain equally the skill sets of software and hardware.
Her husband, Dr. Timothy Tharp, is also a professor in Marquette's physics program, having landed a position there a year after she did. They have three children: Charles, 7; George, 4; and Harriet, 9 months.
She still enjoys experimenting in the kitchen. Other at-home inventions with her husband include ways to make their old farmhouse carbon-neutral. "This is a big goal of ours for the next five years," she said.
That — and putting her five-year NSF CAREER grant to work as she looks to solve one of the mysteries of the universe.