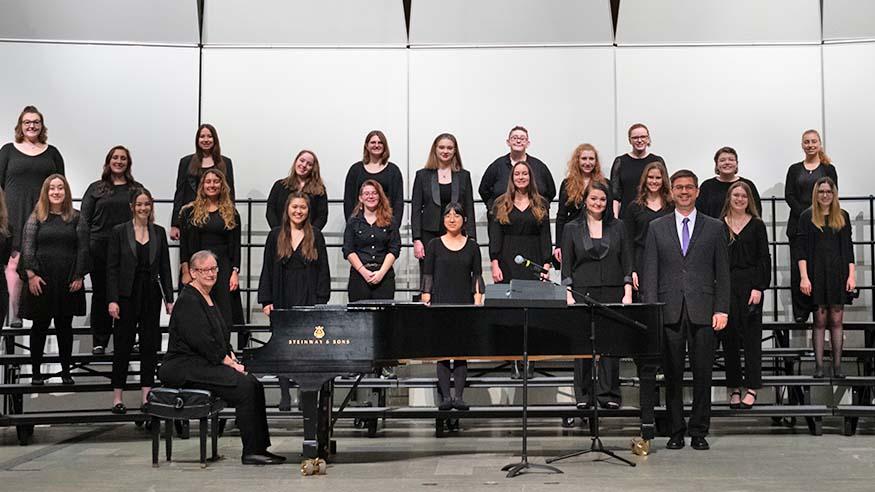 News
Energized music students look forward to concerts, tours
Augustana's music students and their directors are preparing for a packed fall semester schedule of concerts, while also planning ensemble tours.
Ensemble directors are noticing a post-pandemic level of high enthusiasm and energy this year.
"I'm really excited about the level of student engagement in the jazz program in my first two years here at Augustana," said Dr. Joel Linscheid, director of jazz ensembles. "We've seen an increase in the number of students who are pursuing a jazz minor, as well as an increase in students who are studying jazz improvisation and playing in jazz combos. All of the students and ensembles are working hard and improving, and it's an exciting thing to be a part of."
Dr. Patrick McNally, visiting assistant professor of music, opera and voice, is new this year. He said he enjoys the students "who make up the core of what makes Augie great."
"They're all so excited to explore and discover! I've also loved the warm welcoming nature of the Augie community and the kind generous faculty who have welcomed me to campus," he said.
"One thing I found surprising is just how driven the student body is. I work with many who are double and sometimes triple majors. I love how much they bring to the table as it gives a creative arts teacher like myself so much to pull from!"
Dr. Ernesto Estigarribia, who recently conducted his first Augustana Symphony Orchestra concert, said he is surprised at his students' desire for more work and time. 
"Their level of inquiry is insatiable and that energy compounds over the week and is very inspiring," he said. "The students bring so much energy, and we have a community where we celebrate excellence in music week in and week out."
He said that so far at Augustana, building a relationship with students and creating a culture in the orchestra has been a high point. "We love working hard and realizing our collective potential," he said.
Tours
The Augustana Choir's tour itinerary is shaping up nicely, according to director Dr. Jon Hurty. He is planning concerts in Rockford, Aurora, Arlington Heights, Milwaukee, Madison, Rochester and Minneapolis March 24-31, 2023.
"Our Midwest tours are always filled with the opportunity to interact with high school students," he said. "We often collaborate with local high schools and have them perform a short set of music on our program and then sing together with them. This provides a rich experience, both for high school students that might consider attending Augustana as well as for our music education students. 
"Midwest tours also allow us to rekindle contacts with alumni and close friends of our program — something that is especially important to the choir."
He said that touring is more complicated post-pandemic. 
"Before 2020, we would just meet people, eat with them, share our music with them, and enjoy their hospitality in home-stays," Dr. Hurty said. "Now, we need to carefully manage our interactions. We are beginning to feel a sense of normalcy, but many of the things that we used to take for granted are not as they were in the past. Some of those changes put financial pressure on our program, and others are just a matter of creatively approaching new realities.
"I'm sure we will be able to meet the challenges, and I know that our students are ready to do their part so they can share their talents with alumni, prospective students, families and friends."
The Augustana Symphonic Band will take a spring break tour of Japan from March 23-April 4. Director Dr. James Lambrecht said this will be the second tour of Japan by the band and will feature concerts in Tokyo, Hamamatsu and Nagoya.
The Jenny Lind Vocal Ensemble has been invited to be the headlining choir at the Illinois American Choral Directors Treble Choir Festival for high school treble choirs in early February. Plans are being made for a tour in the St. Louis area in April, said Dr. Michael Zemek, director.
Upcoming concert highlights
Nov. 4, 7:30 p.m., Centennial Hall
The Jazz Ensemble concert will feature a variety of classic and contemporary big band music, including music by Thad Jones, Mary Lou Williams, Oliver Nelson, Patty Darling, Charles Mingus and Fred Sturm. Audiences should look forward to a great hour of big band music. 
Nov. 12, 7 p.m., Centennial Hall
Augustana Symphonic Band  — the first-time performances of "Rio's Convergence" by Justin Freer, "Some Treasures are Heavy with Human Tears" by John Mackey, "Ukrainian Colors" by Oleksandr Petrov, "Red Sky" for solo trombone and wind band by Anthony Barfield (featuring Augustana faculty member Dr. Samantha Keehn), and "Dancefares" by Jess Langston Turner.
Nov. 13, 4 p.m., Centennial Hall
The Augustana Concert Band will take the audience on a journey through great band literature. 
Nov. 13, 7 p.m., Centennial Hall
The Augustana Percussion Ensemble starts the year with swing and ragtime pieces, some powerful drumming pieces, contemporary minimalism of the pitched and unpitched variety, and even a piece with audience participation in the middle.
Nov. 17-20, Brunner Theatre Center
The musical "Cabaret" will be performed at 7:30 p.m. Thursday-Saturday, and at 1:30 p.m. Sunday.
Dec. 9, 7:30 p.m., Gerber Center, Gävle rooms
Jazz Ensemble and Combos – "Swingin' Christmas at Augustana" with holiday favorites, a fun way to end the semester.
March 17, 7:30 p.m., Centennial Hall
Augustana Symphony Orchestra Concert
April 19-23 
OperaX will present a one-act opera, "Amahl and the Night Visitors"
April 29, 2 p.m., Centennial Hall
Jenny Lind and Concert Chorale concert