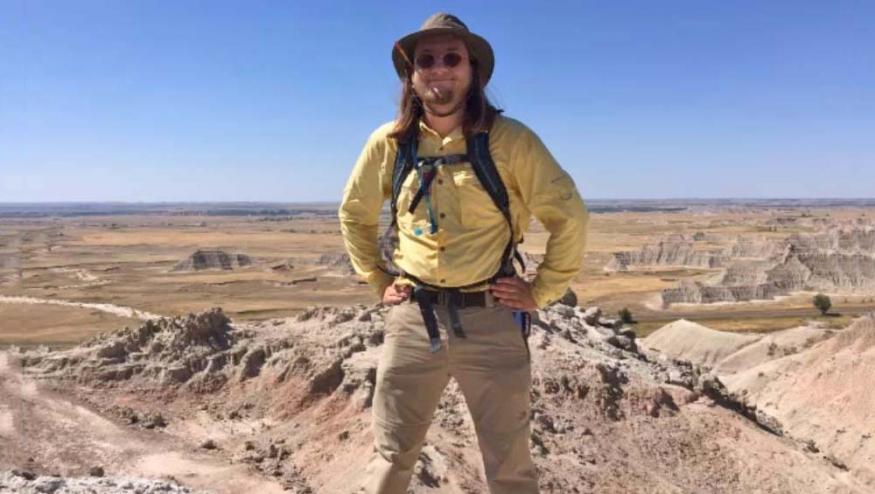 News
Geology major scouts and wins dream internship
(Editor's note: Powers had a successful summer and found several dinosaur bones.)
First-year geology major Quintin Powers struck gold and will be digging for dinosaur fossils this summer.
Powers landed a summer internship at the Judith River Dinosaur Institute in Montana. He will be the National Eagle Scout World Explorer Paleontologist there this year.
As part of his application, he made a three-minute video about why he believed he stood out from the other candidates. In the video, he talks about a love for dinosaurs and fossils that began when he was a young child, leading to a life dedicated to his passion and potential career.
"To me, paleontology seemed like a great puzzle, where first you have to find the pieces and then you can put them together. That really drew me in," Powers said.
He will spend five weeks split between excavating fossils in the field and analyzing them in the lab.
The National Eagle Scout Association (NESA) has a long history of sending Eagle Scouts on expeditions to various locations across the globe. 
NESA partnered with the Judith River Dinosaur Institute to promote paleontology, the study of the geological past with specific analysis on ancient animal and plant fossils, to the public. Through this partnership, the internship is offered to one Eagle Scout interested and planning on going into that field of study. 
Powers will travel to Billings, Mont., later this month to get started.
"The main thing I hope to get out of this internship is experience," he said. "Since I want to go into paleontology as a career, spending five  weeks doing both field and lab paleontology will be a great opportunity to prepare me for a future of hopefully doing this as a job."
Department support
Powers got some help with his application from Susan Wolf, educational programs coordinator and assistant curator of Augustana's Fryxell Geology Museum. 
The geology department  frequently aids in writing recommendation letters and subsidizing field trips by at least 50 percent to help foster field experience and student research. 
The department also offers a GEOL-105 trip to incoming first-years where they backpack across the Black Hills of South Dakota and the Rocky Mountains and study the geology found there, giving students a head start in experience and college credits.
"The geology program at Augustana seemed to present a lot of opportunity for me. Programs like the GEOL-105 class really convinced me to come [to Augustana]," said Powers.
— Autumn Peele '21