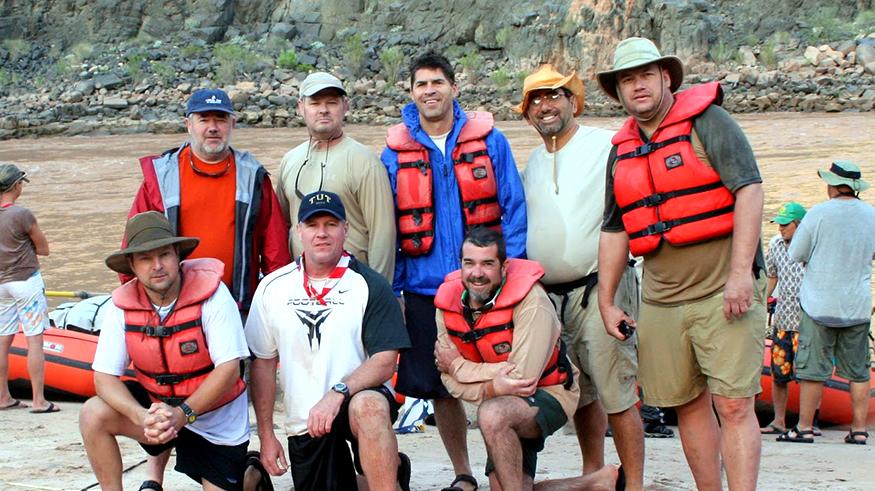 News
Grads take trips together every year — for 40-plus years
Alumni: Do you and your classmates get together every year for an adventure or simply to re-connect? Email your story to sharenews@augustana.edu.
It's no secret that students often make lifelong friends at Augustana. 1977 graduates Chris Coder and Jack Pace are no strangers to that idea.
For the past 40-plus years, Coder, Pace and Augustana friends have embarked on at least one trip a year to geologically significant destinations, including Bluff, Utah; the Florida Keys; Everglades National Park; and Big Bend National Park.
What sparked these annual get-togethers? "Definitely that trip I did as a freshman to the Grand Canyon," said Coder, a geology major. "I'd never been west of Des Moines, Iowa, before."
On Coder's trip to Big Bend National Park the following year, Pace tagged along. Pace was a biology major, and Augustana's geology department trips were open to all related majors. In the following years, more of Coder and Pace's classmates, including Pat Harkins '77, Phil McEntee '77, Lance Niemann'78, Jeff Ebbeson '79 and Peter Simshauser '79, joined the excursions and, according to Coder, "got hooked."
"I just couldn't believe it when we got out there," said Pace of his first trip out West as an Augustana student. "I was just amazed; you know, we're on the Rio Grande River...with boulders the size of houses. I was just mesmerized by it all. It was a whole new world."
'To be close to the Grand Canyon'
Coder's fascination with the West and its geological wonders was so strong that after graduating from Augustana, he moved to Arizona to earn his master's in anthropology, "simply to be close to the Grand Canyon." 
Today Coder is the tribal archaeologist for the Yavapai-Apache Nation in the Verde Valley of Arizona, while Pace and others in the group are lawyers, chemical engineers and bankers in different states. At least once every year, however, that core crew of friends packs up for another adventure together. 
"What really enamored me about the West and what Chris instilled in us is that you can die out here fairly quickly if you're not prepared," Pace said. "It's not like Chicago. You're confronted with nature out here." 
Coder recounted a near miss in 2017 when he was caught in a rock avalanche on a trail he'd hiked down 12 or 15 times since 1980. 
"The whole thing went, and I thought I was done...but I rode on top [of the rockslide], and it threw me out into the air," he said.
And yet, "after 40 years, no severe or life-threatening injuries," Pace added.
The most incredible part of these trips, according to Coder, is that "we all still like each other."
'Take advantage of all the travel'
Although Coder and Pace went to graduate school, started families and made career changes, their admiration for and connection with the country's landscapes never wavered through the years. 
It is this connection that Pace has instilled in his children. "This country is so beautiful —so get out there," he likes to tell them. "You can always come back. It's the unexpected that is usually the most rewarding." 
Coder has his own advice for high school students thinking about attending Augustana: "Take advantage of all the travel that Augustana offers. Because to me, that ended up being formative. You can sit in a class in Rock Island...or you can be in southern Utah, Wyoming or West Texas and just see it." 
And what better way to "see it" than with friends from Augustana? 
Despite wildfires and heat waves, Coder and Pace and others in the circle already are planning their next trip — one of many more to come.
By Jack Harris '20