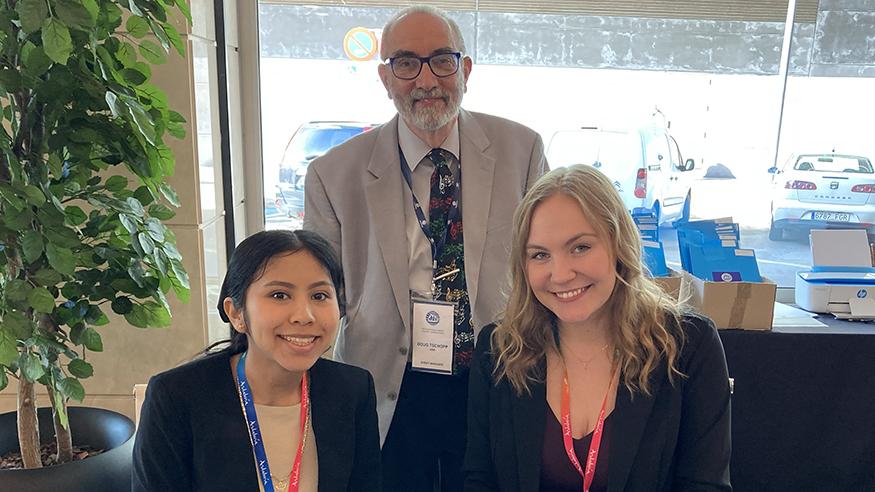 News
How Augustana students plan and run an international conference
How many 21-year-olds can say they've helped plan and run a large international conference — twice? Augustana junior Madalyn Snyder can.
"I had some big responsibilities planning this conference, as event planners do," Snyder said. "When I got there, everybody was like, 'Oh my gosh, you're really young! You did it?'
"Yeah, we did. We did it."
It was the 31st World Family Therapy Congress, held in Malaga, Spain, in April. Snyder and Augustana sophomore Crystal Moreno Aguilar traveled to Malaga to run registration and provide support for 300 attendees at the annual conference sponsored by the International Family Therapy Association (IFTA).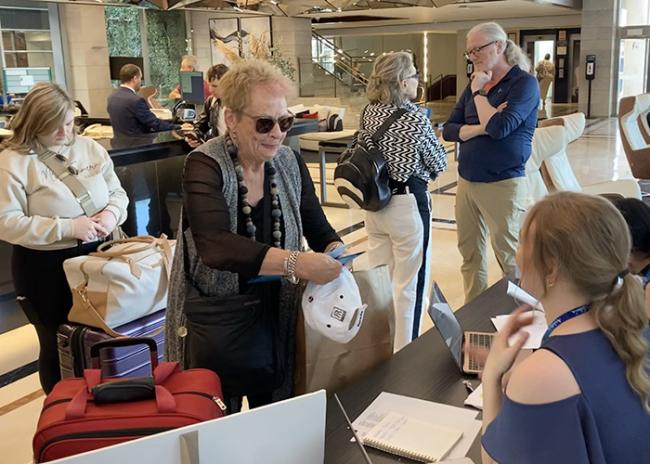 As always, the students were accompanied by Doug Tschopp, director of Augustana's Entrepreneurial (EDGE) Center and instructor of communication studies. For 12 years, Tschopp has led students in developing the skill sets of leaders in international event planning — including the process of canceling the conference in spring of 2020 (the COVID pandemic's first year) and running a virtual conference the next.
Generally, four Augustana students plan the event many months ahead, communicating by email with people from 30-40 countries, taking care of registration and proposals, scheduling 150-170 presentations, even helping with VISAs. As they get closer, it's time to create name tags and certificates for participants and presenters.
Then two of the students travel to the event site to provide support during the conference. Last's years IFTA conference was in Puerto Rico; next year's will be in Toyama, Japan.
Augustana's role in the conference planning began when a Quad Cities-based family therapy professional first came to the EDGE Center for website design. He returned to request a website for the IFTA conference, and finally, Tschopp recalled, "He asked, 'You don't have event planners, do you?'
"Well, I teach public relations, so there's a whole classroom of event planners," Tschopp replied.
It turned out a professional event planner had been running the conference bankrupt, so IFTA had to either reinvent the conference, or stop it altogether.
"So, I helped them basically reinvent it," Tschopp said.
Conference planning is good for careers
The reinvention began with Augustana student Ben Fischer '13, a web programmer in the EDGE Center, designing the complex software needed for the backend. A computer science and philosophy major while at Augustana, today Fischer works as the director of engineering for a company that writes medical software. He still takes care of the software needed to run the World Family Therapy Congress.
Alyssa Mish '19 was a conference planner during all of her four years at Augustana, shadowing as a first-year student, and traveling as a group leader for the next three. Her business administration–management and marketing majors, Spanish and entrepreneurial studies minors, event planning experience and EDGE Center internship provided a foolproof foundation for her current role.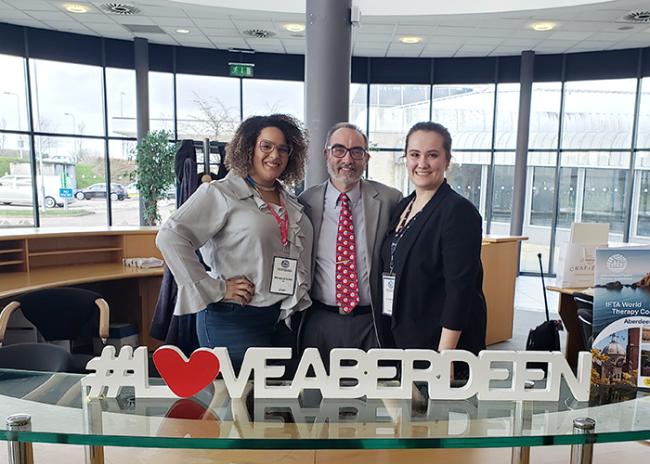 Mish works for Creative Group, Inc., a third-party event planning company. She interacts with clients from many different industries and cultures, and trains and mentors new colleagues.
She recently was promoted to senior registration manager, in charge of registration and management for meetings of 20-2,000 participants. She is the first point of contact for questions, and manages housing blocks, activities, travel and transfers.
"I understand the direct correlation between what I did with IFTA and what I do now," Mish said. "It has deeply helped me succeed in my current role."
She has great memories of her conference travels to Malaga, Bangkok, and Aberdeen in Scotland. Augustana students always arrive onsite early enough to explore the area, and Mish's group took a day trip to Gibraltar from Malaga. The next day they went to Morocco.
"We had a traditional Moroccan lunch, and there was music, and instruments … that was an amazing experience," Mish said. "Not many people can say they've been to Africa, or to Thailand."
Event planners are needed in every field
Maddy Snyder '24 is hoping that next year's conference in Japan will be bigger than ever. Many people will be coming from surrounding countries.
"I've definitely gained a lot of people skills," Snyder said.
She used to be afraid even to write emails, find the right words. "But now I write 40 emails a day to people, and I don't even think about it," she said.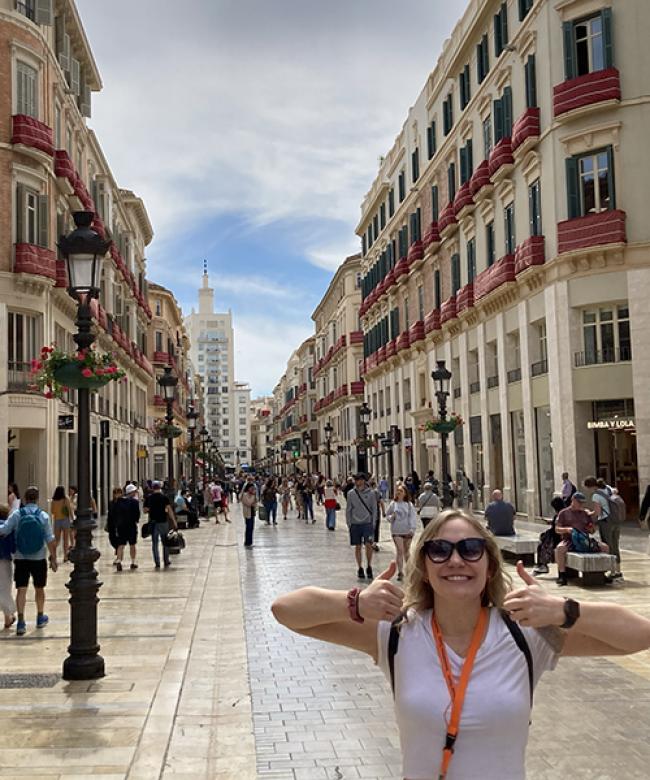 "And just talking to people in general, I used to be really, really shy," she said. "Now I answer people's questions all the time. That never really stops."
Snyder became involved at the EDGE Center when another student, noticing her organizational skills, said she should meet with Doug Tschopp. So, she did.
"And Doug said, 'Do you like to travel? Are you responsible?' And I said, 'Yeah!''' So, she became an international event planner.
Tschopp said, "People who like detail work love event planning." He noted that some might think they want to become an event planner without realizing the actual event is only 1-2% of the work.
"Ninety-eight percent of the work is done long beforehand," he said. "It's fun to make sure you have all the details in place, because if you do all the stuff upfront, then the event runs pretty smoothly."
As a communication sciences and disorders major, Snyder doesn't know if she'll continue with event planning in the future. But understanding the art of communication as well as the science should serve her well.
Plus, every career field needs events — gatherings of experts and enthusiasts to reflect, discuss ideas and of course plan for the future. It all begins with planning.