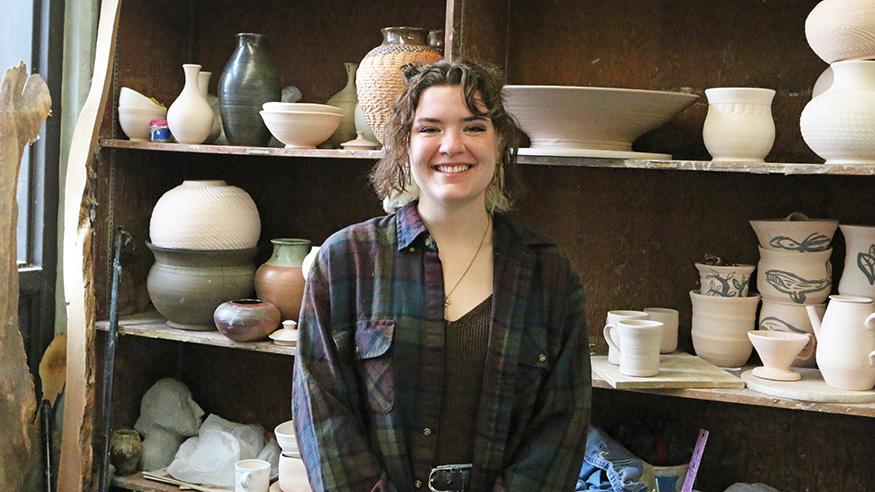 News
Johnson '23 creates first model of prehistoric creature
When Hannah Johnson '23 learned of an opportunity to create the first model of a recently discovered prehistoric creature, she put her art and geology majors to work.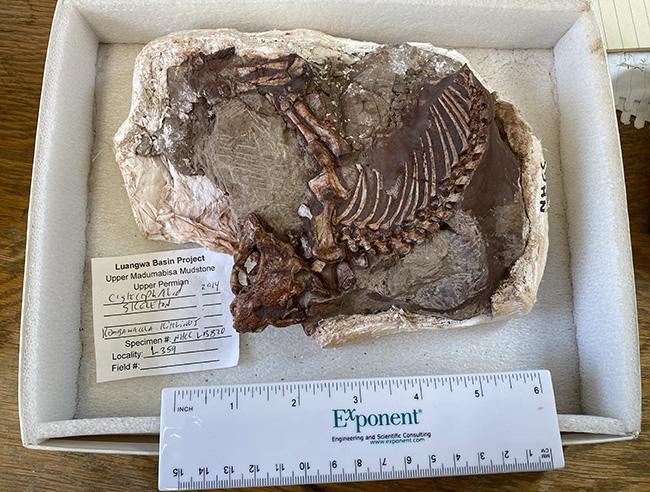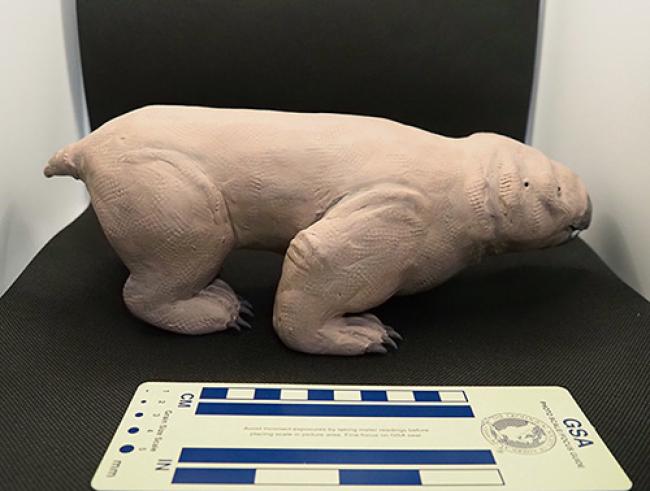 Johnson's geology Senior Inquiry project is a ceramic sculpture of Kembwacela kitchingi, a species belonging to a herbivorous branch of animals with a pair of tusks that lived during the late Permian period, roughly 253 million years ago. Kembwacela kitchingi died in a mass extinction and no one knew what the creature might have looked like — until now.
While some geology students opt to do research in areas like geochemistry, Johnson wanted to take a more creative approach. 
"I wanted to do research on an animal that didn't have any art and create the first visual of the animal," she said. 
But finding a project that was research-based and allowed her to apply her art skills wasn't easy. Johnson first traveled to the Illinois State Museum in Springfield, Ill., but had no luck.
"Then I emailed the head of vertebrate paleontology at the Field Museum in Chicago and asked if they had anything that might help me and my project goals," Johnson explained. From there, she was directed to Dr. Kenneth D. Angielczyk, the MacArthur Curator of Paleomammalogy and Section Head in the Negaunee Integrative Research Center at the Field Museum. 
He introduced her to the Kembwacela kitchingi fossil, which proved to be the perfect subject for her project.
"I went to the Field Museum once to look at the actual fossil and take pictures and measurements," Johnson said. She then continued her research independently at Augustana with support from faculty.
She collected details about the creature's diet, relatives, habitat and more and used those details to form her final product. Johnson's completed sculpture is a life-size model of the animal, which would have been about 12 inches long.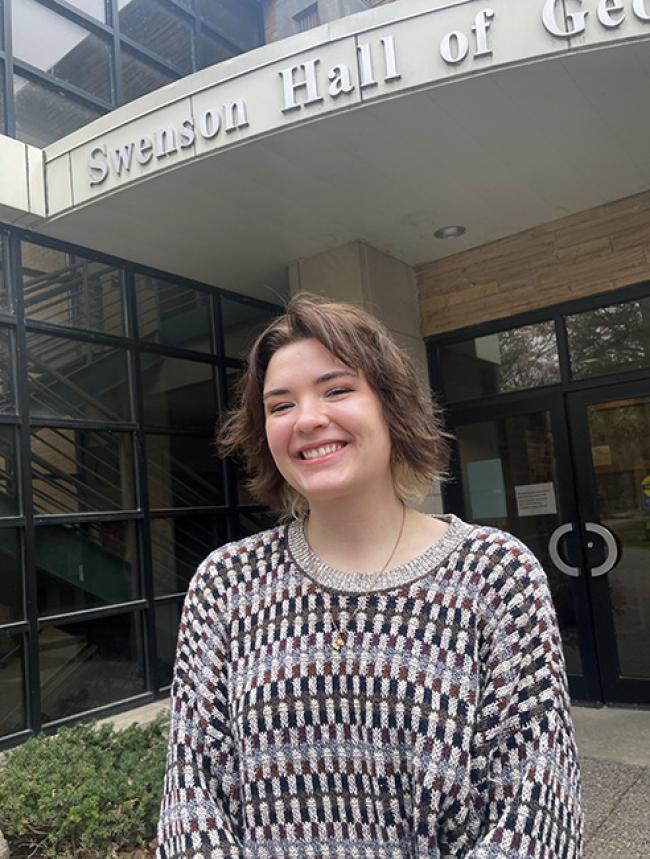 Johnson, the daughter of Mark Johnson  '91 and Lisa Koenig  '90, did not have paleontology on her mind when she chose Augustana. Originally undecided on what she wanted to pursue, she discovered her interests through her Physical Geology of the Rockies class. Her class trip to the mountains of South Dakota and Wyoming and a study abroad trip to Bonaire confirmed her decision to major in geology.
Her positive experience in the geology department was shaped not only by her hands-on learning, but also by her professors. "The best part about being in the geology department is the people," she said. "It's like a family." 
The influence of Johnson's art advisor Megan Quinn, professor of art, inspired her to declare her art major with a concentration in ceramics. She began working in the ceramics department and went on to complete her art major during her semester in Bath, England, where she completed her capstone project by displaying her work in a student-led exhibition.
Without the ceramics skills she developed through her art major, Johnson would not have been able to complete her geology Senior Inquiry project.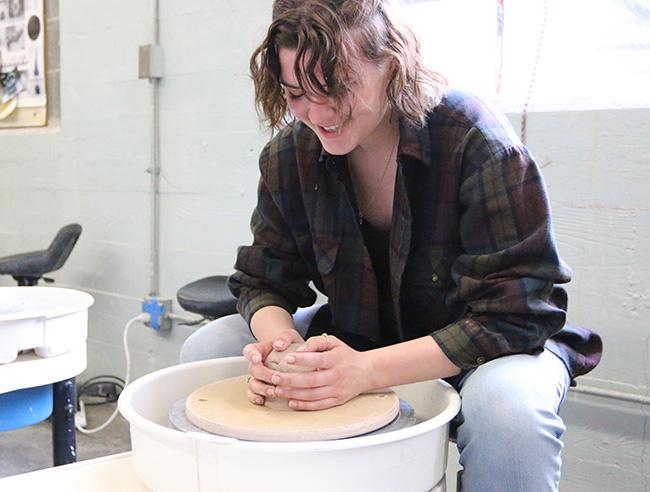 "Hannah's a very ambitious sculptor," Quinn said. "Her patience in sculpting and her can-do attitude make her a pleasure to work with. She delves into projects fully taking on the problem-solving necessary to succeed."
Dr. Jeff Strasser, professor and chair of the geology department, commended Johnson for following her interdisciplinary passions and putting her liberal arts education into action.
"Hannah is the type of student we love to have at Augustana," said Dr. Strasser. "From studying abroad in the U.K. to her summer position at the Hot Springs Mammoth Site in South Dakota, she found interesting opportunities to pursue her diverse interests in art and paleontology."
Johnson's skills and work ethic will serve her well as she pursues her dream of being a commissioned artist.
By Genevieve Ryan '26