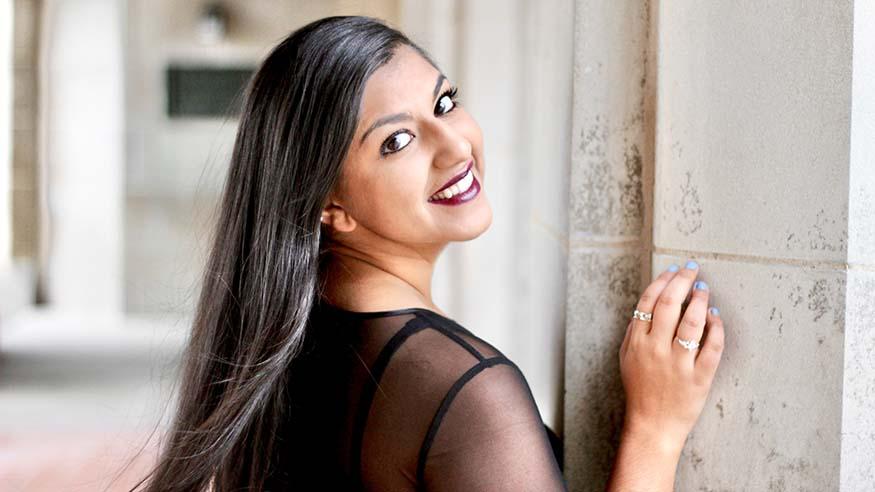 News
Kamneev Rai '16 finds illness sharpens her focus on music
Before her treatments for a rare cancer were even complete, violinist Kamneev Rai '16 started a master's performance program in Chicago.
That done, she's now begun a Ph.D. program at the University of Dublin, studying musicology. 
After graduating from Augustana, Rai went to Estonia to perform and to participate in conducting festivals for three years, thanks to a boost from Dr. Daniel Culver, former director of orchestras at Augustana.
She was applying for a teaching position in Estonia when she received a diagnosis of Ewing's sarcoma in June 2018. It is an aggressive cancer that requires aggressive chemotherapy.
"I was crushed when told I was forbidden to play and rehearse in the orchestra for the length of my treatments, as any of us would be," she wrote in her blog.
But she was unwilling to sit on the sidelines. The cancer diagnosis had sharpened her passions, Rai told the medical staff at Rush University, and she saw her purpose as sharing her love of music with others.
During treatment back in the U.S., Rai auditioned for and was accepted into the master's program in violin performance at Roosevelt University. Cancer treatments lasted for 7-8 hours a day and made earning this challenging and demanding degree difficult. Chemo also caused neuropathy in her hands.
In addition to family and friends, Rai's Augustana mentors offered support: Dr. Susan Stone, Rai's violin teacher and mentors and a cancer survivor herself, and Vicki Hall, another cancer survivor and the wife of saxophone Professor Randall Hall.
Rai is now in remission and using physical therapy to build strength in her hands.
Bridging the gap
She believes that her Augustana education most definitely prepared her for the master's program. She noted that she was able to test out of some classes because of the rigorous music theory and music history classes that she had at Augustana.
"I was fortunate to receive a few scholarships, and those most notable were for violin and diversity. The diversity scholarship invited me to engage in discussions and events surrounding what it takes to support students of diverse backgrounds in the college and extended community. 
"The violin scholarship allowed me to be an active participant in my studies in music, specifically private studies with Dr. Stone in her studio as well as my first love, the orchestra. I will forever be grateful for the donors, as their continued contributions pushed me to attend the school and study my areas of interest to the fullest extent."
Rai said she is pursuing the musicology degree because she loves teaching music and wants to help bridge the gap between non-musicians and classical music. She believes that classical music has the power to heal, but that many non-musicians have never experienced this or don't think they can relate to or enjoy classical music because it is perceived as difficult to understand and detached from their experiences.