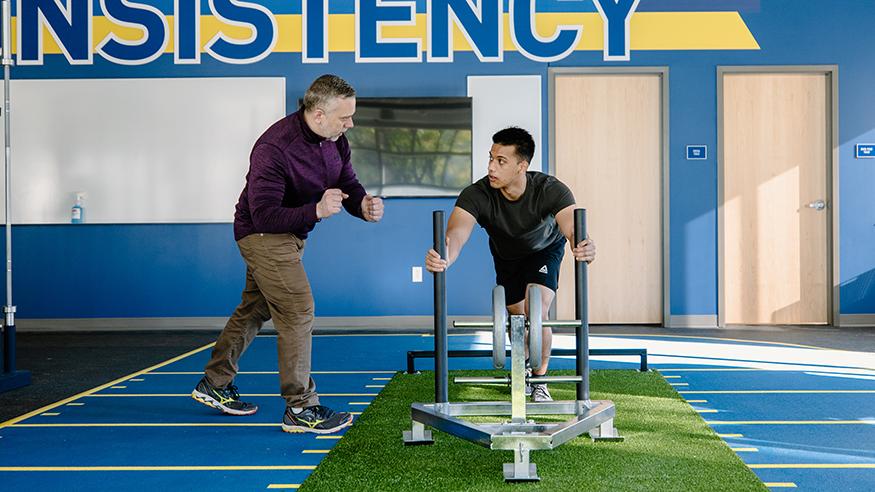 News
Kinesiology at Augustana: a good choice for 'people persons'
The day before students left campus at the start of the pandemic, Augustana launched a new major: kinesiology. Today, 65 students are majoring in this field focused on human movement and physical activity. 
"I chose kinesiology because I have always loved playing sports and trying to maximize my performance by looking at the science behind sports," said David Russ '23, captain of the Ultimate Frisbee club. 
He also saw "a chance to get hands-on experience with cutting-edge technology" at Augustana.
An Augustana education is an excellent base for a kinesiology major, whether seeking a career in fitness, wellness, sports or medicine. All students are exposed to multiple fields in a liberal arts curriculum, seeing connections and learning through experience. Their education is active, interactive and interdisciplinary.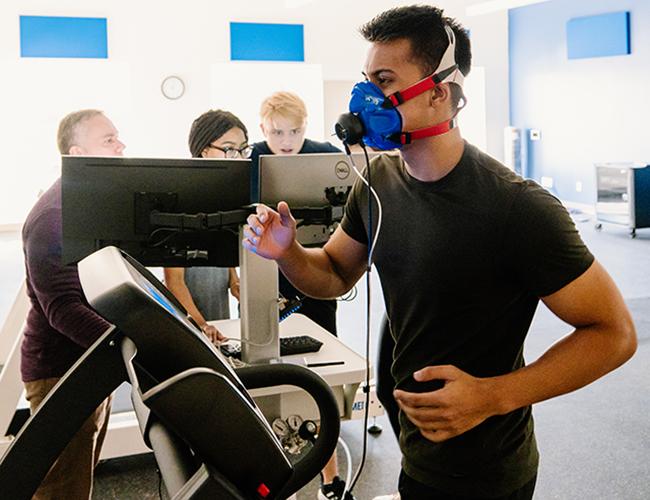 "Because kinesiology really asks people to think about the intersection of systems and disciplines, the liberal arts and kinesiology go hand in hand," said Dr. Shaun Edmonds, assistant professor of kinesiology.
He names three routes to advanced learning in the health sciences: biology/anatomy, psychology and kinesiology. Biology/anatomy is the physical science of the body, while psychology focuses on human interaction and the mind. 
"With kinesiology you get the whole person, moving," he said. 
Sydney Krueger '24 is a kinesiology major and varsity volleyball standout. Her favorite class so far has been Biomechanics and Human Movement. "I loved learning about different injuries, how they happen, and how they can be better prevented," she explained.
Dr. Edmonds calls the major a good choice for students who are "people persons," because kinesiology takes them "from cell to society — from cellular biology all the way to the sociology of sport and physical activity."
Study movement in exceptional spaces
Augustana kinesiology majors learn the core elements: sociology of sport, biomechanics and exercise physiology. Kinesiology classes and labs take place in a building where academics and athletics intersect: the Peter J. Lindberg, M.D., Center for Health and Human Performance.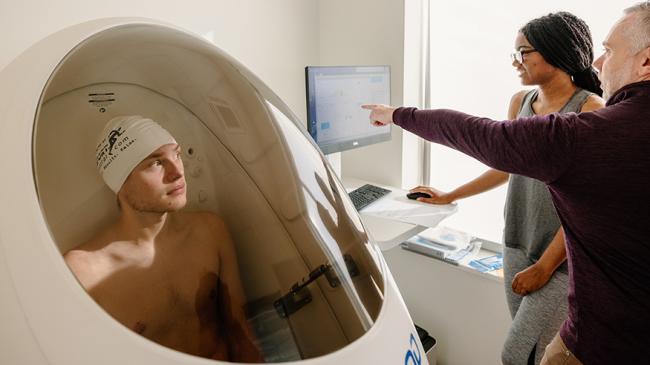 Two kinesiology labs in the Lindberg Center include a functional lab similar to a gym, and a performance lab with equipment for studying bodies in motion. While many colleges will have one or two pieces of such equipment, Augustana has five. This is exceptional for our area, according to Dr. Edmonds. 
"We have a BOD POD, which is a body composition device, and we have a multi-camera biomechanical system," he said. "And then we've got the advanced-level exercise physiology equipment including a metabolic cart, as well."
Dr. Edmonds' background is sociology of sport and physical activity, plus strength and conditioning for athletes. His colleague in kinesiology, Dr. Jeff Mettler, covers biomechanics and the aerobic side. 
Make a career of exercising the whole person
Double-majoring in kinesiology and biology/pre-optometry, David Russ plans to attend optometry school after graduation. He sees a connection between optometry and kinesiology that he may specialize in: treatment and prevention of post-concussion vision changes.
Other kinesiology-related jobs include athletic coach, athletic trainer, exercise physiologist, physical education teacher, sports consultant, wellness director, occupational therapist, physical therapist and sports medicine physician. 
When Sydney Krueger came to Augustana, she thought she'd study elementary education. Because of a rehab journey from a sports injury — where she worked closely with athletic trainers and physical therapists — her interests switched to kinesiology. 
Career plans are unclear at this time, but Krueger is leaning toward coaching or earning a master's in athletic training after Augustana.