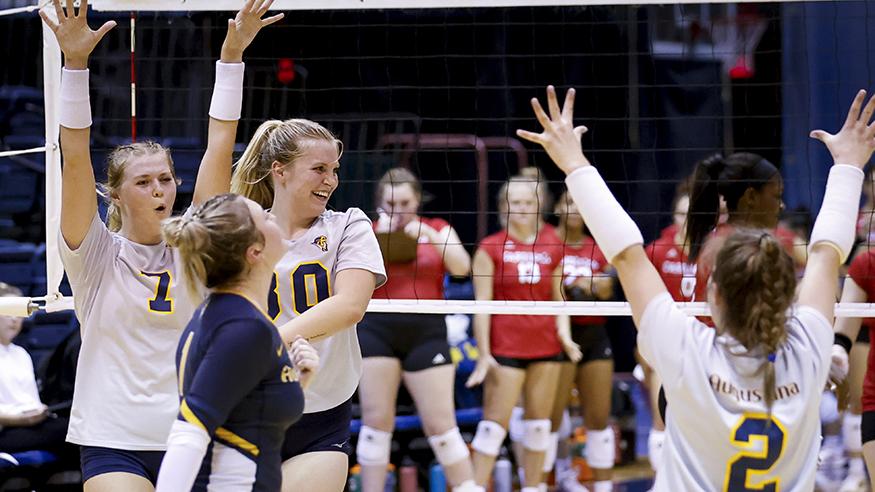 News
Krueger's love for the game overcomes first-year injury
Playing college volleyball had been her dream since she was 12. About 15 minutes into her first practice as an Augustana Viking, she jumped for a hit at the net, landed awkwardly and "blew out" her knee.
"I was heartbroken," said Sydney Krueger, now a junior. "I had just moved in; I'd been on campus for 20 hours."
She returned home to Elmhurst, Ill., for surgery to repair the torn ACL. The post-surgery pain was bad, and Krueger remembers calling Coach Kelly Bethke in tears, worried she would never be able to play again.
"She was very calm and reassuring, and kept saying I would be fine," Krueger said.
"I was determined to push through and be the best player and the best person I could be."
Turns out not just fine — this fall Krueger was named one of the CCIW's best. A middle blocker for the Vikings, she was selected CCIW All-Conference First Team, ranking first in blocks and second in hitting percentage.
Krueger is one of only 13 Vikings to receive All-Conference First Team honors since Augustana started its volleyball program in 1974, and only the third Viking in the past seven years. 
"It's remarkable that Sydney has achieved this honor only two years after her injury," Coach Bethke said. "This is due to her determination and strong work ethic in the weight room and conditioning." 
Impatient to get back to Augustana and her team, Krueger returned to campus on crutches, three days after her surgery. She did not play volleyball her first year, but she attended every practice and every game, keeping stats, helping with drills, doing whatever she could do to assist, and practicing her serve.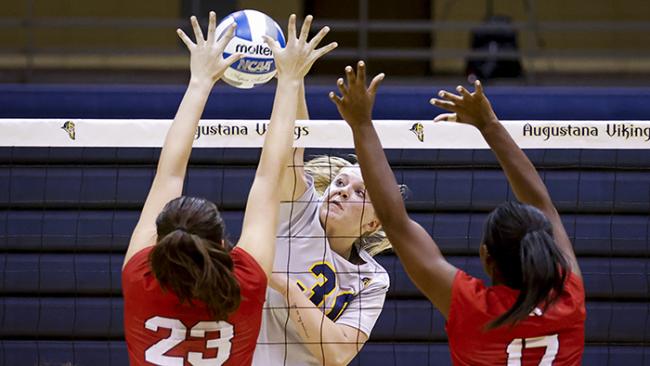 Finally, 9 1/2 months after that awkward landing, she was cleared to play.
"I've always been strong-minded and would go after things, but during rehab I learned I'm a lot stronger than I thought," she said. "My biggest fear was that I would become that girl who tore her ACL and wasn't good anymore. I was determined to push through and be the best player and the best person I could be."
En route to All-CCIW recognition, Krueger racked up 99 total blocks (19 solo) and 26 service aces this season, and doubled many of her stats from her sophomore year. On Sept. 23, she posted a career-high eight blocks in the team's 3-1 victory at Millikin, helping secure the Vikings' first win over the Big Blue since 2007.  
"Sydney sets a high standard for our team in terms of commitment and dedication to improvement," Coach Bethke said. "Her enthusiasm is contagious! She is highly respected amongst her teammates as a leader. I enjoy coaching Sydney because she is the type of athlete that wants to be pushed and is willing to do whatever it takes for our team's success."
Coming into Augustana, Krueger thought she'd study elementary education. Because of her rehab journey — working closely with athletic trainers and physical therapists — her interests switched to kinesiology. The timing was perfect. Augustana had announced a kinesiology major in 2019, and the $18-million Peter J. Lindberg, M.D., Center for Health and Human Performance, which includes the kinesiology program's classrooms and labs, opened during her sophomore year, in 2021.
Career plans are unclear at this time, as Krueger is leaning toward coaching or earning a master's in athletic training after Augustana.
But for right now, "nothing makes me happier than playing volleyball," she said.