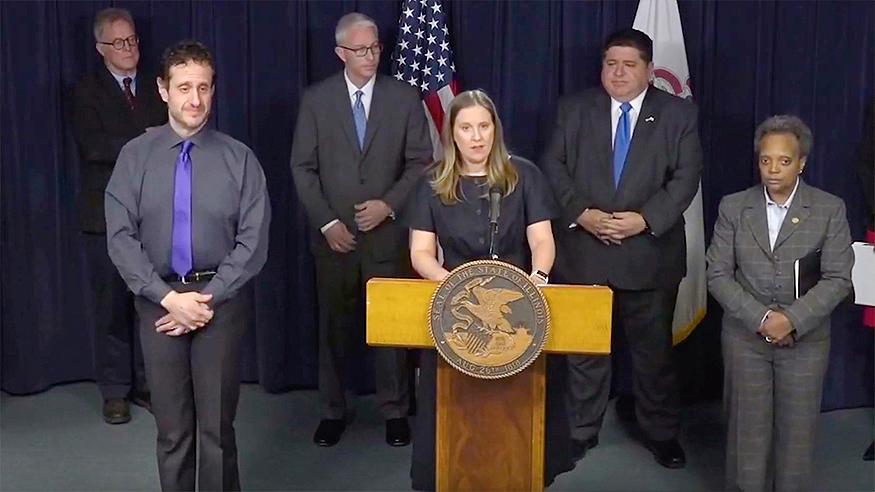 News
Landon '99, Landi '09 help lead during COVID-19 pandemic
At his March 20 news conference, Illinois Gov. J.B. Pritzker turned to Dr. Emily Landon '99 for explanation on the science and necessity behind the "stay-at-home" order for the state's nearly 13 million residents.
What followed came as a surprise. 
"I knew the stay-at-home order was the right thing to do, but I had no idea how important my words about it would become," said Dr. Landon, chief infectious disease epidemiologist at University of Chicago Medicine.
Her words "drew praise for their clarity and sense of empowerment while still conveying the urgency of the moment" and managing expectations, reported The Washington Post. Chicago news outlets carried her comments, and the positive online responses and texts kept coming in. 
"If you listen to not one other speech about this, this is the one I would listen to. It was concise and absorbable," said one Chicagoan interviewed by The Washington Post. 
One of many points Dr. Landon made at the news conference was that restrictions like a stay-at-home order may end up feeling "extreme" and "anticlimactic."
"It's really hard to feel like you're saving the world when you're watching Netflix from your couch. But if we do this right, nothing happens," Dr. Landon said. "A successful shelter-in-place means you're going to feel like it was all for nothing, and you'd be right. 
"Because nothing means that nothing happened to your family. And that's what we're going for here."
It started with a class, and then became a calling
Dr. Landon said that for her it all started at Augustana. She was considering a music major when she arrived, and was a member of the Augustana Choir all four years, but she always loved science. She took microbiology with Dr. Dara Wegman (not yet Wegman-Geedey) when she was a sophomore.
"I loved the class so much that I met with her afterwards and told her I thought I would really like being a doctor if I could just take care of infections," Dr. Landon said. "I had no idea at the time that infectious diseases or hospital epidemiology was even a thing. She enlightened me, and my path was set." 
After graduating with a degree in biology from Augustana, Landon earned her M.D. at Loyola University Chicago Stritch School of Medicine, in 2003. She completed her residency at the University of Chicago, Internal Medicine, in 2006 and a fellowship at the University of Chicago, Infectious Diseases, in 2010. 
As Dr. Landon sees it, any health service profession is a calling more than a job. "I've always felt that way but now more than ever," she said. 
"It's hard trying to face up to and fight something as challenging as a respiratory virus pandemic, but I remind myself each day about who I am responsible to: myself, my family, my patients, my hospital, my community. 
"It's not easy, but it is fulfilling. Overfilling, perhaps, at times." 
For Ryan Landi '09, it began with an internship
Augustana alumni across the country are filling important roles during the COVID-19 pandemic. Twelve- to 15-hour days are routine now for Ryan Landi '09 at Jesse Brown VA Hospital in Chicago.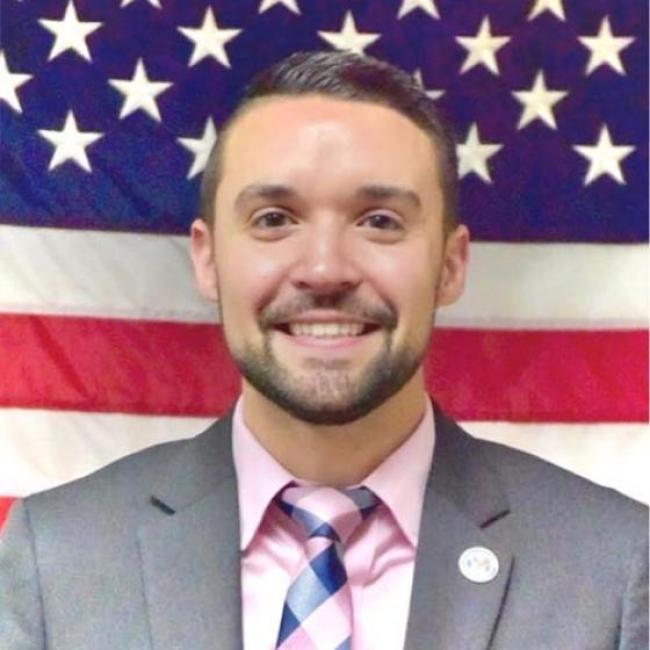 Landi is assisting the acting medical center director with maintaining hospital operations and interpreting the ever-changing guidelines being released about COVID-19 not only from the Department of Veteran Affairs, but also the State of Illinois.  
"We're ensuring we are communicating with staff throughout the hospital, as we increase capacity for anticipated surge of patients seeking inpatient medical care due to community spread of COVID-19 in the coming weeks," Landi explained.
"Very long hours, but ultimately we're there for our veterans seeking care and also there to support our amazing and hard-working medical staff!" 
Similar to Dr. Landon, Landi can trace what he is doing today to his Augustana experience, specifically his first internship at the Rock Island Department of Public Health in Emergency Preparedness. 
"Now 12 years later, what the county then was planning for is being realized in my career work presently," Landi said.
"I will forever be grateful to them and for my economic geography professor, Dr. Charlie Mahaffey, who connected me with his friend that worked at the Health Department in Rock Island due to my career interest I indicated on the first day of class."  
Ever since that internship, Landi has pursued a career and mission in public health. "One thing that keeps me going each day is the human spirit to help others, no matter how the coming days, weeks and months play out," he said, "I know that we are stronger when we band together."