News
Music alumna earns recognition from educators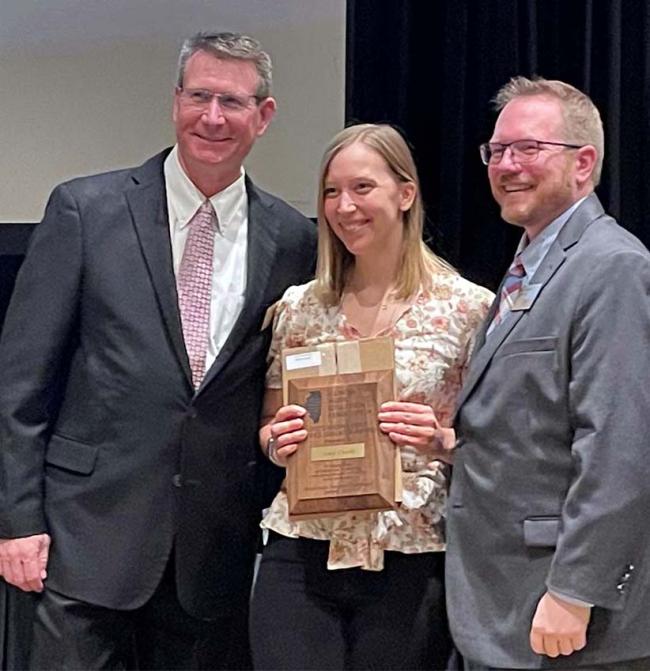 Amy Croft wondered if teaching music was the right job for her until she was able to work with a middle school choir as part of a lab class at Augustana.
"It was at that moment I knew teaching was my calling," said Croft, a 2019 graduate.
It was a good call: In January, Croft received the Early Service Educator Award from the Illinois Music Educators Association.
She teaches vocal music to grades 6-8 in Geneseo, Ill.
Her colleague Jamie Kotovsky, Geneseo Middle School band director, nominated her for the award. "She demonstrates teaching excellence and the characteristics of an outstanding music educator through her preparation, pedagogy, repertoire choices and rapport with students," Kotovsky wrote.
Croft gives her Augustana education a lot of credit for her success.
"The education program is challenging and gives you many authentic opportunities to experience teaching outside of the classroom," she said. "Continually, Augie helps you build relationships with teachers in the area. The professors really care about your development and strive to make you the best teacher you can be.
"Something that I really appreciate are the connections I've made at Augustana. My professors have helped me a lot in my career. I can always email them, and they are more than willing to help me grow or even come work with my students. I can't thank Augie enough for my education."
Croft participated in several vocal ensembles at Augustana, including the Augustana Chamber Singers and Augustana Choir, and the Vikettes dance team. She toured in Spain, France, Sweden and China with the choir and chamber singers.
She student-taught at Garfield Elementary School  and Central High School in Davenport. Someday she might like to try teaching at the high school or college level, but for now she's enjoying her middle school students.
"The relationships I build with the kids are most rewarding," she said. "I also find it rewarding when students decide to continue choir in high school."
Augustana presenters
A number of Augustana faculty and alumni presented at the ILMEA conference, including Nathan Sackschewsky '06, Liz Fontana '10, Allessandra West '20, Dr. Joel Lindschied, Dr. Jesse Rathgeber and senior student Sarah Elrod. 
Also, Amy Keipert '08 and Brian Jozwiak '15 both had their choirs perform at the conference.