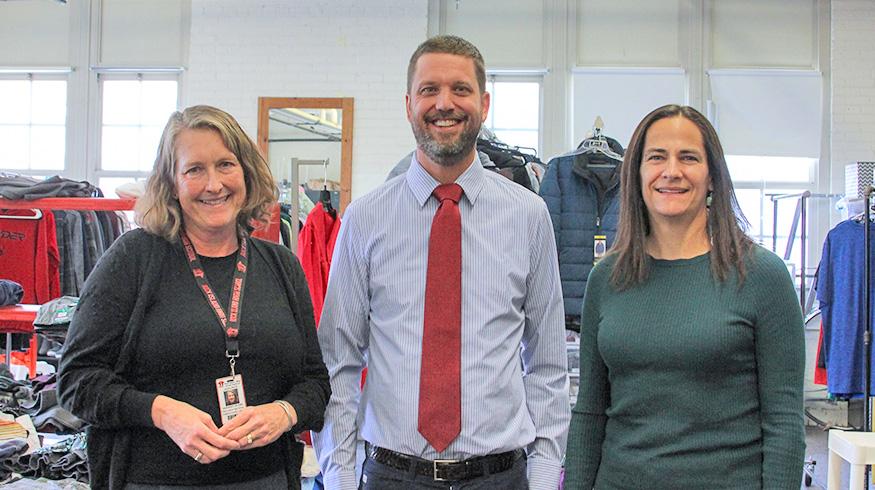 News
President Talentino delivers street party funds to Rocky Resource Room
"I feel like every year, Augustana reaches out more to the community and does more. That's amazing and makes me proud."
The dust has settled from the jam-packed Oct. 15 weekend that brought the Augustana College and Quad-Cities communities together to celebrate Homecoming, a presidential inauguration and a street party. 
On Monday, Augustana President Andrea Talentino delivered a $2,844 check to Rocky Resource Room Coordinator Kathy Lelonek and Rock Island High School principal Jeff Whitaker.
More than a thousand Augustana students, alumni, staff and community members enjoyed the 7th Avenue post-inauguration street party. Food trucks lined the street, and all food items were priced at $1. President Talentio selected the Rocky Resource Room to receive those dollars and told Lelonek she knew Augustana alumni would be proud to see the dollars making a difference in the lives of Rock Island-Milan School District students. 
"The one thing that every single alumni has told me is that Augustana has transformed their lives," President Talentio said at Monday's check presentation. "Then to be able to pay that forward and give it to younger kids in the high school level … whether it is the simplest bar of soap, or whatever their needs are, that's exciting and I know our alums would love that." 
Founded in 2017, the Rocky Resource Room provides toiletries, clothing, book bags and other items to students at Rock Island High School and throughout the district. In addition to the many supplies offered, the resource room houses a small food pantry supported by the River Bend Food Bank. 
The Rocky Resource Room also assists students with funds and detergent at laundromats and has provided new coats, hats and gloves to district students for the past three winters.
The brightly lit Rocky Resource Room, located on the ground floor of the high school, is an inviting and organized space ready for students to drop in and select the items they need. Lelonek told President Talentino the experience is "discreet, it's not judgmental, and we are just here for them." 
Lelonek told President Talentino that meeting the students' basic needs truly makes an impact. 
"They can get a warm coat. They can have some leggings — something warm; nice socks," Lelonek said. "I think it just boosts their self-esteem, and they just feel like somebody cares about them."
Lelonek, a Class of 1990 Augustana grad, said she was thrilled to connect with friends at the street party and excited to see Augustana continue its tradition of having a transformational impact on the community. 
"It makes me even more proud to have graduated from Augustana," she said. "... I feel like every year, Augustana reaches out more to the community and does more. That's amazing and makes me proud."
Lelonek said the most requested items by students are hoodies and sweatpants. Those seeking to contribute items or funds to the Rocky Resource Room may contact Lelonek, kathy.lelonek@rimsd41.org.