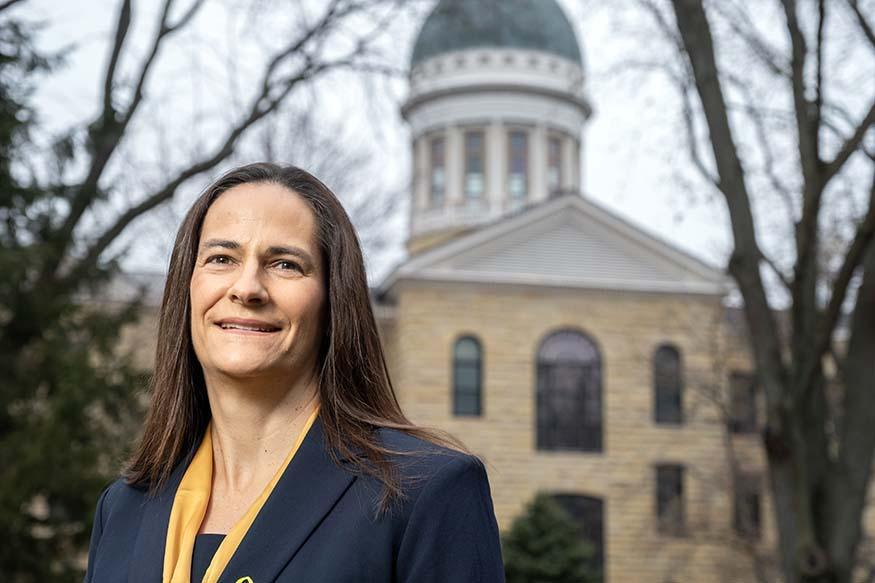 News
Presidential inauguration to highlight Homecoming Weekend this fall
Andrea Talentino will be inaugurated as the next president of Augustana College on Saturday, Oct. 15, during Augustana's Homecoming Weekend.
"We are planning a big weekend to show our collective support for Andrea and her administration," said John Murabito '80, chair of the board and of the presidential search committee. "We anticipate alumni, friends, students, faculty and staff will join in the celebration."
In addition to aligning with the Homecoming and class reunions, the board of trustees will hold its fall meeting at that time. This will help enable participation in the installation ceremony from Augustana's trustees, who live and work in communities across the country.
Talentino, currently the provost of Nazareth College in Rochester, N.Y., will be the ninth president in the college's 161-year history, effective July 1.
"Augustana's mission and vision reflect what I most care about," Talentino said. "I've focused on creating an inclusive, holistic, challenging, integrated student experience that offers a real transformational opportunity. 
"Any institution can have internships, study abroad, opportunities for research, but it's how you put them together, how you create natural connections and meaning between all of them that make the difference in what's outstanding and what is 'just fine,' and Augustana is committed to being outstanding."
Alumni events
Several alumni events with Andrea Talentino are planned this summer:
July 19: American Swedish Institute, Twin Cities welcome event
July 27: Ravinia Festival, Highland Park, Ill., Bonnie Raitt concert
Aug. 20: Quad Cities Riverfront Pops, The Music of Elton John
Alumni will receive emailed invitations to these events. For more information, contact the Office of Alumni Relations.
About Augustana's next president
Talentino was announced as the next president of Augustana College in December 2021.
She earned a bachelor's degree in political science at Yale University, then completed a master's and doctorate in political science from UCLA. While serving as dean at Norwich University in Vermont, she earned an MBA with a concentration in organizational leadership.
Before arriving at Nazareth, Talentino served as the dean of the College of Liberal Arts at Norwich University in Vermont. Prior to that, she was an associate dean at Drew University in New Jersey. She also held a faculty position at Tulane University and did a postdoc at Princeton University.
"Andrea is a scholar, a teacher and mentor for students; an advocate for diversity, equity and inclusion; and an innovator and engaged citizen. She is looking forward to connecting with the Augustana community, including alumni around the world," said Murabito. 
Transition Committee
A Transition Committee of trustees, faculty and administrators, will support and assist Talentino in her new role, especially as she begins meeting with alumni, corporate and non-profit community leaders and groups, donors, foundations, local officeholders and policy makers.
The committee will be co-chaired by Trustee Chris Coulter '94, of Peoria, Ill., and W. Kent Barnds, Augustana executive vice president.
Coulter said the committee would act as a support network for Talentino and help her make meaningful connections with important stakeholders beyond the campus.
Other members of the Transition Committee include:
Trustees
Denise Garrett, associate general counsel, Bill & Melinda Gates Foundation, Bettendorf, Iowa.
Dr. Ann Die Hasselmo, higher education consultant in executive search, Academic Search, Inc., Seabrook, Texas.
Doug Hultquist, co-founder (retired), QCR Holdings, Moline, Ill.
Christina Garrett Klein, pastor, Edgebrook Lutheran Church, Chicago.
Peter Simshauser, chief legal officer, Motional AD Inc., Boston.
Administrators
Pastor Melinda Pupillo, college chaplain.
Keri Rursch, vice president of marketing and communication.
Sam Schlouch, assistant vice president of institutional advancement.
Faculty members
Dr. Allie Haskill, professor and chair of communication sciences and disorders.
Dr. Sangeetha Rayapati, professor of music; voice, vocal pedagogy and diction.
An inauguration committee, a schedule of activities and a list of speakers for inauguration weekend, will be announced this spring. The schedule will be released this summer.
Contact: