News
Re-creation of Bergendoff Hall starting this summer
Changes to the Bergendoff Hall of Fine Arts will begin this summer, when the northwest corner of the second floor will become new offices for the music education faculty. 
Other key parts of the long-awaited re-creation of Bergendoff are projected for December.
Constructed in the mid-1950s, Bergendoff Hall is home to Augustana's music and art history programs and includes Centennial Hall, the college's largest auditorium, with seating for 1,500 people,
Bergendoff remains much as it was when it opened. College leaders have long wanted to raise the level of the facility to more closely match the excellence of Augustana's music program, and Bergendoff has waited the longest of any academic building on campus.
The re-creation of the venerable space will be done in three phases, and will include the replacement of all mechanical systems, windows and roofs. The total cost is estimated at $12-$13 million.
Phase I will include a new music education suite, rehearsal space, offices and classrooms, seminar room and  performance hall.
Music education suite and dedicated classroom
The northwest corner of the second floor of the building will be completely renovated to accommodate offices for music education faculty.
The existing classroom will become a dedicated space for music education, eliminating the need to constantly move teaching equipment from place to place. This part of the project is expected to be done in August 2021.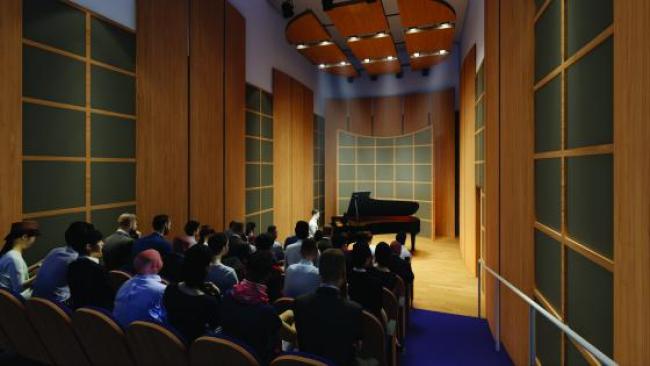 Julie Hamann '82 Elliott Concert Hall
The space that for many years served as "backstage" to Potter Theatre will be transformed into a stunning, intimate performance and recital space for 50-60 patrons.
The 2½ stories of vertical space will allow the college to fulfill a vision for an elegant performance space first described by Dr. Jon Hurty. The expected completion date is December 2021.
New classrooms and rehearsal spaces
Potter Theatre will be reinvented to house two new teaching spaces for classes and rehearsals.
These spaces, which will be similar to the existing Larson Hall, will allow for more instruction in Bergendoff Hall rather than across campus, and for more ensemble practice in the building rather than in Ascension Chapel, Wallenberg Hall or any other space available at a given time. The expected completion date is December 2021.
New seminar room
The small classroom to the east of Potter Theatre also will be renovated during Phase I to create a new seminar teaching space, to be finished in December 2021.
Funding
Phase 1 will be funded through a combination of donor support and reserve funds that have been accumulating for this project over the last several years. The college is working to continue to attract and increase donor support for the project.
BLDD Architects is the architect for the Bergendoff project. The firm has partnered with the college on other innovative projects, including the Gerber Center for Student Life, Brunner Theatre Center and the recent addition to Hanson Hall of Science.