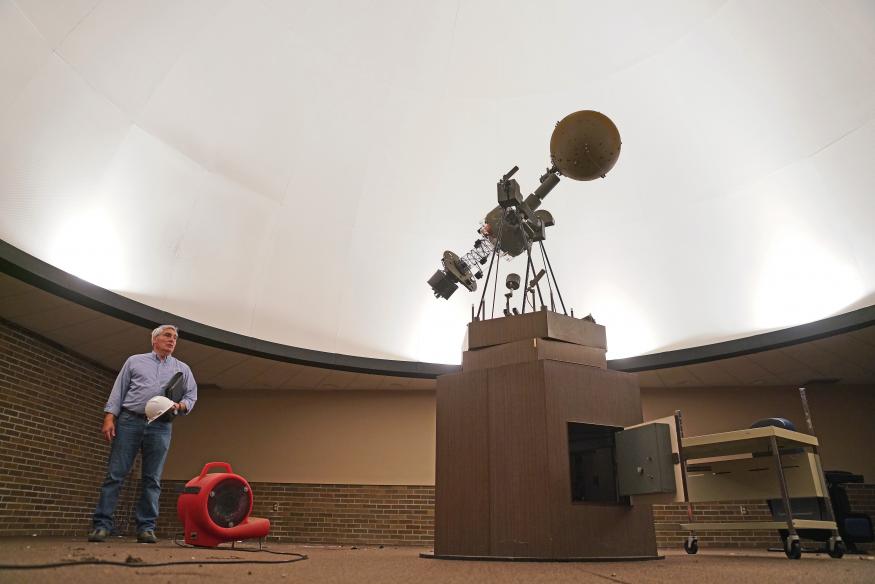 News
Sit back, way back, for 'astronomical spectacle'
Renovation of John Deere Planetarium underway
Hundreds of thousands of schoolchildren, families and college students have experienced a show at Augustana's John Deere Planetarium since it opened in 1969, but as the BTO rock classic goes, they "ain't seen nothing yet."
An extensive renovation of the planetarium that began earlier this summer will create an immersive — and more comfortable — theater experience. The project is scheduled to be completed by late September.
Replacing the projector that was original to the building is key to the $160,000 facility upgrade. The new projector will be the Digitarium Lambda, which uses a laser projector to produce an image with 2.4K resolution and 1800:1 contrast ratio. 
"Unlike our old, optical-mechanical projector that displays a static starfield, the new projector displays a digital image over the entire 30-foot dome," said Dr. Lee Carkner, professor of physics and astronomy and director of the planetarium. 
"This will allow us to run new full-dome planetarium shows, which combine a simulation of the night sky with images, computer animation and surround sound integrated together to produce an astronomical spectacle."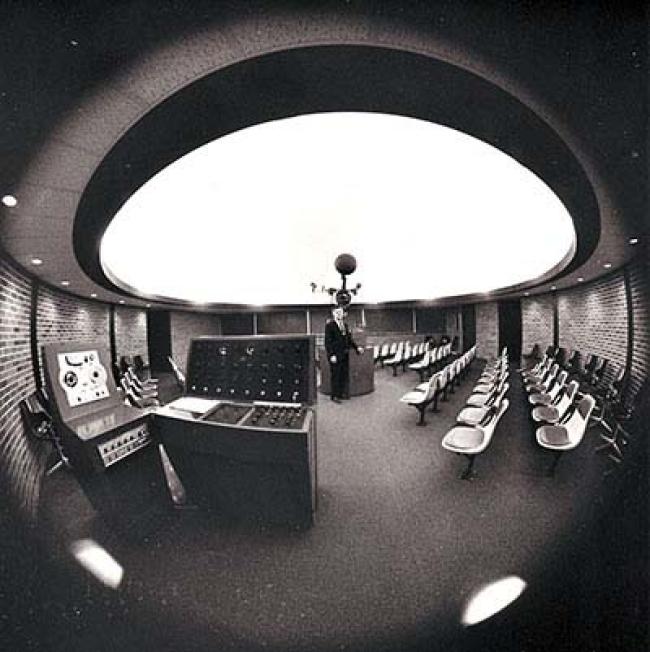 John Deere awarded Augustana a grant of $16,500 to fund the purchase of full-dome shows for the planetarium. The shows will explore many topics, unlocking secrets of the universe for Augustana students and the community.
In addition to the new projector, the planetarium upgrade includes new carpet, a new ceiling, new whiteboards, new cove lights (the lights that start and end shows) and new seats, fully upholstered and reclinable.
"Even if you have been to our planetarium shows before, this will be unlike anything you've experienced here," Dr. Carkner said.
Augustana is one of only a handful of small liberal arts colleges that have a planetarium. Dr. Carkner said the facility reflects Augustana's commitment to science education and community engagement. 
The planetarium, which includes the Carl Gamble Observatory, bears the John Deere name in recognition of the pace-setting gift of the Deere Foundation and the leadership of many individuals within the Deere and Company organization in the late 1960s.
On campus, the late Dr. Harry E. Nelson, professor of mathematics and astronomy from 1946-1988, was an integral part of establishing a planetarium and observatory, and was the facility's director when it was dedicated.
Here is his account from "In the Astronomy Tradition at Augustana":
"Guests and friends of the college filled  the courtyard immedi­ately north of the building to witness the dedication program on a beautiful spring afternoon, May 2, 1969. C.W. Sorensen, president of Augustana, I as director of the planetarium, and Henry Newman, president of the student representative assembly, spoke briefly on the significance and potential of the new facilities. Following the cer­emony of dedication, William Hewitt, chairman of Deere and Com­pany, delivered the main address."
Today, almost 50 years since that beautiful spring afternoon, the college celebrates the "significance and potential" of the planetarium and observatory and looks forward to creating new awe-inspiring experiences for thousands more.