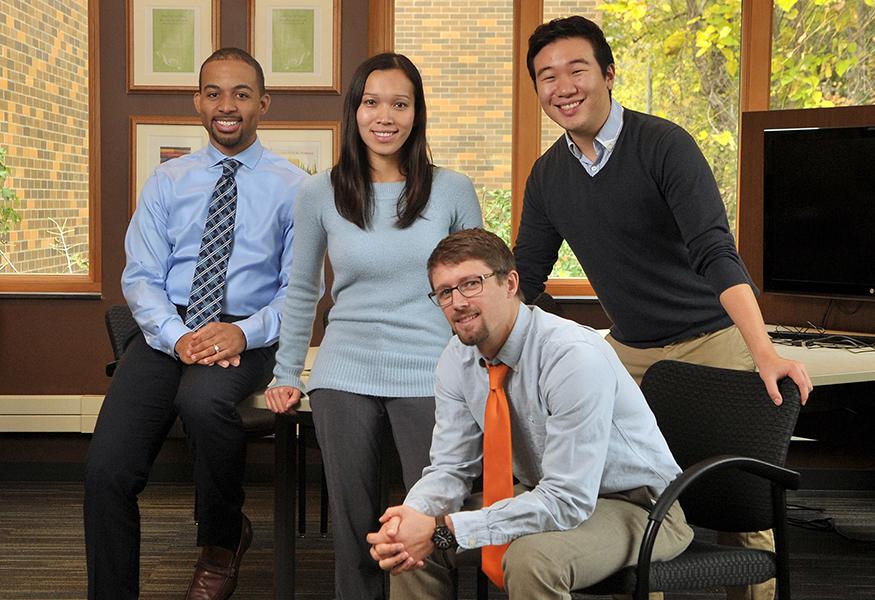 News
Students can find support services all in one place
To appreciate the scope of services on The Gerber Center's fourth floor, consider that, in addition to a full complement of professional staff, the fourth floor is now the home base for roughly 300 student workers who are trained to assist with one-on-one academic tutoring, social and cultural enrichment, and helping students connect with 150 student groups and special events on campus.
And they are collaborating like never before.
The tighter integration means international students can sharpen their English skills and join a science club. Science students can learn to write better research papers, and share an ethnic meal at a culture house. And any student can develop better skills to reduce stress, and improve their study habits and time management skills.
"Getting a student connected to people who can help is life-altering," said Dr. Kristin Douglas, Augustana's associate dean of student success and persistence, and a leader in the drive to integrate student support services.
"We need to work together, recognizing everyone has an important role to play in ensuring each student is successful."
New resources
Located in the heart of campus, the fourth floor of The Gerber Center is now home to the new Learning Commons and its extensive network of academic tutors, the Offices of Multicultural and International Student Life, and the Office of Student Life and Leadership.
"Sometimes a student comes in and thinks the root cause of their difficulty is the class itself, when actually the root cause is effective study habits," said Yen Dao, coordinator of student success services, and one of several new professional staff on the fourth floor.
"We determine what might be the real reason, and refer them to the right resources. And there is a lot of collaboration with CORE."
CORE (Careers, Opportunities, Research and Exploration) was a major investment in Augustana's strategic plan to expand student support services and dramatically improve the prospects for its graduates in terms of employment or post-graduate work. The integration of additional services at Gerber is essentially a doubling down on that investment, one that Dr. Douglas believes has as much potential as CORE to boost student outcomes.
"Ensuring students are focused on the same outcomes in their academic curriculum and their life outside of the classroom is a worthy aspiration," she said. "Many colleges say they do this. What sets Augustana apart is that we are putting the pieces in place to be able to demonstrate that we do this."
The college will be conducting ongoing assessments of its student learning outcomes, she said, including how students talk about their growth during job and graduate school interviews.
The integration of student support services on the fourth floor of The Gerber Center now includes:
• The Learning Commons, including the Reading/Writing Center, English as a Second Language services, and an extensive network of academic tutors with about 90 peer tutors in all subject areas. Students can also meet with professional faculty for one-on-one coaching in academic success skills such as time management, test-taking, study strategies, and stress reduction. New employees in the Learning Commons include Dr. Jacob Romaniello, English language learning specialist, and Yen Dao, coordinator of student success services.
• Office of Multicultural Student Life with three new professional staff including Michael Rogers '12 as assistant director. Ten student workers also help coordinate activities at three culture houses on campus that represent Latin American, African American and Asian American traditions, and host programs that allow students to build more diverse social networks.
• Office of International Student Life is led by a staff of four, including new assistant director Daniel Kim, who held a similar position at Ohio State University. The international office occupies the same suite as the multicultural office, and offers services to more than 100 international students on campus from 30 different countries. Thirteen students serve as global ambassadors, acting as peer mentors to international students and creating campus programs designed to expand students' world view.
• Office of Student Life and Leadership consists of three staff positions and 150 volunteer and paid student leader positions, including 50 peer mentors who work with first-year and transfer students in their transition to life at Augustana. The office also organizes events that offer students a wide variety of experiences through the arts, entertainment and educational programming.