News
Wrath's 'life in the toy store' earns CoSIDA Lifetime Achievement Award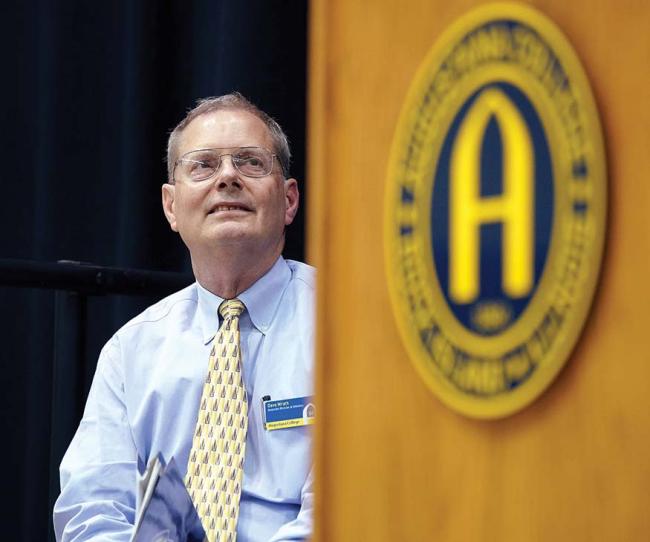 Augustana Magazine Summer 2022
This excerpt is from a story written by Larry Happel as part of the 2022 College Sports Information Directors of America (CoSIDA) Special Awards series. (Read complete article and citation.)
Before the digital age dawned, CoSIDA Hall of Famer Dave Wrath '80 found ways to remain connected, even installing a fax machine at his home. Prior to that, Wrath recalls an era when reporting game results to the media required more than clicking "send."
"Many of us can remember standing in the rain on a pay phone, calling in the box score," he said. "And one thing you learned early in life is that McDonald's didn't have pay phones. So you always had to go across the street to a gas station when your team stopped at McDonald's."
The athletics communications world has changed.
"The position evolved, but I always felt that representing the institution was still the most important thing, whether that means putting together a 60-page football program, which nobody does anymore, or using Instagram," he said. "You are still the front person for your institution, and that's the important thing."
That, and helping others.
"Trying to take care of everybody that's in your life and working with you in some capacity … that's really what sticks out to me about Dave," said Jessica Leifheit '14, a former student worker now serving as associate director of athletics communications at Western Kentucky University.
Wrath knew no other way.
"For 40 years, I woke up and somebody was counting on me to do something," said Wrath, who retired in 2021. "And that was something I really thrived on. The fear of letting anybody down was great, and I never wanted to let anybody down."
An accomplishment he's especially proud of is Augustana's high national ranking with 177 Academic All-America honorees — 166 of whom were nominated by Wrath.
So many are grateful to have crossed paths with Wrath, but he insists he was the lucky one.
"I've never ever felt that it was work," he said. "It was always basically life in the toy store."