Message from the President: Augustana's best days are ahead
Augustana Magazine Summer 2022
The first time I wrote for the college magazine, I reflected on a walk I'd taken across the campus. Were I to retrace those steps today, I would see a different campus. While many would focus on the new and renovated buildings, I focus on the changing nature of the student body and our workforce.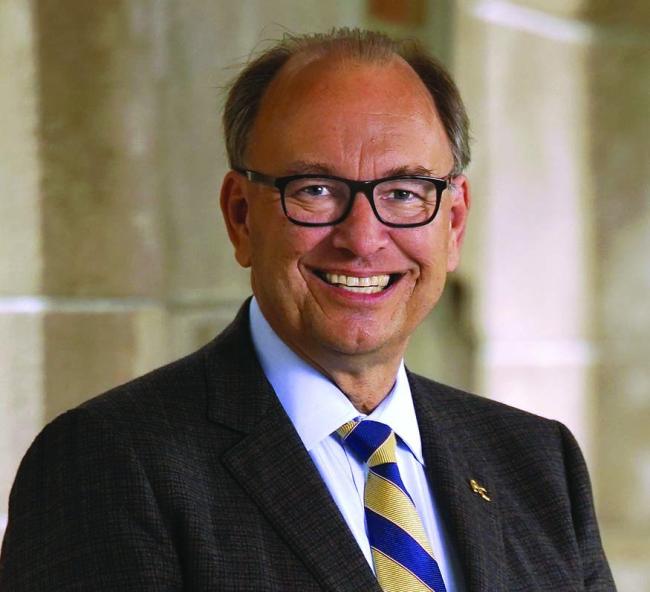 In 2003, our incoming international students would fit around my dining room table. Now there are hundreds of international students, making up over 13% of our student body. In 2003, I could welcome all new students of color while sitting around the living room of the Dahl Home. Today, domestic students of color represent more than 23% of the students at Augustana. The Augustana Cabinet (Augustana's senior leadership team) had only one woman at that time. Today, half of our senior leaders are women.
What I couldn't have predicted is that while other institutions regarded diversity as an imperative for their sustainability, at Augustana, equity and inclusion — the necessary elements in maintaining diversity — would become part of our institutional DNA. We celebrate and truly cherish the many nations, races and religions of our students and faculty as a matter of course, because that is the community Augustana has become.
But one of the biggest advantages of our increasing diversity is the focus that diversity has placed on the need to innovate. As our student body changes, whether from increasing ethnic diversity or the shift from millennials to Gen Z, the college must continue to innovate to meet the needs of a new generation of students.
Likewise, the increasingly diverse leadership of Augustana has played an important role in generating a host of ideas for advancing our mission of helping students grow in mind, spirit and body. As you'll see in the summer Augustana Magazine, innovation and an entrepreneurial approach are woven into the fabric of Augustana as is its commitment to the enduring value of an education in the liberal arts and sciences. The strong foundation built by my predecessor, Thomas Tredway, whose recent passing and remarkable legacy are also part of this issue, has made possible our bold approach to new programs.
Rest assured Augustana does not innovate for innovation's sake. Thoughtful improvement demands that new proposals be measured against immutable principles. Will they help our students grow in mind, spirit and body; will they build on the underpinning of a comprehensive liberal arts education; will they add to Augustana's reputation for excellence, and will they help the college attract and retain bright and diverse students? These questions remain as current now as they were when I wrote my first President's Message.
And now I write my last.
The past 19 years as president of the college have been a true blessing and privilege for both Jane and me. The partnership of the entire Augustana community and the support of alumni and friends will be an enduring source of gratitude for us. I am grateful, too, that Augustana's tradition of extraordinary care for its students and continuous enhancement of its programs will continue under the leadership of our new president, Andrea Talentino.
Augustana's best days are ahead.