Careers and internships
Recent graduates have careers in business, education, urban planning, community organizing and grant writing. Augustana counts among its alumni former mayors, state legislators and an Illinois congressman.
Recent political science graduates are Rock Island City Council and County Board members, an assistant city manager and a lobbyist in Springfield and Chicago.
Students of political science are interested in politics, global affairs, government, legal systems, public policy or political theory. They learn to understand power dynamics in the world around them, and how to participate in public and political decision and change.
The major is compatible with such fields as sociology, business, communication studies, economics and many others.
A sampling of graduates
Joseph Wood '15 is a research assistant to Dr. Eliot A. Cohen at The Johns Hopkins University, Paul H. Nitze School of Advanced International Studies.
Anissa Pemberton '15 is a grants specialist for Quad City Arts.
Cameron Onumah '14 is a public policy manager for Amazon in Los Angeles.
Tyrrell Jeffries '13 is in the Teach for America program and then plans to attend law school.
Rachel Lenke '13 is in the master of public policy program at Loyola University-Chicago.
Alicia Oken '13 is studying for a master's degree in journalism at Georgetown University.
Distinctions
Augustana College offers a major and minor in political science, with classes in a wide variety of fields within the discipline: American politics, comparative politics, international relations, political theory, public law and public policy. The department is closely associated with Augustana's pre-law program.
The department serves as a resource for foreign study programs, especially Asian and Latin American studies. Professors are involved in Model United Nations and Model Arab League groups, and work with Augustana's Freistat Center for Studies in World Peace, which brings international figures to campus.
The Quad Cities' location in Iowa and Illinois is an advantage for students interested in participating and learning from local, state and national political campaigns. As an important swing state and home to the Iowa caucus, Iowa brings politicians near or on campus, with many opportunities to get involved in campaigns.
Students also have many opportunities to engage in activism and social justice work. It is not unusual for political science majors to appear in the local, regional and sometimes national media.
Students find the political science major to be very compatible with other programs, including communication studies, business administration, sociology and economics.
In recent years, a typical political science major would:
• Take courses in Brazil or China for a term.
• Attend a Model United Nations conference in Chicago.
• Take an internship with the local, state or federal government.
• Engage in lobbying at the local, state and national level.
• Participate in the Politics Club, College Democrats and/or College Republicans. Each group has strong ties to local parties, candidates and elected officials, as well as opportunities with national campaigns and in Congress.
• Present their work and research at regional and national political science conferences with the encouragement and guidance of faculty members.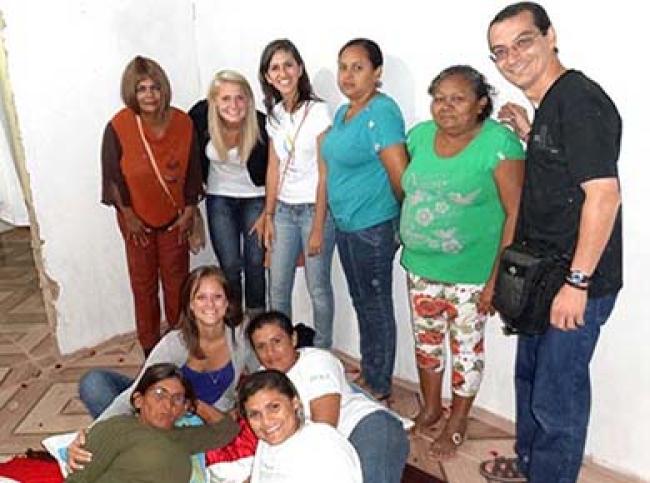 What students say
Cameron Onumah '14, assistant field representative at the Office of U.S. Senator Dianne Feinstein, D-California
"Augustana was not at the top of my list when I began my college search. However, it quickly became clear to me that this would be a place were I could grow both academically and as a person. I loved every minute. I would not have been able to intern in Los Angeles (for Mayor Eric Garcetti) had it not been for Dr. Chris Whitt and the political science department, who went out of their way so that I could work on part of my Senior Inquiry from home. The summer before my junior year, I used my Augie Choice funds to intern with the Democratic Party. This amazing experience would not have been possible without Augie Choice."
Rachel Lenke '13, student in the master of public policy program at Loyola University, Chicago
"I have been fortunate enough to have a variety of peak experiences while at Augie, and the most notable definitely include my traveling. I traveled to California, Washington, France, Italy and Spain with the Augie soccer team during my four years, and these were unforgettable experiences. I also traveled to Brazil in my junior year for a travel abroad term and returned again that summer to conduct research and complete my Senior Inquiry project.
"I have shocked myself in my accomplishments within the last four years, and I have learned that my potential and abilities far surpass what I anticipated for myself. Augustana has allowed me to discover my true passions, and I am now prepared to pursue a future that I would never have expected when I arrived on campus my freshman year."
Tyrrell Jeffries '13, deferring law school for two years while joining the Teach for America program
"Augie gives you so many different opportunities that all lead to wonderful experiences. Something I am truly grateful for!
I have learned that you can continue to push yourself past whatever limits or boundaries you thought existed. I have taken on more, gained leadership roles, and have had many challenging and memorable experiences - all while being determined to finish a double major and getting the most out of both inside and outside the classroom."
Alicia Oken '13, pursuing graduate studies in journalism at Georgetown University
"Without (my) professors, I would not have had the opportunity to triple major, or had as many of the experiences that define my college experience. These would include going to a leadership conference at the U.S. Air Force Academy and presenting research papers at the University of St. Thomas and the University of Oklahoma. Collectively, these experiences were opportunities that most other colleges don't give their students. Also, interning at WGN Radio was definitely a highlight.
"With Augie Choice, I was able to intern for Congressman Alcee Hastings in Washington, D.C., which was a dream come true. This was one of the more memorable experiences I've had throughout college, since I was able to intern in my favorite city and meet so many wonderful people."