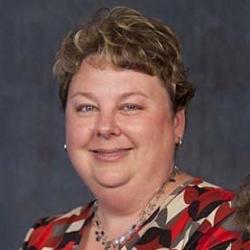 Christine D. Aden
Library Head of Circulation
When I graduated from Marquette, I had interned in corporate communications and public relations positions and thought that I had discovered the perfect match for my career.  Seven years and two jobs later, corporate communications was the last thing I wanted to do and I wanted to come home to the Quad Cities. 
I spent the next two years helping to manage a Davenport bookstore as Community Relations Manager, setting up events and author signings and overseeing the children's department. When customers approached, I not only provided the best service I could, I offered suggestions on what they could do to expand their choices.  Repeatedly, I was told that I was a librarian in a bookstore.  
After the bookstore downsized my position, a lot of thought and some research assistance from the Career Services Offices at both Marquette and Augustana helped me to realize that I had always wanted to be a librarian. Shortly thereafter, I was fortunate to obtain a staff position at the Augustana library, which provided me with career experience and the support of my colleagues as I pursued my Master of Arts in Library and Information Science through a distance program run by the University of Wisconsin Madison. 
As the Head of Circulation for the library, I incorporate skills from my previous careers in a library-oriented way.  I get to interact with members of the Augustana community and with public patrons from the greater Quad Cities area. I oversee a large number of student workers, provide assistance at the research help desk, answer copyright questions for electronic reserves, and design posters for the displays created each term. 
Specializations: Library, Scheduling, Reserves, Copyright, Process payroll, Reference, Posters, Voyager administration, Collection management, Customer service
Education
B.A., Marquette University
M.A., University of Wisconsin-Madison