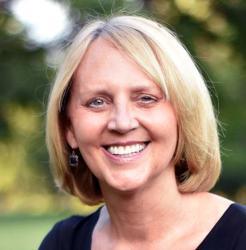 Kathy J. Jakielski
Professor Emerita of Communication Sciences and Disorders
All three of my degrees are in the area of speech-language pathology, although I also have taken concentrated coursework in linguistics and psychology.
At Augustana I got to teach four courses in the areas of my expertise, including Anatomy, Physiology, and Science of Speech (the physical structures, functions, and processes used to produce speech); Phonetics (the symbols for writing the speech sounds produced in all of the world's languages); Speech Sound Disorders (how to diagnose and treat individuals with speech disorders and differences); and Senior Inquiry (how to conduct a rigorous research project and produce a substantial research paper).
When I'm not in the classroom, I like to spend my time researching speech. I've spent time thinking about how babies learn to make the speech sounds they hear spoken. It takes a few years for most children to develop adult-like speech, and I've studied babies from when they started to babble until they reached about 18 years of age.
I also like to think about why some children do not develop speech normally, and how to effectively treat those children, especially those affected by childhood apraxia of speech. Understanding how speech develops normally and how this process breaks down in some individuals is the focus of my research, which I publish and present regularly.
Specializations: Childhood apraxia, Phonetics, Speech Disorders, Speech development
Education
B.S., Towson
M.A., Ph.D.,Texas